Costa Rican artist Sylvia Laks' knowing hands, unique world vision and incredible mastery of her medium have made her one of the world's foremost experts in stained glass.
A lifelong artist, Laks draws on her immediate natural and social environment for inspiration. She is one of just a handful of people in the world who have mastered the technique of painting glass a la grisaille, a complex process that involves applying special metal oxide pigments, brushing color into distinctive imported blown glass, and then baking the glass in a superheated kiln. The process is so complicated that a single piece will take at least six months of work, and many take much longer.
Stained glass is a particularly striking art medium. Laks' painstaking technique takes the luminosity and celestial qualities of glass to a whole new level. By combining different textures, she creates designs that can truly bring a space alive. Ever-changing light conditions mean the piece changes throughout the day, meaning that sunrise will reveal different intensities, tones and shines than will dusk.
Laks' pieces boast rich contrasts full of carefully chosen, painstakingly coordinated colors. Much of her work focuses on human feelings and expressions, and her gift as a portraitist shines in an expressive quality that transcends the medium. The viewer is moved to look beyond the glass and examine what is being said on a deeper level.
In a genre traditionally used to evoke spiritual images, Sylvia is able to capture and express basic human traits in a way that transcends traditional religious symbolism. Her glass becomes allegories of daily activities. In the artist's own words, "Part of what I do is demystify stained glass, first as an expression of religious art and later as something merely aesthetic. I want people to perceive it as a form of art that really can transmit ideas and provoke thought."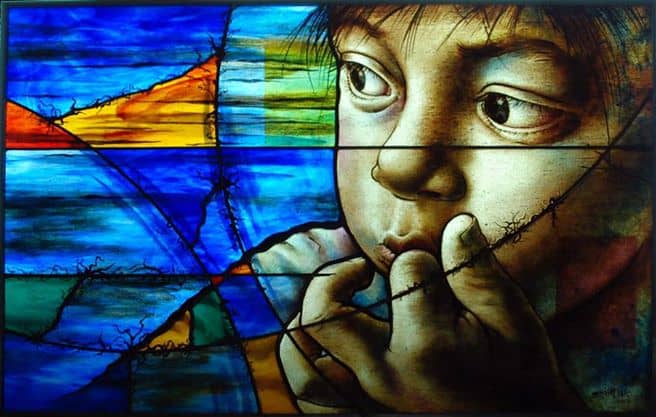 In addition to large-format portraits and church pieces, Sylvia produces exquisite stained-glass screens mounted in fine wooden frames and sun catchers, as well as other decorative pieces intended for daily use. The artist's studio also produces beautiful lamps, excellent jewelry, stained-glass mosaic work and other smaller pieces.
Sylvia's workshop is located in San Rafael de Heredia, Costa Rica.
For more information
Phone: (506) 2267-6350, ext. 109 or 110
Email: info@sylvialaks.com
Website: www.sylvialaks.com