Some 800 people packed into the Wyndham Herradura Hotel on Thursday for Expotur, Costa Rica's annual travel trade show extravaganza, where tourism professionals meet to network, make deals and showcase their hotels, tours and transportation offerings.
"Right now we have 250 exhibitors — Costa Rican companies — and we have 215 buyers from 33 countries," said José Llaguno Granados, executive director of Acoprot, the Costa Rican Association of Tourism Professionals.
The trade show opens to the public Saturday from 11 a.m. to 6 p.m. and Sunday from 10 a.m. to 5 p.m., with providers offering special deals to people looking for a nice getaway.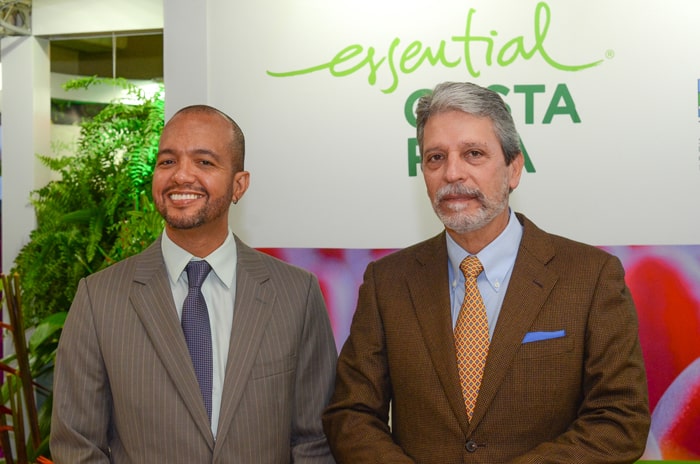 And some of the getaways are pretty dreamy, for those who can afford them. The Four Seasons Papagayo near Playa del Coco, said to be the nicest resort in Central America, was here to showcase its recent renovation, a multimillion-dollar facelift that added bright new paint and other improvements.
"Ten years ago people thought to make it in keeping with colors of browns and greens, and we got a lot of comments from guests, saying, 'We want it to be more light, we're on vacation,'" said Lauryn Blaszczyk, reservations manager. "So we really lightened it up — we have purple rooms, we have these really pretty blues, just really making it more of a bright, amazing atmosphere."
The cost? In the low season, it's between $425 and $600 for a standard room; in the high season, from $700 to $1,525. Or if you just want to golf on a course designed by Arnold Palmer, that'll be $230.
Too steep? There's also Tabacón Grand Spa Thermal Resort at the foot of Arenal Volcano, which will let you have one of its 102 rooms for $240 plus tax.
"We have a river of thermal water — it's the only place in the region with an actual river that comes from Arenal Volcano," said Carmen Solano, Tabacón sales director. "We have a lovely garden with little bridges and vegetation; it's a big, beautiful garden where you can walk on little trails."
You can also get a day pass to enjoy the hot springs and either lunch or dinner — $85 for foreigners, $45 for nationals.
Moving on, there's Río Perdido, a resort near Miravalles Volcano, between Rincón de la Vieja and Tenorio national parks.
"It's a boutique hotel and we have a beautiful, secret, thermal river," said Patricia Fuertes, director of operations. "The name Río Perdido (lost river) comes from the fact that if you fly over the property, you can't see any river because it's in a huge canyon."
The hotel sits at the confluence of two rivers, one of them hot (Río Caliente) and one cold (Río Blanco), with whitewater tubing and ziplining.
"It's a place to forget everything, to relax, for people who live in huge cities who are really stressed to come and all you have is nature, the sounds of the monkeys, the birds, and nothing else," Fuertes said.
The cost: $250 for two, taxes and breakfast included.
Do all the hotels here cost over $200? No, not if you ask José Vargas Logan of Volcano Lodge and Springs in Arenal ($205), because the same company has the San Bosco Inn in La Fortuna for just $62.
Despite the proliferation of booths promoting luxury lodges, Llaguno said the emphasis of this Expotur is on cultural tourism — showcasing Costa Rican food and beverages, music, artisanship and indigenous peoples.
"The problem is that we, as Costa Ricans, don't know much about our culture," he said. Costa Rica is a culturally rich and diverse place, he said, but local tour operators aren't always interested in promoting that culture.
President Luis Guillermo Solís, who made an appearance at the National Theater for the formal opening of Expotur on Wednesday, said in a statement, "Tourism is one of the primary engines of the Costa Rican economy and a top priority for our administration. Working with this sector, we will take steps to help it maintain its competitiveness."
A representative of FANAL, the company that makes Cacique, Costa Rica's best-selling guaro, was happy to pitch in to promote Costa Rican food and beverage.
"We want people from other countries to know that we make not only Cacique, our leading brand, but lots of other products," said Ricardo Ballestero Campos. He said the company makes more than 14 products, including spirits, rum, vodka, gin, cocktail creams and its famous guaro.
"It's an alternative at a very good price, and it's a top-quality national product," he said.
But unlike the Café Britt lady across the way, he wasn't offering free samples.
Contact Karl Kahler at kkahler@ticotimes.net.