In its first year of work, the most fragmented Legislative Assembly in the past two decades – not surprisingly – performed worse than even lawmakers had expected. And infrastructure problems this week at the legislature's facilities on the Cuesta de Moras didn't do much to help ease its image of colossal underachievement.
With lawmakers from nine parties – and no ruling party majority rule – the current Assembly's efforts have been marked by stalled attempts to pass new and substantive legislation.
A report obtained by The Tico Times from the Assembly's Parliamentary Services office shows that as of April 27, lawmakers in the past year approved a total of 47 bills. Of those, only 10 correspond to new legislation, while 14 were authorizations to use public land, 13 were amendments to existing legislation, seven were international agreements, and three were decrees approving national budget issues.
This week, a lack of productiveness was further exacerbated by party negotiations to secure seats on the Assembly's directorate – determined each year on May 1 for a one-year period – and problems with the Assembly's facilities. Electrical failures caused most of this week's sessions to be suspended, internal data systems were disrupted, and the Assembly's website and email accounts were offline most of the week.
The blame game
Lawmaker Emilia Molina, a leader of the ruling Citizen Action Party (PAC), attributed the poor performance in the past year to opposition parties' diverging agendas.
"They [opposition party lawmakers] do not necessarily concur with the goals of this administration," she said earlier this week.
Molina believes the low number of approved bills also is a result of the Assembly's large number of political parties, which she said hampers dialogue and mutual understanding.
Opposition parties – predictably – blamed the poor performance on the current administration's political inexperience. They were quick to point out that President Luis Guillermo Solís' electoral victory last year was the party's first win in a presidential election.
Juan Luis Jiménez Succar, a leader of the National Liberation Party (PLN) — the largest opposition block — criticized PAC officials' "inexperience" and PAC lawmakers' alleged "lack of interest" in dialogue and negotiation with opposition parties.
Broad Front Party lawmaker Gerardo Vargas and the Libertarian Movement Party's Otto Guevara both accused the executive branch of failed leadership and an inability to reach agreement on a legislative agenda.
The task of establishing dialogue between the legislative and executive branches formerly belonged to ex-Presidency Minister Melvin Jiménez, one of several Solís officials who left office before completing the first year. Lawmakers criticized Jiménez's performance in that role. Solís asked for Jiménez's resignation on April 15 after accusations surfaced that he was involved in offering diplomatic posts in exchange for the resignation of other top officials.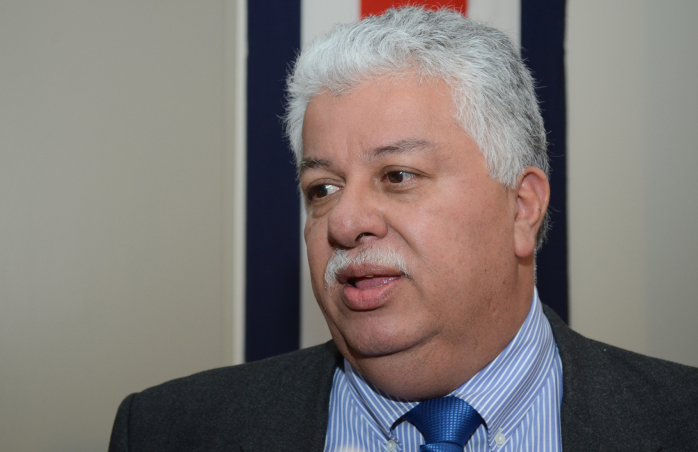 Numbers
The Assembly report shows that only 15 percent of approved legislation was initiated by lawmakers during the current legislative period from 2014 to 2018. Seventy-six percent of passed bills were drafted by members of the 2010-2014 legislature, and 9 percent were drafted from by legislator from the 2006-2010 period.
The number of passed bills differs substantially from the number of submitted proposals, which could be an indicator that the problem is not in the drafting of new proposals but in the ability to pass them, some analysts say. During the reported period, lawmakers submitted a total of 441 bills – 77 by the PLN, 58 by the Social Christian Unity Party, and 29 by PAC.
Of the 47 adopted laws and procedures, 19 corresponded to the PLN, 15 were submitted by the executive branch, and two by PAC legislators.
Quality vs. quantity? 
A law reforming the country's Development Banking System is one of the few high-profile achievements of the current legislature. The initiative creates new mechanisms to finance and facilitate access to bank loans by individuals and small- and-medium-sized businesses.
Among other legislation, most of the approved bills involved public infrastructure projects, including a $470 million trust fund to expand a highway between San José and the Alajuela canton of San Ramón.
Last month lawmakers also passed an amendment to the nation's budget that included a $450 million loan from the Inter-American Development Bank for new highways in Cartago and Puntarenas, and to finance expansion of port infrastructure on the Pacific coast.
Another highlight includes a new Expropriations Law, which reduces from three years to eight months the period for the government to expropriate privately owned land in order to develop public infrastructure.
One of the most controversial decisions was the passage of a $395 million loan from the government of China to expand Route 32, the main route connecting San José and the Caribbean province of Limón. Critics claimed the deal would end up costing taxpayers more because of several errors and omissions in the project's plans. This week, Teresa Wu, a representative of China Harbour Engineering Company — which will manage the project – said in a statement that the loan's original conditions likely would be renegotiated because Costa Rica's Public Works and Transport Ministry had requested changes to the original design and added elements not included in the project's original plan.
The sound of stagnation:
Still pending
The list of bills pending approval or awaiting inclusion in the Assembly's agenda includes those that aim to bring Costa Rica in compliance with international court orders or demands from interest groups, such as animal rights advocates. Following are some of the most noteworthy:
1. Tax reform: The executive branch broke a promise to submit by last December a bill to convert the country's sales tax into a value-added tax. Lawmakers have dragged their feet on bills to fight tax fraud and illegal smuggling, and others that seek compliance with international financial organizations that have repeatedly called for reforms to reduce the country's fiscal deficit.
2. Electricity rates: Casa Presidencial dismissed several proposals by lawmakers to lower electricity rates. So far, the executive branch has not submitted any other proposals on the issue, despite promises by the president to do so last year.
3. In vitro fertilization: The Inter-American Court of Human Rights in December 2012 ordered Costa Rica to legalize IVF, which was banned in March 2000 by Costa Rica's Constitutional Chamber of the Supreme Court. Nearly three years later, the country's lawmakers continue to stall on the issue. In its ruling, the San José-based court had set a one-year deadline, but the bill isn't even on the Assembly's agenda.
4. Same-sex couples' rights: Despite President Solis' promise to prioritize this issue, a bill to recognize the rights of same-sex couples still has a long way to go before moving to discussion before the full Assembly. The proposed legislation faces staunch opposition from opposing lawmakers, who – as of mid-April – have filed 1,076 motions against it. It also awaits review from two special legislative commissions and discussion during several upcoming public hearings, as requested by rights groups.
5. Labor laws: Earlier in his administration, President Solís said he would prioritize the passage of a bill to reform labor procedures, but it was not included in the executive branch's agenda for the Assembly.
6. DIS: Lawmakers also have failed to prioritize discussion of a bill that calls for the transition of the government's controversial intelligence agency, known as DIS, into the National Strategic Intelligence Agency, or DIEN. That bill's main goal is to modify the structure of the presidential security and intelligence agency, which critics accuse of being used as a political agency.
7. Animal abuse: Hundreds of animal rights advocates demonstrated in the streets and rallied at Casa Presidencial in December to demand passage of a law for stricter sanctions – including prison – for those found guilty of animal cruelty. At the time, Solís promised to prioritize discussion of the bill, but it was shelved in favor of infrastructure bills. It currently is under discussion in a legislative commission and faces heavy opposition.
In case you were wondering, Costa Rica's 57 lawmakers earn a monthly salary of about $7,200 each, plus 500 liters of free gasoline per month and $300 for office expenses.