Music: Enrique Iglesias, Capital Cities
It's here, the moment many a Tica has been awaiting: Enrique Iglesias is arriving in Costa Rica. The Spanish mega-star will descend on Parque VIVA with his unique blend of Latin pop – and the screaming of fans should be audible for miles around. (He doesn't call it the "Sex and Love" tour for nothing.) Iglesias will share the stage with California indie pop band Capital Cities.
Concert takes place May 2 at the Parque VIVA Amphitheater, Guácima. 7 p.m. ₡15,950 – 48,950 ($32 – 98). Info: eTicket website.
Festival: Final Days of FIA
It's been a long and brutal battle, but FIA is finally wrapping up, and this weekend may redeem the anarchy that preceded it. CENAC brings you and all-day, international music cycle, including Golden Ganga (Mexico), Skampida (Colombia), and Easy Easy (Guatemala).
Concerts take place May 3 at the CENAC, Barrio Amón, San José. 10 a.m. – 9 p.m. Free. Info: FIA Facebook page.
https://www.youtube.com/watch?v=ZznCF9z8Z38
Music: Raphael
Spanish superstar Raphael has enjoyed a 56-year-career, singing and acting all over the world. While this may not necessarily be your final chance to see the septuagenarian celebrity perform, Raphael fans should probably take the opportunity when he arrives at the National Gymnasium. Looking to brush up? Raphael has more than 50 albums to choose from.
Concert takes place May 5 at the National Gymnasium, La Sabana Park, San José. 8 p.m. ₡25,000 – 85,000 ($50-170). Info: eTicket website.
Music: "Long Live Rock"
Are you ready to rock? This festival brings together 20 Costa Rican bands of all different styles, from metal to grunge to Beatles covers. Admission gets you two full days of favorite bands, including the legendary Vargas Brothers.
"Larga Vida al Rock" takes place May 1 & 2 at La Isla de Guilligan, Aserrí. Fri. & Sat., 2 p.m. onward. ₡15,000 ($30). Info: Venue Facebook page.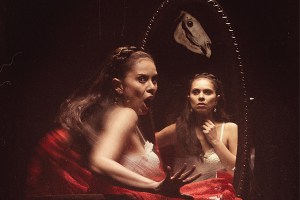 Theater: "The Segua"
As everyone knows, the "Segua" is a classic Costa Rican story of a man who pursues a beautiful woman on a lonely road, only to watch her transform into a demonic horse. See how playwright Alberto Cañas Escalante interprets the tale, thanks to an innovative new production by The National Theater Company.
"La Segua" continues through June 14 at the Aduana Theater, Aranjuez, San José. ₡5,000 ($10). Info: Company Facebook page.