BUENOS AIRES, Argentina – Argentine President Cristina Kirchner said Thursday she has ordered the declassification of all secret documents on the 1982 Falklands War with Britain.
Speaking on the 33rd anniversary of Argentina's invasion of the disputed South Atlantic islands, which it calls the Malvinas, Kirchner said the defense ministry had 30 days to make all files on the conflict public.
She also used the anniversary — commemorated in Argentina as the Day of the Veterans and Fallen of the Malvinas Islands War — to criticize Britain's recent announcement that it will beef up its defenses in the islands.
Kirchner said Argentina was determined to gain sovereignty over the islands, but through peaceful means.
"International law and dialogue, not militarization, are the path to a reunion and sovereignty," she said at a ceremony in the city of Ushuaia, at the southern tip of South America.
"We will see the islands form part of our territory again. It's not just wishful thinking," she told an audience that included war veterans in dress uniform.
British Defense Secretary Michael Fallon last week announced plans to spend £180 million ($267 million) over 10 years to counter "continuous intimidation" from Argentina in the Falklands.
Kirchner's government condemned the measure as "provocation."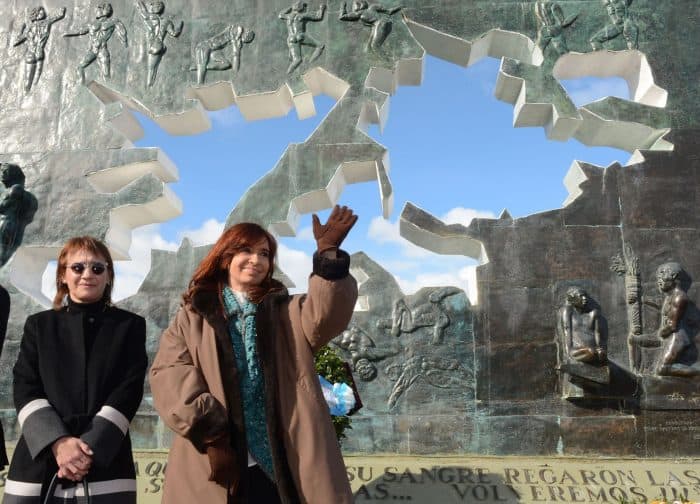 Argentina claims it inherited the remote, wind-swept islands from Spain when it gained independence.
Britain argues it has historically ruled the islands and that the islanders should have the right to self-determination. In a 2013 referendum, 99.8 percent voted to remain a British overseas territory.
The dispute has flared again in recent years since the discovery of significant oil deposits off the islands.
The 74-day Falklands War claimed the lives of 649 Argentine soldiers, 255 British soldiers and three islanders.
The remains of 123 Argentines killed in the war have never been identified.
In 2012, Kirchner asked the International Committee of the Red Cross to mediate with the British government so DNA samples could be taken from the bodies, which are buried on the island in graves marked "Argentine soldier known only to God."
Argentina's secretary for the Malvinas, Daniel Filmus, said officials had finished taking DNA from the soldiers' relatives for comparison.
"Now we just need to make progress on the humanitarian aspect," he said.