Millions of Catholics across Costa Rica are preparing to celebrate the death and resurrection of Jesus Christ on Easter Sunday, but their numbers are dwindling, according to several studies. As more than 500 million Catholics living in Latin America trickle away from the Church of Rome, many are turning to other denominations, especially evangelicals sects.
Long the dominant religion in Latin America, Catholicism has been facing a slow but steady decline in adherents by roughly 1 percent per year, according to figures from the Latin American Public Opinion Project. In 2012, the overall percentage of Catholics in the region stood at 65 percent compared to nearly 90 percent of Latin American's population in the early 1980s.
Costa Rica is no exception to this trend, according to a survey released by CID Gallup in late March. In January, Gallup conducted home interviews with 1,200 adults in Costa Rica, El Salvador, Guatemala, Honduras, Nicaragua, Panama and the Dominican Republic. The survey had a margin of error of +/-2.8.
Every country surveyed by CID Gallup found double digit losses for Catholics in Central America and the Dominican Republic. According to a survey released by CID Gallup in March on religion in Central America, 19 percent of Ticos born Catholic have left the faith. Today, 67 percent of Ticos surveyed identify as Catholic.
Evangelicals, meanwhile, are picking up some of these erstwhile Catholics. The survey found that 12 percent in Costa Rica were born into an evangelical faith while 25 percent identified as such in January, a 13 percent increase.
The remaining eight percent surveyed was reported as not having a faith.
This migration from Catholic to evangelical is even more pronounced in the Dominican Republic (27 percent), Honduras (26 percent), Nicaragua (23 percent) and Guatemala (21 percent).
Rev. David Solano, a sociologist and director of the Juan XIII School, acknowledged the trend away from Catholicism in the region: "We see this as a pastoral challenge."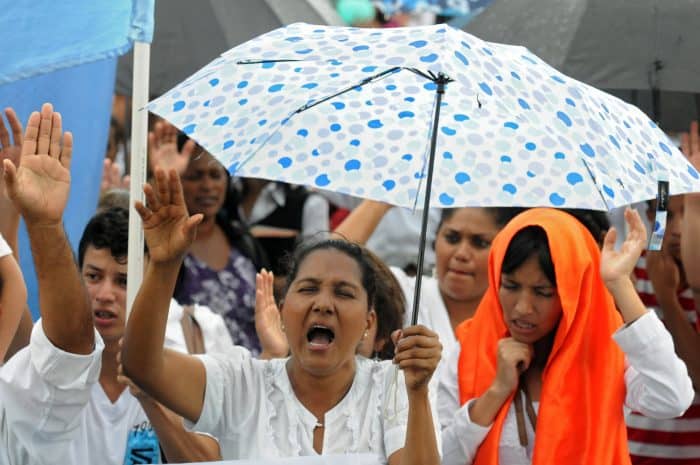 One issue is the relationship Catholics have with their pastor compared to evangelicals. The CID Gallup survey found that 66 percent of evangelicals in Costa Rica reported having a close relationship with their pastor compared to 58 percent of Catholics. Solano said that the Catholic Church in Costa Rica needs to shake up its attitudes toward its congregations. He echoed Pope Francis' call for priests to leave their comfort zone and meet people in the streets or where they live as opposed to waiting for the faithful to come to them for mass.
Solano added that the universal church's strong numbers in the region were weakened in part by globalization's exchange of new ideas as people look to other expressions of faith, including Protestantism.
"We need to reassess how we're carrying out our pastoral work in the church. Something is happening in the space between what we propose as a church and how people are living with it on a religious level," Solano told The Tico Times.
Pope Francis, an Argentine and the first Latin American head of the Holy See, has not been blind to the shift away from the church. The pope made headlines when he was quoted saying that the church had become "obsessed" with issues related to lesbian, gay, bisexual and transgender people and abortion. The Latin American pope also has stressed a greater focus on social justice and serving the poor during his brief tenure.
The CID Gallup survey also found that Costa Rican Catholics are the most receptive to the pope's efforts to "open" the church on issues like communion for divorced couples (71 percent in favor compared to the next highest support, 58 percent in Nicaragua), allowing women to become priests (59 percent versus 55 percent in Honduras), and allowing lesbian, gay, bisexual and transgender people to participate in the church (61 percent versus 41 percent in Nicaragua).
Solano said that Pope Francis is a popular figure among many Catholics and non-Catholics alike, but that it is too early to know if the Argentine has started to stem the tide away from the universal church.
Rigoberto Vega, executive director of Evangelical Alliance, said that their growth in numbers is due to people's desire to have a personal experience with God. Vega said that they have seen greater interest in the more personalized, participative and less ceremonial approach to spirituality that the Protestant faith offers.
"When a person has a personal experience with Christ, it changes their perspective. It changes their life," he said.
This effort has taken the shape of massive proselytization campaigns. On a national day of prayer in May 2014, Vega claimed that 5,000 volunteers brought 12,500 people to their first evangelical service. Another is planned for May 30.
Despite growth relative to Catholics, Vega said that growth for evangelicals has "stagnated" at roughly 1 percent per year for the last 10 years. Vega said the evangelical movement continues to grow but faces an uphill battle against a more secular society, "a loss of moral and spiritual values."
The Catholic Church's approach seems to be taking some hints from the success of the evangelical movement, according to evangelical leadership. Both Vega and Solano said that they approached their outreach "canton by canton." Solano did not agree with the characterization that the Catholic Church's renewed outreach was copying the efforts of evangelicals, phrasing it instead as a "return to the roots of the early Christians in the Gospel."
Solano opined that many find themselves on the borderline of their faith, acknowledging that religion might not perfectly fit their life, but said that was no barrier to the sacred.
Said Solano: "People can be far from the church without being far from God."