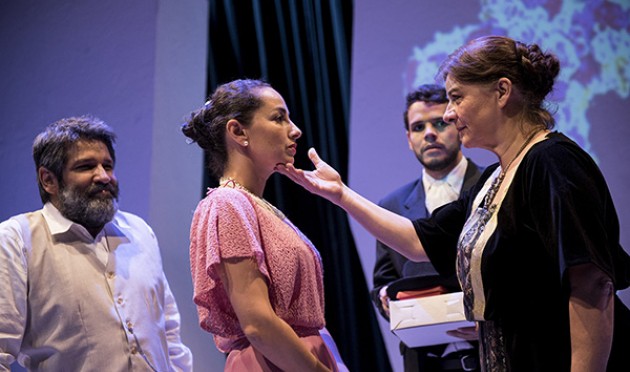 Like its title, "Blood Wedding" is morose: rest assured that everything ends in tragedy. But the 1933 script, written by poet and playwright Federico García Lorca, is also a classic of Spanish literature, covering such Iberian themes as family, fidelity, and vengeance. This month, Teatro Espressivo brings Lorca's story to life, paying homage to the martyred dramatist.
Set in rural Spain in the first part of the 20th century, "Blood Wedding" concerns a love triangle between an unnamed bride, an unnamed groom, and a seductive interloper named Leonardo Felix. The bride once had a fling with Leonardo, who has since married another woman, and the groom is jealous. More awkward still, the Felix family murdered the groom's father. If you're hoping that "Blood Wedding" is a tale of happy reconciliation, think again. Indeed, "Death" is an actual character, represented by an actor onstage.
Teatro Espressivo enjoyed enormous success with its production of Isabel Allende's "The House of the Spirits," which was revived in January, and "Blood Wedding" is another revered Spanish-language work. García Lorca was among the most acclaimed writers of his era, and although no one knows his precise fate, most people assume that the dedicated socialist was executed by fascists in 1936.
"When you understand Lorca's play," said director José Pablo Umaña, "you should see it as this other kind of passion, which may include sexuality, but it's more the passion that motivates us to do something, even if there exists an apparent reason not to do it."
While most of the characters are nameless and the narrative is told in a folkloric way, "Blood Wedding" has a good share of meaty roles and a morally ambiguous ending that should provoke a lot of conversation on the car ride home.
"We can discover Lorca's position regarding [violence], which men are obliged to use and lead to death," said actress Maria Bonilla, who plays the groom's long-suffering mother. "We see that even today – there are wars, and generations of young people continue to die. We see unrequited love, the social demands that have to be punished and condemned. Love always seeks and finds an outlet. In the case of this writer, that way or outlet is death."
"Bodas de Sangre" performs through March 29 at Teatro Espressivo, Curridabat. Fri. & Sat., 6 p.m. 7,500-10,000 ($15-20). Info: Teatro Espressivo website.