WASHINGTON, D.C. – Before President Barack Obama announced last week that Washington and Havana would restore diplomatic ties, one U.S. official had already been working on a special project — call it insemination diplomacy — to unite the two countries.
Officials have confirmed that a U.S. senator helped a Cuban spy imprisoned in California to impregnate his wife, eager to have a child but separated by prison walls and an ocean.
The highly improbable arrangements allowed for Adriana Pérez Hernández to be artificially inseminated months before husband Gerardo Hernández returned to Cuba to a hero's welcome last Wednesday.
While the island celebrated the thawing of relations with the United States, the pregnancy quickly became the talk of Cuba.
On state television, Hernández, who was freed along with two other Cuban agents, spoke delicately of how his wife's pregnancy was achieved "by remote control" earlier this year.
The parents-to-be owe much of their good fortune to Senator Patrick Leahy, who has made several trips to the communist-ruled island over the years.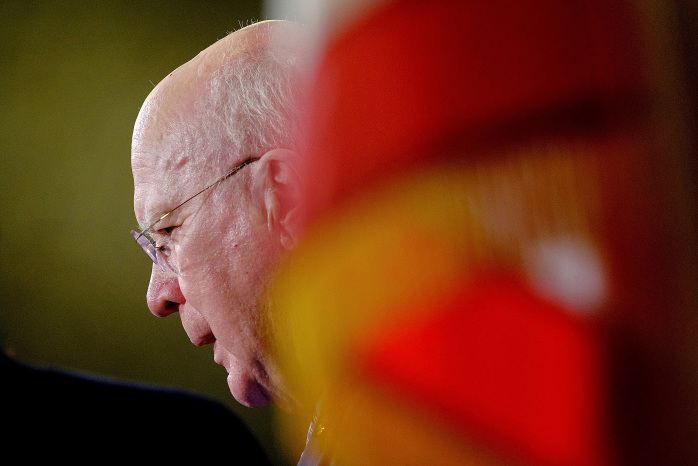 Leahy visited Havana in February 2013 with his wife Marcelle, a registered nurse, in order to secure better conditions for Alan Gross, a jailed U.S. citizen who was ultimately released last week on humanitarian grounds as part of the normalization push.
Leahy and his wife met last year with Pérez Hernández, who "made a personal appeal to Marcelle," the senior Democrat said in a statement.
"She was afraid that she would never have the chance to have a child," said Leahy, who chairs the State Department and Foreign Operations Appropriations Subcommittee and who opposes the U.S. embargo on Cuba.
"As parents and grandparents we both wanted to try to help her."
That meeting put in motion a series of requests, actions and overcoming of medical logistics that led to the pregnancy.
See also: Normalized relations between Cuba and US could have 'drastic' impact on MLB
The Justice Department confirmed to AFP that Washington "facilitated Mrs. Hernández's request to have a baby with her husband."
U.S. officials said all costs were paid for by the Cuban government.
Hernández was arrested in the United States in 1998 and convicted in 2001 on charges of espionage and conspiracy to murder. He and five other Cubans were sentenced to two life sentences plus 15 years.
Hernández was released Wednesday, alongside two other Cubans jailed on the same charges. Two of the five had been released earlier in 2014 and 2013.
Hernández arrived in Cuba to be greeted by Adriana, who shocked onlookers with her pregnant belly, which became an optimistic symbol of the revived ties between the United States and Cuba after five decades of hostility.
The baby, a girl to be named Gema, is due at the end of this month.
Read all of our Cuba coverage here