Update, Mon., Dec. 22, 2014, 11:13 a.m.: On Monday morning, dozens of buses and trucks lined the road to the Brito River groundbreaking site where the canal project is scheduled to begin.
Though state-sponsored media was permitted entry, members of both independent Nicaraguan news media and international media were turned away at the gates. The Tico Times was not allowed to enter to cover the event.
The project's mastermind, Chinese billionaire Wang Jing, is expected, but it is unconfirmed if President Daniel Ortega or his wife, First Lady Rosario Murillo, will be in attendance.
Original story continues here:
RIVAS, Nicaragua – It might be the last time that Kenley Vado casts his lines into the waters at his favorite fishing spot at the mouth of the Brito River on Nicaragua's southern Pacific Coast.
Vado and a small group of friends from the nearby town of Tola come almost every Sunday to fish and drink on the jutting rocks where the river meets the sea, but come Monday, this quiet stretch of coast will be crawling with machinery to begin construction on what is promised to be the world's largest civil engineering project, the Nicaragua Canal.
For years, a transoceanic canal through Nicaragua seemed like a pipe dream. The idea had been floated on and off since the 19th century, but never came to fruition. In the early 1900s, the United States almost chose Nicaragua for a great canal project to connect the Atlantic and the Pacific, but instead Panama was selected because of Nicaragua's active volcanoes.
For some Nicaraguans, who live in the second-poorest country in the Western Hemisphere after Haiti, having a canal of their own is a long unfulfilled dream. So when Chinese telecom tycoon Wang Jing got permission to construct the $50 billion project – which promised to create 250,00 jobs – through his Hong Kong Nicaragua Canal Development Investment Co. (HKND), many Nicaraguans saw it as a step in the right direction. Vado is among them.
"I just think it will bring benefits for everyone. We need jobs, we need money, we need progress, he said, but then paused. "But then, there are also all the people who will lose their land."
The canal's planned route stands to displace hundreds of communities, cutting through cities, farmland and protected indigenous territory. The 300-kilometer canal would also make its way through about 400 hectares of wetlands and rain forests, as well as Lake Nicaragua, the largest drinking water reservoir in Central America.
To address these issues, HKND hired London-based Environmental Resources Management (ERM) to conduct environmental and social impact assessments. Though ERM presented their preliminary results in November, the studies have not been made public. That lack of information is one of several reasons experts are concerned that the canal could be a social and environmental disaster.
"The fact that they first approved the concession instead of first having all the studies, and only then — knowing the data and knowing that it is feasible  — approving the project, makes us think that they are going about it from the wrong direction," Jorge Huete, president of Nicaragua's National Academy of Sciences, told Audubon Magazine.
In most of the towns slated for relocation, there is little or no information: Most residents don't seem to know when they are expected to leave, where they will go, or if they will be paid. The municipalities in affected areas have appointed spokesmen with office hours, but most residents seem unaware of this resource. Villagers in the small farming town of La Junta, just east of the canal's starting point at Brito, reported visits from Chinese men with police escorts who took measurements without saying a word.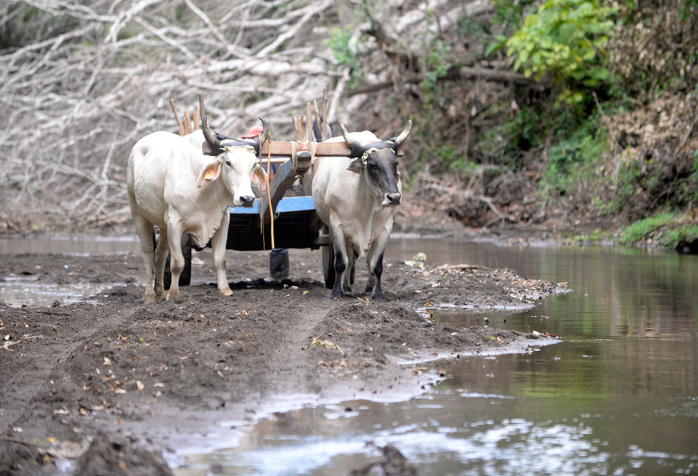 "We are just hoping to God it doesn't pass through our homes," said Armando Ruíz, 41, a La Junta resident who has attended several protests against the canal. "We would hope we would get paid, but we don't even know. No one has said anything."
According to Law 840, which governs the canal deal, HKND can expropriate land anywhere in Nicaragua and must pay landowners the tax-assessed value of the property, which is usually much lower than the land's actual value. Most landowners with whom The Tico Times spoke did not believe they would be compensated at all.
Running parallel to the Río Brito, a line of small beach shanties sits undisturbed with no signs of impending destruction. Asked where they will go when construction begins the following day, local residents looked confused.
"The canal isn't going through here," one man said from his porch. But the spot where he was lounging in his hammock is exactly where HKND plans to build the canal's Pacific port. Asked about this, the man replied, "Ah, well no one has told us anything, so we will just stay here until they tell us to leave."