SANTO DOMINGO, Dominican Republic — U.S. residents excited about a detente with Cuba are thinking about buying cigars and visiting a colonial capital filled with Chevys from the Eisenhower era. Dissidents want them to remember jailed protesters and human rights.
Under President Raúl Castro, arbitrary arrests have "increased dramatically" in recent years and detainees are often beaten and threatened in custody, according to Human Rights Watch. On Dec. 10, Universal Human Rights Day, Cuban authorities detained 240 people arbitrarily, according to the dissident group Patriotic Union of Cuba.
"Freeing Alan Gross doesn't mean the Cuban regime is opening itself to a change toward democracy," Luis Lazaro Guanche, a director of the Patriotic Union, said on Twitter, referring to the jailed U.S. man freed by Castro. Another 100 political prisoners remain locked up in "inhumane prisons," according to the Patriotic Union.
While it has eased travel restrictions on political opponents in recent years, Cuba's communist government continues to jail dissidents, limit basic freedoms, and refuse to hold competitive elections. In announcing closer ties Thursday, President Barack Obama said he believes the U.S. can affect more change by restoring diplomatic relations than continuing a five-decade policy of isolation that "has not worked."
"Where we disagree, we will raise those differences directly — as we will continue to do on issues related to democracy and human rights in Cuba," Obama said, citing U.S. ties with two other communist countries, Vietnam and China.
That wasn't enough to win over one of Cuba's most well-known dissident groups, an organization of female protesters known as the Ladies in White, which won the European Union's Sakharov human rights prize in 2005. Their members have often been targeted by police.
"In Cuba the repression by police keeps increasing against people for promoting and declaring their universal human rights," Berta Soler, the leader of the Ladies in White, said in an interview published on the group's website. "This decision that Obama has taken is mistaken. Democracy and freedom for the Cuban people aren't going to be achieved by what Obama has given to the Cuban government."
Officials at Cuba's international press center didn't respond to a request for comment by Bloomberg News.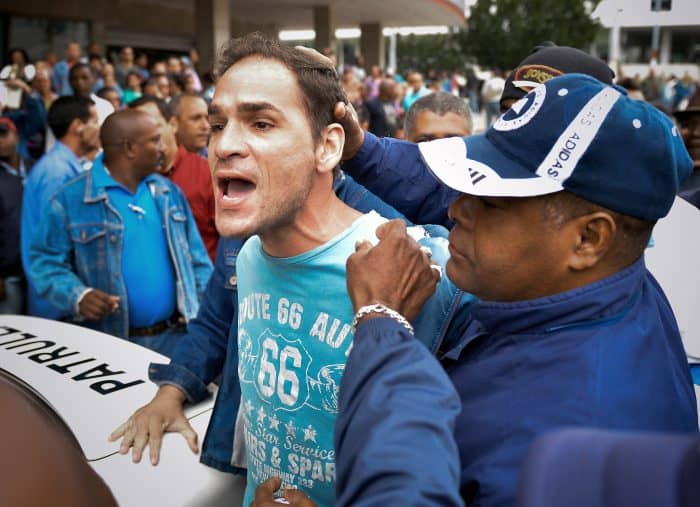 At the same time that Obama spoke, Castro said negotiations between the countries would proceed "based on sovereign equality."
Consuelo Isaacson, president of Friends of Caritas Cubana, a Cambridge, Massachusetts-based group that supports the work of the Catholic Church in Cuba, said the easing of restrictions on travel and money transfers can only help support the work of Cuba-based groups. Thursday's accord was reached with the help of Pope Francis, the head of the church.
"If more people go to a place and have a connection to a place, that place is put under more of a microscope," she said in a telephone interview.
Some Cuban exiles said the agreement between the two leaders didn't demand enough of the Castro government.
"People in Cuba don't have any rights to say anything," said Gus Machado, an 80-year-old Cuban-American in Miami. "This isn't going to help the Cuban people."
While Assistant Secretary of State Roberta Jacobson said Thursday that human rights won't be a "conditionality in the restoration of diplomatic relations," the Obama administration said it will continue to review the Castro regime's record.
The U.S. State Department's latest human rights report said Castro runs an "authoritarian state" that denies its citizens free expression and peaceful assembly. The independent Cuban Commission for Human Rights and National Reconciliation received more than 3,600 reports of arbitrary detentions from January through September 2013, compared to roughly 2,100 in 2010, Human Rights Watch said.
The administration should demand concessions on human rights before re-establishing official diplomatic channels, said Raymond Tanter, professor emeritus of political science at the University of Michigan and a senior staff member of the National Security Council in President Ronald Reagan's administration.
"You have to put human rights on the table as you negotiate," he said. "By any definition, we've made a series of concessions here without reciprocity."
That view was echoed by the Patriotic Union.
"For a government that denies economic freedom and individual ownership, it seems clear that the proposed changes will benefit in the first instance the state apparatus," the group said in an emailed statement. "An increase in funds for a totalitarian state will make it more effective at repression."
Read all of our Cuba coverage here
© 2014, Bloomberg News