President Barack Obama announced major changes in the United States' 53-year embargo on communist Cuba Wednesday, but don't pack your bags just yet. Tourism was not among the travel exemptions listed by the White House.
Wednesday's announcement, which followed the release of jailed U.S. contractor Alan Gross, said that the U.S. would seek to reopen diplomatic relations with Cuba that were severed in January 1961. The U.S. also would seek to reestablish an embassy. It currently operates a Special Interest Section out of the Swiss Embassy. President Obama also asked Secretary of State John Kerry to reassess the U.S. distinction of Cuba as a state sponsor of terror. Cuba was placed on that list in 1982.
As an initial step, Assistant Secretary of State for Western Hemisphere Roberta Jacobson will lead a U.S. delegation in the next round of U.S.-Cuba immigration talks in January 2015 in Havana, according to the statement.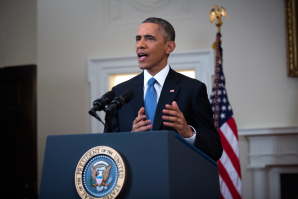 "Neither the American nor Cuban people are well served by a rigid policy that is rooted in events that took place before many of us were born," Obama said during a speech from the White House, noting that the U.S. has open relations with China, a far larger country that is also governed by a Communist Party, and Vietnam, where thousands of U.S. soldiers died in the war there.
"For five and a half decades since, our policy toward Cuba has remained virtually frozen, and done little to promote a prosperous, democratic and stable Cuba," said U.S. Secretary of State John Kerry in a statement. "I look forward to being the first secretary of state in 60 years to visit Cuba."
Direct flights from Costa Rica's Juan Santamaría International Airport to Havana by the airline Cubana de Aviación restarted in November, but U.S. expats and tourists who want to travel to Cuba via Costa Rica may still risk running afoul of the U.S. Treasury's Office of Foreign Assets Control, which oversees licenses and regulations for U.S. passport holders to travel to the island. The categories allowed to legally travel to Cuba now include:
Family visits
Official business of the U.S. government, foreign governments, and certain intergovernmental organizations
Journalistic activity
Professional research and professional meetings
Educational activities
Religious activities
Public performances, clinics, workshops, athletic and other competitions, and exhibitions
Support for the Cuban people
Humanitarian projects
Activities of private foundations or research or educational institutes
Exportation, importation or transmission
The new regulations would allow travelers to use U.S. credit and debit cards. Gringos who get their license to travel to Cuba could use those new payment options to bring back $400 worth of goods from Cuba, of which no more than $100 can consist of tobacco products and alcohol combined, according to the White House's statement. Of course, Cohibas and Havana Club are legal in Costa Rica for those who'd rather skip the trip but still get a sip.
Obama also announced expanded commercial sales and exports to Cuba, including certain building materials for private residential construction, goods for Cuban entrepreneurs and agricultural equipment with the stated aim of reducing Cuban citizens' dependence on the government.
Along with reestablishing diplomatic relations, the Obama administration announced that remittances would be raised from $500 to $2,000 per quarter for Cuban nationals, and that donative remittances for humanitarian projects would no longer require specific licenses.
In Costa Rica, President Luis Guillermo Solís reacted to the news with an upbeat statement: "I think the normalization of relations between the United States and Cuba will open a new moment in the dialogue between the United States and Latin America. It could put an end to a policy that for many years has been ineffective and has brought much sadness to thousands of people in both Cuba and the US. I think it's very good news."
Wednesday's break in the ice that long locked the U.S. and Cuba in a 53-year trade and travel embargo came after a string of conflicts between the two countries, including a story uncovered by The Associated Press about USAID programs based in Costa Rica that endangered poorly-trained agents tasked with pro-democracy activities on the island.
Obama said that the case of jailed U.S. contractor Alan Gross, who had been imprisoned for attempting to "destroy the revolution," had been a major impediment to further thawing of relations. Earlier this year, Gross went on a hunger strike to protest his detention. Pope Francis urged both countries to resolve the case, and Cuba released Gross on humanitarian grounds, according to Obama.
Both countries engaged in a prisoner exchange, Obama said, where three Cuban nationals serving federal prison sentences for 15 years were exchanged for a U.S. intelligence agent who had been in prison on the island for 20 years and was reportedly responsible for contributing to the arrest of the three Cubans and other spies, Obama said. The U.S. president did not name the agent, whom he called "one of the most important intelligence agents the United States has ever had in Cuba."
Obama said that despite the thaw in diplomatic relations, the United States would continue to aggressively push democracy and human rights on the island.
"I believe we can do more to support the Cuban people and promote our values though engagement. After all, these 50 years have shown that isolation does not work. It's time for a new approach," Obama said.
Watch President Obama's speech announcing the change below: