MEXICO CITY – The last time Mario González spoke with his son, César, was on Sept. 26, when the college student phoned home to say he was happy at his new school. Hours later César was gone, along with 42 of his classmates.
After speaking with his father, César joined friends for a two-hour bus trip to the Mexican city of Iguala to ask passing drivers for money to fund their studies at a live-in public school, said a fellow pupil who asked not to be named due to security concerns. In Iguala, Mayor José Luis Abarca had plans for a public event that evening with his wife. He told the local police he didn't want any protests by the students, said Jesús Murillo, Mexico's attorney general.
What followed, according to Murillo's preliminary investigations, is so horrifying that Mario González says he refuses to believe it.
Acting on the mayor's orders, local police abducted the students around midnight and handed them over to members of the Guerreros Unidos drug cartel, Murillo told reporters Nov. 7. The traffickers later confessed that all were killed, their bodies burned in a landfill for at least 12 hours along with tires and gasoline and then the remains were discarded in a nearby river, he said.
"It's impossible for me to believe that they just made 43 students disappear," González, 49, said on Nov. 3 as he looked out over fields at César's school in the town of Ayotzinapa, Guerrero.
"The worst thing," he said, tears filling his eyes, "is knowing it wasn't organized crime that instigated this — this was our own government."
Because authorities have been unable to match the DNA from degraded remains found at the river with the students, the 43 continue to be classified as missing, Murillo said. They add to the 22,000 people that have gone missing during Mexico's eight- year drug war, according statistics from the attorney general's office.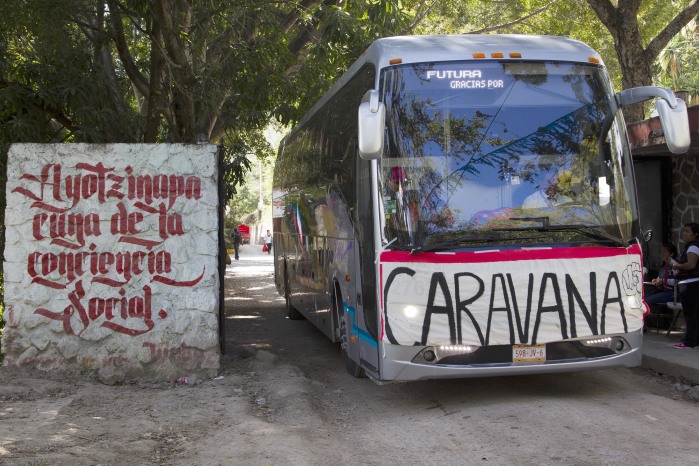 Related: Disappearances and drug cartels: the whispered secret of southern Mexico
On an annual basis, more people have disappeared in Mexico under President Enrique Peña Nieto and his predecessor, Felipe Calderón, than during the military regimes in Argentina, Brazil and Chile and the civil war in Colombia.
A 1984 report by the National Commission on the Disappearance of Persons said almost 9,000 people disappeared in Argentina during the military regime from 1976 to 1983. The country's human rights office now estimates 30,000 disappeared in the period. Under dictator Augusto Pinochet's regime about 3,000 died or went missing in Chile, according to the nation's National Commission on Political Prison and Torture. Brazil's National Truth Commission estimates more than 400 people were killed or disappeared in the military dictatorship from 1964 to 1985. In Colombia, since 1958, about 25,000 people disappeared in the guerrilla wars, data from the nation's National Center for Historical Memory show.
In their search for the students in the hills surrounding Iguala, authorities found at least nine mass graves containing remains from 38 victims. Residents of the southern Mexico city of more than 100,000 say the area is studded with clandestine burial sites, and these aren't Mexico's first. In 2011, officials found hundreds of bodies in mass graves in the northern state of Durango. In August 2010, 72 bodies thought to be undocumented immigrants killed by the Zetas cartel, were found near Texas.
"Iguala is the worst case of a forced disappearance we've seen in Mexico in decades, but it's not an isolated incident," Daniel Wilkinson, the managing director for the Americas at Human Rights Watch, said in a telephone interview from New York.
Mario González, a welder in the state of Tlaxcala, said he sent César to the state of Guerrero hoping an education and the promise of becoming a teacher in the rural state would give him an easier life. César, 21, had been studying for less than two months at the Rural School of Raul Isidro Burgos, located in the mountains about 20 minutes' drive outside Guerrero's capital of Chilpancingo.
The school "made him value the food that we gave him, because sometimes due to our poverty we can't give the kids food that they like and they don't want to eat," said González, who also has two daughters with his wife. "He sent me a message saying, 'You know what dad? Now I understand everything you've done for me.' "
The college trains about 500 students at a time to become primary-school teachers. It was founded in 1926, in the aftermath of the Mexican Revolution of the previous decade where farmers fought for land redistribution and more equality.
From the school's ranks emerged local guerrilla leaders such as Lucio Cabañas Barrientos and Genaro Vázquez Rojas, who took up arms to fight against the government. Buildings at the school's campus are adorned with murals depicting Subcomandante Marcos, the leader of Mexico's Zapatista rebel movement, Che Guevara and Karl Marx.
Alongside learning to cultivate corn and orange marigold flowers, students are encouraged to participate in social unrest and agitation against the government, said David Hernández, 23, a student at the school whose cousin Everardo Rodríguez is among the 43 missing students.
"I told him this was a place where you could learn and grow," Hernández said, referring to conversations he had with his cousin before he joined the school. "What do I say to his mother now after this happened?"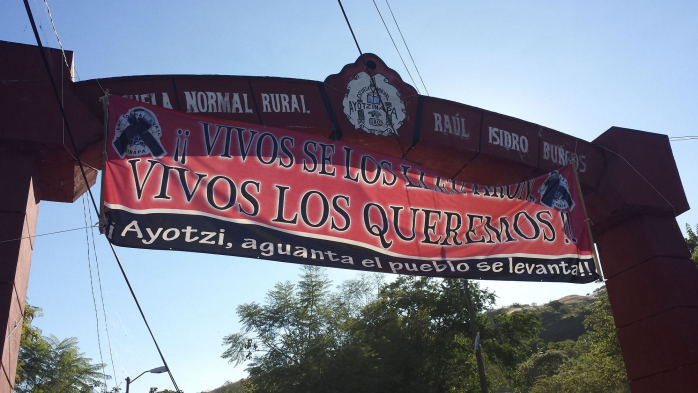 See also: Pinochet's arrest remembered
The Iguala crime has spawned protests across Mexico that over the weekend led to masked demonstrators using Molotov bombs to set fire to the main doors of the National Palace that houses Mexico's Finance Ministry and one of Peña Nieto's offices. Iguala's former mayor and his wife are among the detained together with more than 70 others who include police from Iguala, the neighboring town of Cocula and alleged gang members.
After focusing on the economy and legal changes to boost growth, competition and productivity since his 2012 election, Peña Nieto must make citizens feel safe in a nation where organized crime controls large areas and sometimes works with corrupt officials, analyst Alejandro Schtulmann said.
"The country cannot progress only on economic reform of energy and telecommunications if you don't address fundamentals like the rule of law and public security," Schtulmann, president and head of research at Mexico City-based political risk consulting firm EMPRA, said in a telephone interview on Nov. 9.
Abarca, captured on Nov. 4 after a month on the run, is being held by the attorney general on an arrest warrant for suspicion of kidnapping and connections to organized crime. Guerrero's prosecutor had also issued a warrant for his arrest in connection to the deaths of six people during the police attack on the students on Sept. 26.
Related: Kidnappings in Mexico surge to the highest number on record
On Nov. 3, a basketball court at the rural school was covered with Day of the Dead altars. A few feet away, looking out from under the brim of a yellow baseball cap, González spoke about his son.
"He was a kid who had a very generous character," González said. "He was naturally inclined to help people."
He stopped when he found himself referring to César in the past tense. Speaking slowly, he moved descriptions into the present, insisting that he believes César is still alive.
At a news conference alongside the fathers of other students in Ayotzinapa on Nov. 7, minutes after Murillo told reporters in Mexico City that evidence shows that the students are probably dead, González exhorted the Peña Nieto administration to redouble its search.
"We're asking for nothing more than our 43 students. The thing that we most wish for in this world is to see them alive," González said. "I know, and I trust in God, that they're alive."
With assistance from Brendan Case in Mexico City, Matthew Bristow in Bogotá, Charlie Devereux in Buenos Aires, John Quigley in Lima and Randall Woods in Santiago.
© 2014, Bloomberg News