Related: Mexico horrified by suspected massacre, incineration of 43 students
MEXICO CITY — Indignation over the apparent killings of 43 college students, blamed on a drug gang working with police and a mayor, carried over from the weekend as demonstrators took to the streets in beachside Acapulco.
Demonstrators armed with machetes were confronted by Federal Police with shields who briefly stopped their advance before allowing them to block roads to the airport, according to Milenio TV, a day before energy ministers from 15 nations are scheduled to begin a two-day conference in the Pacific resort city.
Over the weekend, protests in Mexico City escalated, with masked demonstrators using Molotov bombs to set fire to the main doors of the National Palace that houses Mexico's Finance Ministry and one of President Enrique Peña Nieto's offices. After focusing on the economy since his 2012 election, Peña Nieto must make citizens feel safe in a nation where organized crime controls large areas and sometimes works with corrupt officials, analyst Alejandro Schtulmann said.
"The country cannot progress only on economic reform of energy and telecommunications if you don't address fundamentals like the rule of law and public security," Schtulmann, president and head of research at Mexico City-based political risk consulting firm EMPRA, said in a telephone interview. "I don't see any development on the horizon that is suddenly going to make this disappear."
Fifteen people were detained after the weekend attack on the National Palace and released without being charged, according to Reforma newspaper. The attack followed a march by 3,000 people from the attorney general's office to the capital's main square, where protesters shouted "Peña out," according to El Universal newspaper.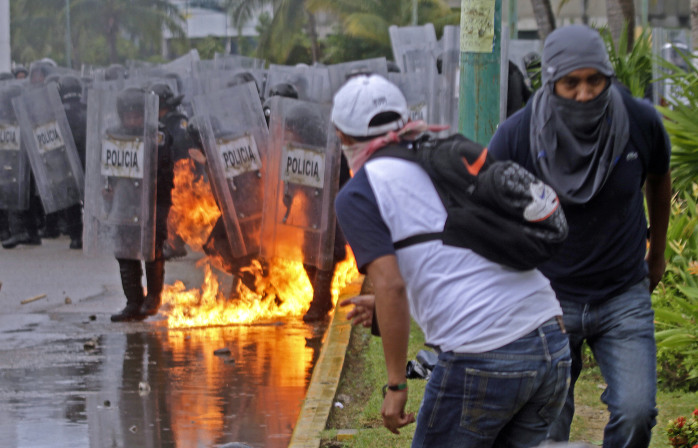 Saudi Arabia's oil minister, Ali al-Naimi, is among the officials scheduled to attend the gas and energy conference that starts in Acapulco Tuesday. Peña Nieto is working to attract international investors after ending a seven-decade state monopoly on oil drilling.
Drug-related violence has left more than 70,000 dead or missing since 2006, according to Milenio newspaper. Central bank Governor Agustín Carstens said in an interview last month that drug violence is hurting growth, citing monthly Banco de Mexico analyst surveys showing public-security problems as the top obstacle to expansion.
Citizen discontent is growing after Attorney General Jesús Murillo said on Nov. 7 that the students were probably killed after being kidnapped by police in the southern city of Iguala, Guerrero, to stop them from disrupting an event featuring the mayor's wife. DNA tests are being conducted on burned human remains found stuffed in garbage bags in a river, Murillo said.
The investigation into the missing students, who were protesting an education overhaul approved last year, has turned up at least nine mass graves and evidence of collusion between the Guerreros Unidos cartel and local officials in Iguala, a city of more than 100,000 people less than three hours' drive from Mexico City. The disappearances on Sept. 26-27 followed shootings in Iguala that left six people dead.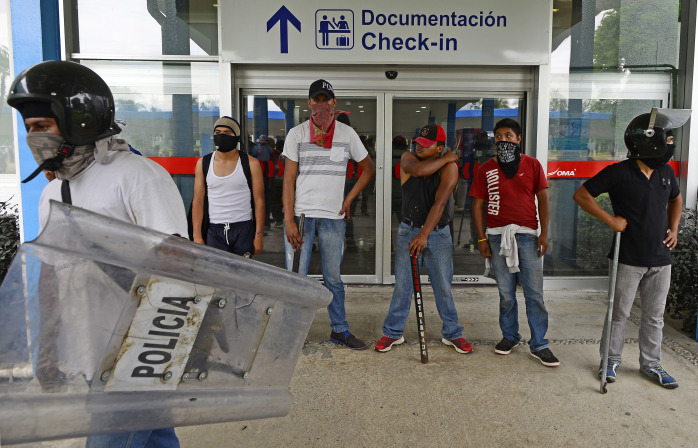 While making a stop in Alaska en route to an official trip to China and Australia, Peña Nieto on Sunday condemned the protesters' attack on the National Palace.
"You cannot demand justice acting with violence," he said. Phone calls and emails seeking comment from Peña Nieto press officials were not returned.
The government's response to the Iguala incident will help determine whether the protests continue, said Sergio Luna, the chief Mexico economist at Citigroup Inc.'s Banamex unit.
"The delicate issue here is the radicalization of the protests," Luna said in a phone interview from Mexico City. "If we want to enter into the modern world we need not only economic reforms, we also need reforms in politics and justice."
Economists have cut their projections for Mexico's growth this year, saying the nation is likely to expand 2.5 percent, according to the median estimate in a Bloomberg survey, down from 3.4 percent at the start of the year. While that's more than the 0.3 percent projection for Brazil, it trails the 4.9 percent estimate for Colombia.
Former Iguala Mayor José Luis Abarca and his wife, María de Los Ángeles Pineda, were captured Nov. 4 after authorities alleged they orchestrated the mass kidnapping. The town's city hall was torched last month during protests over government inaction.
Seventy-four people have been arrested in the case, including Guerreros Unidos leaders and police from Iguala and the nearby town of Cocula, Murillo said.
The Iguala disappearances coincide with a probe by Mexico's Human Rights Commission of another massacre in the State of Mexico, where Peña Nieto once served as governor, and the discovery of the corpses of three U.S. citizens near the northern city of Matamoros.
Protesters organized a 50,000-person march on Mexico City's Paseo de la Reforma Boulevard on Oct. 22, the same day Iguala's city hall went up in flames. They also occupied local government offices in Acapulco, which like Iguala is located in Guerrero, and on Nov. 5. burned a bus in Mexico City near the campus of Mexico's Autonomous University.
Peña Nieto or his Cabinet ministers have addressed the search for the students on national television on an almost daily basis. Their comments haven't placated the public in a nation where demonstrators march each year to remember the Tlatelolco massacre, when government troops shot and killed hundreds of students protesting anti-democratic practices on Oct. 2, 1968, days before Mexico City hosted the Olympic Games.
Protesters have made a rallying cry out of Murillo's comment ending an hour-long news conference on the students' deaths on Nov. 7, when he waved off additional questions by saying "enough, I'm tired." They've created the Twitter hashtag "#YaMeCanse" to express indignation at the pace of the government's investigation and call for Murillo's resignation.
Murillo said Nov. 7 that his office will announce changes to improve Mexico's justice system in the coming days.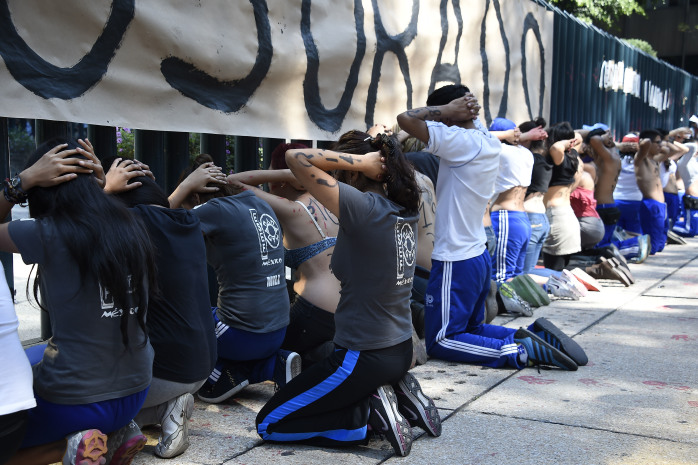 Peña Nieto's Institutional Revolutionary Party should work with opposition parties to, at a minimum, restructure police units and prevent criminals from running for public positions, Alonso Cervera, Credit Suisse Group's chief Latin America economist, wrote in a Nov. 7 research report.
Authorities need to improve security in the poorer states of Chiapas, Oaxaca and Guerrero to stop the growth of organized crime's power in southern Mexico, Schtulmann said.
"The advances that have been made in recent years with regards to justice reform, police reform, transparency and anti- corruption have not been enough and need to go further," Duncan Wood, director of the Mexico Institute at the Woodrow Wilson International Center for Scholars in Washington, said in a telephone interview.
"Mexican political leaders need to come up with a plan to attack the root cause of the problem while recognizing that this is going to take many, many years to fix."
With assistance from Isabella Cota, Brendan Case and Adam Williams in Mexico City and José Enrique Arrioja in New York.
© 2014, Bloomberg News