IGUALA, Mexico – Mexican federal forces disarmed a southern city's entire police corps and took over security Monday after officers were accused of colluding with a gang in violence that left 43 students missing.
The deployment in Iguala, 200 kilometers (125 miles) south of Mexico City, came after President Enrique Peña Nieto pledged justice in a case whose motive remains a mystery.
Authorities discovered a mass grave on a hill outside Iguala over the weekend containing 28 unidentified bodies, raising fears over the fate of the students, who were last seen in the city more than a week ago.
Authorities say it will take at least two weeks to get the results of DNA tests to identify the badly burned corpses.
The case could become one of Mexico's worst slaughters since the drug war intensified in 2006, leaving between 80,000-100,000 people dead or missing to date, and the most horrific since Peña Nieto took office in December 2012.
Convoys of the government's new paramilitary-like gendarmerie police force and army trucks rumbled down the streets of Iguala.
Officials said more than 400 police and gendarmes were dispatched to patrol streets and man checkpoints with an unspecified number of soldiers.
"Good afternoon, God bless you. The gendarmerie is here," said an officer waving at people from his truck window.
Carla Flora, a 40-year-old educator, welcomed the federal forces' arrival because "we were at the mercy of who knows whom."
"We felt unsafe. Organized crime was inside the municipal police," she said.
Witnesses say several students, from a teacher training college known as a hotbed of radical protests, were whisked away in police vehicles on the night of Sept. 26 after officers shot at buses the youngsters had commandeered to return home.
Prosecutors say the Guerreros Unidos drug gang participated in the night of violence that left six people dead, 25 wounded and 43 missing.
Two hit men confessed to killing 17 of the students, saying they were told by Iguala's public security director to head to the scene of the shootings, while a gang leader told them to execute them, authorities said.
But nobody knows why the violence happened. Amnesty International called Monday for an "exhaustive" investigation into the disappearance.
Attorney General Jesús Murillo Karám said more federal investigators would arrive in the city of 140,000 and that he would head there soon.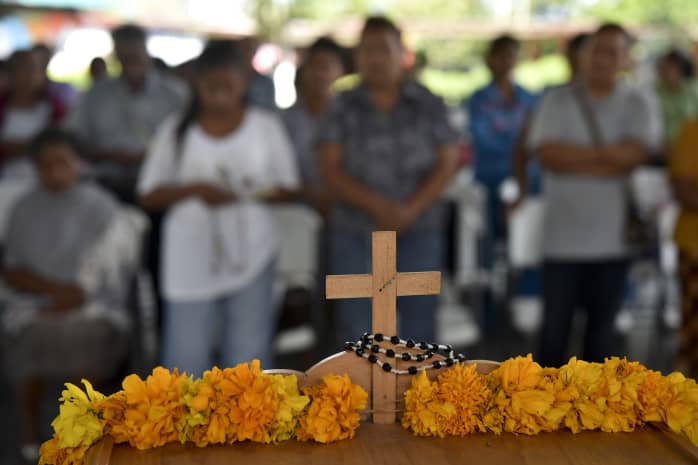 Mexicans want justice
The violence in Iguala has highlighted Mexico's enduring challenge of cleaning up corrupt and abusive police forces.
National Security Commissioner Monte Alejandro Rubido García said Iguala's officers were being sent to a military base to undergo evaluations while investigators check whether their guns were used in crimes.
He did not say how many were disarmed, but state prosecutors said last week that they had detained 22 officers after interrogating more than 140.
Some 30 people in total have been detained, while the mayor and public security chief are on the run.
A banner signed "Guerreros Unidos" appeared in the town on Monday demanding the release of the 22 officers within 24 hours.
"This incident is without a doubt shocking, painful and unacceptable," Peña Nieto said in a televised address at the National Palace in Mexico City.
"Mexican society and the families of the youths who are regrettably missing rightly demand that the incidents be cleared up and that justice be served," he said.
Parents skeptical 
But parents of the missing students accuse state authorities of lying. They voiced doubts the students died, saying pictures of bodies from the mass grave don't match their physiques.
Peña Nieto "must deliver them to us alive," Manuel Martínez, a spokesman for the families, said at the Ayotzinapa teacher school near the state capital, Chilpancingo.
At the request of student leaders, an independent team of Argentine forensic specialists will help identify the bodies from the mass grave.
The rural college is covered with murals of communist icons like Vladimir Lenin and Che Guevara.
Students have held protests in the past against government policies, but they deny demonstrating in Iguala, saying they went there to raise funds.
But they are known to hijack buses to get around the state.
Óscar García, 17, said his missing brother wanted to teach Spanish and indigenous languages.
"As a family, we feel terrible not knowing anything about where they are," he said.