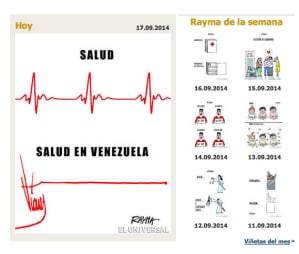 CARACAS – A top Venezuelan newspaper cartoonist said Wednesday he was fired over a sketch depicting Hugo Chávez's signature melting into a flat-line electrocardiography in a jab at the decrepit national health care system.
The drawing in the paper El Universal by veteran satirist Rayma Suprani shows a normal heartbeat line in red under the word "health."
Below it is one labeled "health in Venezuela" with the late, beloved leader Chávez's signature quickly dying into the flat heartbeat line of a deceased person.
El Universal was traditionally anti-government, but it was sold six weeks ago and has changed its editorial tack to go easier on the administration of Chávez successor President Nicolás Maduro.
Chávez died of cancer in 2013.
Venezuela is oil-rich but its economy is a mess, with rampant inflation and unemployment and shortages of essentials, and a health care system with hospitals lacking basic supplies.
The health care woes have prompted calls for the system to be declared a national emergency.
Suprani, who has worked for the El Universal for 19 years, said he was notified of his sacking hours after the cartoon ran. The newspaper said it would issue a statement Thursday.
"To my readers and followers, I tell you that we will carry on through other, smaller avenues but with endless creativity," Suprani said.
Even though the artist was fired, his cartoon was still viewable on the daily's web site (www.eluniversal.com) late Wednesday.
After word spread of Suprani's dismissal, social media lit up with expressions of support for him.
https://twitter.com/MaribelMarchan/status/512393606171471872
Weeks ago Rayma complained of censorship under the paper's new leadership.
El Universal has been associated with the Venezuelan right for more than a century.
It was sold a month and a half ago to the Spanish company Epalisticia. Since then it has been less critical of the Maduro government.
After the sale, several columnists stopped publishing in it, and said their work was being rejected by the paper with no explanation.
Several journalists in the newsroom resigned after the change in management.
A mis lectores y seguidores les digo que seguimos adelante por otros medio más pequeños pero con infinita creatividad pic.twitter.com/DKGchy3o9g

— Rayma (@raymacaricatura) September 18, 2014