In the weeks leading up to my trip, friends asked: "Are you traveling on Good Friday?"
"I should be," I said.
"You know everything's going to be closed, right?"
"Everything?"
"Everything. Every town will be like a ghost town."
"Well – I guess I'll have to play it by ear."
I ordered a plate of gallo pinto at a small cafeteria, and I was grateful to find an open ATM. But friends were right: La Fortuna was eerily quiet, except for a few scattered joggers. Storm clouds had unfurled over the mountains, and a soft rain fell over the land as I pedaled the long, uphill highway out of town.
It felt fitting that the anniversary of Jesus Christ's crucifixion would feel so macabre. Non-religious though I am, I appreciated that the officially Catholic country was thick with storm clouds, awash in rain, and devoid of life. When cars passed me, they drove slowly, sizzling the pavement with their tires. The only birds I saw were grackles, which look much like crows, perched on fence posts made of overturned stumps.
The road was a punishing rollercoaster: I drifted down long hills, crossed a tiny bridge, then climbed another endless incline. This rolling geography made sense: The mountain springs begat creeks, which gradually carved valleys and ravines into the soil. The ruffled terrain had inspired visitors for centuries, but for a cyclist, the route is exhausting.
When I finally reached the edge of Lake Arenal, and the rain forest opened to reveal a vast stretch of water, I was drained. Food vendors chopped open pipas and cooked chicken chunks on tiny portable barbeques. The vendors let me stand under their cloth shelters as the rain poured in earnest. I gazed across the dark water, that oblong made-made lake that stretched for miles. I had no desire to bike around it. Friends had warned me about the road – its endless rises and falls, its narrow two lanes.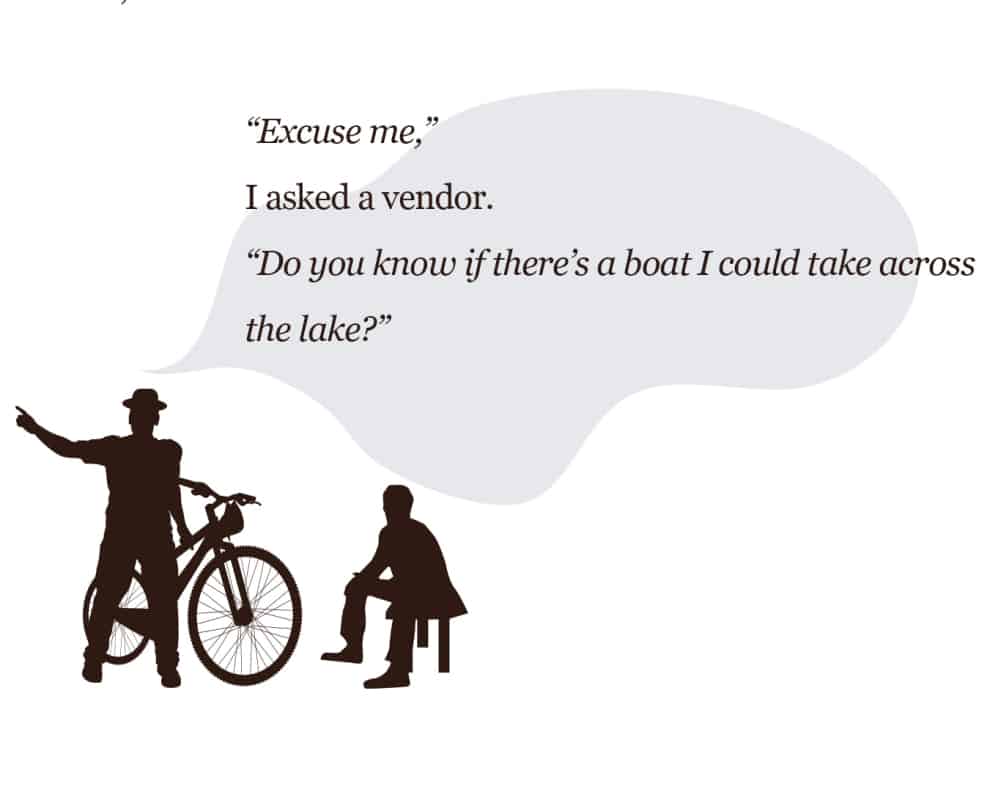 The vendor suggested another vendor, who recommended a police officer, who directed me to a boatman. The man listened to my request, grimaced, and said, "Well, the next boat leaves at 3 p.m. So if you can wait until then, we might have room."
The prospect was tempting. Riding around the lake meant miles and miles of hard biking on slick roads. I had no hotel reservation; I didn't even know whether any hotels would be open. But when I looked at my cellphone, the clock read 10 a.m. I would have to wait five hours for the boat, just sitting curbside in the middle of a rainstorm. There were no buildings in sight. There was nowhere to go and nothing to do.
"I think I'll just keep going," I heard myself say.
And just then, the rain dissipated, and I continued on my way.
Words can't describe the cruelty of that road – how long and slow it felt, the endlessness of its climbs, the terror of its winding descent. When I passed a tour group riding bikes in the opposite direction, I could see the agony inscribed on their faces.
"How are you carrying all that gear?" croaked a middle-aged Australian.
"Somebody's got to," I called back.
They smiled. They probably would have laughed, but they couldn't find the breath. Like long-distance racers, tour groups usually have their gear transported from one destination to the next. They don't have to carry anything but their water bottles. Usually I pooh-pooh such luxury, but it sounded very appealing now.
My saving grace was the lake itself – at the top of each slope, the foliage fell away, revealing rocky lakefront and fogged-over hills. Geologically speaking, Arenal is a newborn: A hydroelectric project expanded the lake by three times its original size in 1979, making it only as old as I am. Because of the uneven hills that surround it, Arenal isn't a circle, but rather a long and skinny body of water that looks roughly like a catfish. Mansions punctuate many of the grassy hilltops, but for the most part, development is sparse. The most obvious manmade structures are the white windmills spinning peacefully in the distance.
By the time I reached those windmills, I felt feral with fatigue. The final climbs were so long and steep that I was forced to push my bike for miles at a stretch. My glistening legs were leaden, but I couldn't stop – the sun was sinking through the trees, and shadows bled darkly across the pavement. I had promised my friends and colleagues that I would not ride at night. Night-riding in Costa Rica is too dangerous to even consider: My headlamp wouldn't adequately light my way, and cars drive too erratically in the darkness. Whether I toughed it out or hitchhiked, I had to reach the next town before dusk.
"Biking around Arenal is the hardest physical thing I've ever done," I'd later write to friends and family. "It pretty much broke me."
Just as I was about to collapse, the road sloped downward, and I coasted effortlessly into the town of Tilarán. I didn't know that Tilarán was famous for its tempestuous winds, but they struck hard: Gales whipped against me, nearly knocking my helmet sideways.
"Excuse me," I asked a married couple on the street. The husband was dressed in a dark suit and the wife in a black gown. They looked startled to see a Gringo on a bicycle, and I supposed I couldn't blame them. "Could you tell me where to find a hotel?"
"Con gusto!" said the husband, and he directed me to the main square.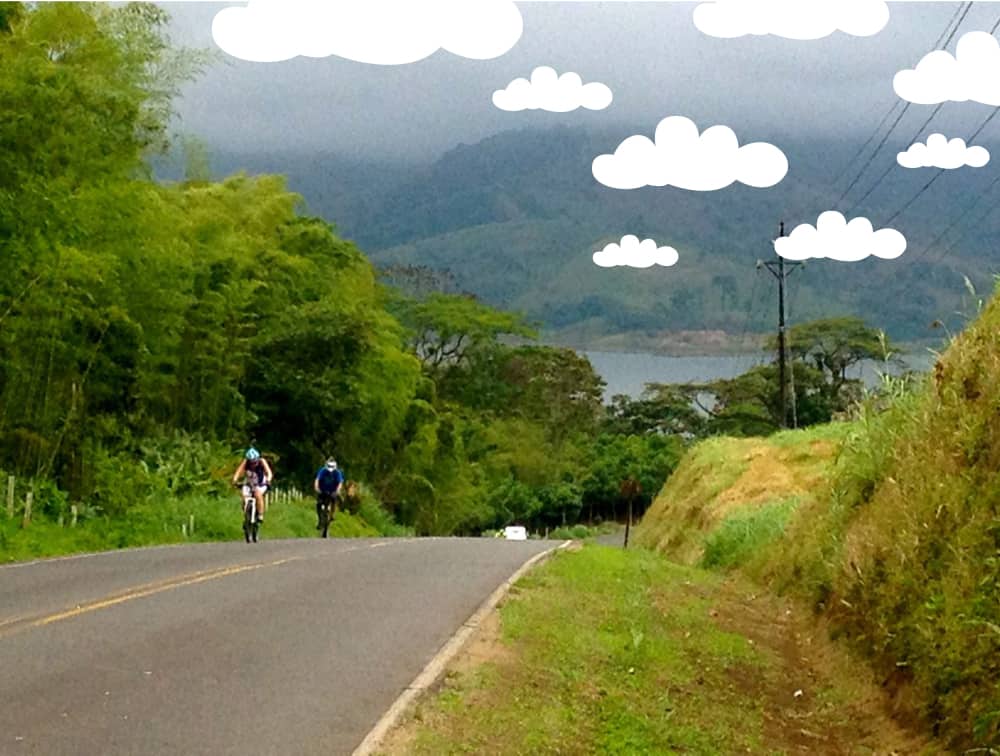 The hostel was a quaint second-floor operation in the middle of town. Its small veranda overlooked Tilarán's enormous white church and central green. The hostel's lobby looked more like a living room, and the corridors were filled with talkative young children. In the corner, a large television played Biblical epics. The clerk was a plainspoken woman who told me where to lock up my bike. She even guided me to the washer and dryer outside. I took my rancid bundle of clothes and dumped them into the machine. I thanked her profusely as water mixed with detergent. I was completely out of clean clothes. Every last sock smelled like a locker room.
After such a hard day, I felt positively resurrected.
Every last storefront was closed. "Cerrado" signs hung in every window and doorway. Instead of working or dining out, the entire town had gathered in the park. The crowd was enormous – hundreds of locals stood together before the church's doorway, silently waiting. Finally the music started, and the procession began. Pallbearers carried aloft a wooden casket, in which lay a mannequin of Jesus Christ. Other statuettes – of the Virgin Mary, of the Apostles – rose above the crowd, levitating slowly down the street. As the funeral march played, the crowd started to move, one step at a time, in perfect synchronicity with the music.
I had never seen anything like this before. Friends had told me about the Good Friday rituals, such as a reenactment of Jesus' judgment and death, but I was astonished by its popularity. Every resident seemed to have turned out for the solemn occasion. Far from the beaches, where Ticos and tourists flock for Semana Santa, I had the chance to observe a centuries-old tradition in a little-visited pueblo. I had arrived in Tilarán just as the sun touched the horizon. The moment felt, in all senses, divine.
•
Pura Vía is an 11-part travel series about biking across Costa Rica. Check out the next episode on Sept. 8. For previous chapters, click on the map above the story.

Robert Isenberg is a writer and photojournalist for The Tico Times. He is the author of numerous books, plays and documentaries. Visit him at robertisenberg.net.