On Sept. 7, cowboys from across the Americas and as far away as New Zealand will flock to Costa Rica's National Stadium for the country's first-ever American-style rodeo event. Competitors will test their skills in calf roping and cattle herding and try their luck riding on the backs of Costa Rica's most fearsome bulls.
"The country has had these type of events for years informally and on a smaller scale, but we have never had a large exhibition of the sport," said Manrique Mata, head of event promoter RPMTV.
But not everyone is excited to see the rodeo rise to San José's center stage. Shortly after its announcement, RPMTV's Facebook page was flooded with complaints from animal rights activists calling it a form of animal mistreatment. Animal rights groups filed four legal complaints with the Constitutional Chamber of the Supreme Court (Sala IV), which allege that the rodeo constitutes animal mistreatment under Costa Rican law.
"These events are a Roman circus brought into the modern age," said Marilu Arroyo, president of Teletón Canina, the group that filed the first legal complaint. "Look at any photo of a rodeo, the only animals enjoying it are the cowboys."
According to Arroyo, the legal complaints point to veterinary concerns about the long hours needed to transport animals as well as their treatment during the rodeo itself. The complaints also claim that a rodeo event of this scale could desensitize children to animal mistreatment. Though each of the complaints highlight these concerns, animal activists only questioned the legality of the rodeo's two lasso events — team penning and team roping.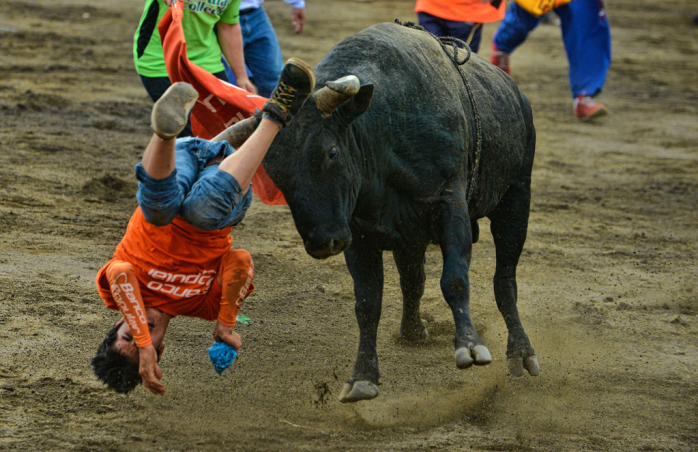 Though bull riding is regulated and explicitly permitted under Costa Rican law, lasso events are not, and the Sala IV could ban the two events, but not the whole rodeo, based on the complaints.
While animal rights activists claim lasso events are illegal, officials with Costa Rica's National Animal Health Service (SENASA) disagree and granted the event authorization on Aug. 19.
"What we found during our investigation is that this event is no different from the other livestock activities we have always had in this country," said Warren Hidalgo, a coordinator with SENASA's animal well-being program. "Lassos are often used in other events, and we don't see any higher level of risk with this event."
According to Mata, the rodeo will implement head protectors to prevent hurting cows during the lasso events and comply with all other SENASA regulations. Officials from SENASA also will be on-site during the rodeo and two previous days.
"There are a lot of people who are upset who are unfamiliar with the event," Mata said. "This is something we have always had in the country. They just see the publicity and think they are going to see blood and animal mistreatment. Those people are just misinformed."
But while Mata and SENASA officials point to the frequency of rodeo events to support Extreme American Rodeo's legality, Arroyo uses it to highlight the importance of the legal complaints.
"We are filing complaints about this large event in order to initiate legal discourse for all of the unregulated events in the country," she said.
Along with fighting RPMTV on this specific rodeo, animal rights activists also are pushing back in the Legislative Assembly. Two separate animal mistreatment bills are now in an Assembly commission. The first was drafted with the support of 136 different civil organizations, and a second stricter bill was drafted following a popular initiative petition with more than 200,000 public signatures.
The first bill, which is further along in the legislative process, would regulate rodeos, banning anything other than traditional Costa Rican bull riding and Toros a la Tica, where people enter the ring with the bull. The popular initiative bill would ban any bull spectacles outright.
"It is the hope of [Teletón Canina] that in the future Costa Rica won't have any bull events at all," Arroyo said. "For now we are just chipping away at the legal system little by little."