I've always heard that the Caribbean is laid-back, but I had no idea: When I tried to check out of my hostel in Playa Manzanillo, the staff was nowhere to be found. I rang the bell and wandered around the lobby, trying to find someone. After about 15 minutes, one of the owners appeared, looking vaguely annoyed. She asked me to pay in cash, because there was an issue with the machine. When I handed her the money, she told me, in thick Castilian Spanish, "Your Spanish isn't very good."
Good to know, I thought, and quietly crept away.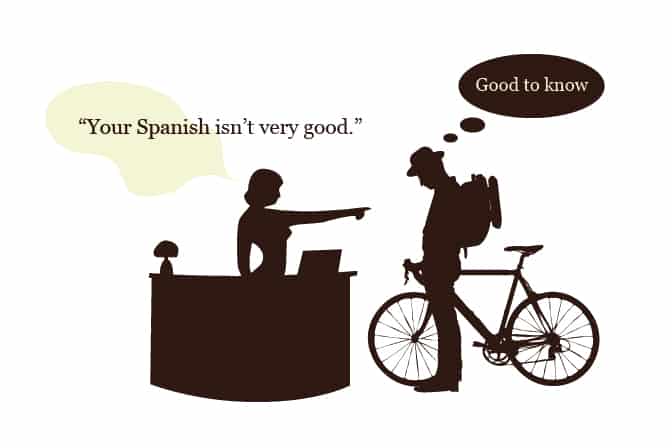 At the diner next door, I waited nearly an hour for a plate of eggs and gallo pinto. The singular waitress roamed from table to table, rolling her eyes at every order. Flies circled the bottled condiments. Nearby breakfasters sat in silence, wiping sweat from their brow.
Normally I would love this lackadaisical atmosphere, but I was eager to get moving. By the time my friend Lindsay dropped me off in Puerto Viejo, it was nearly 11 a.m. I heaved Kylan's bag onto my back, pressed my foot against my pedal, and rolled forward onto a small bridge. I eased past a swathe of white beach; then the forest swallowed the horizon, and all I could see was the road and two walls of trees. I felt warm breeze on my face and sun on my forearms. It felt like absolute freedom.
Pura Vía had begun.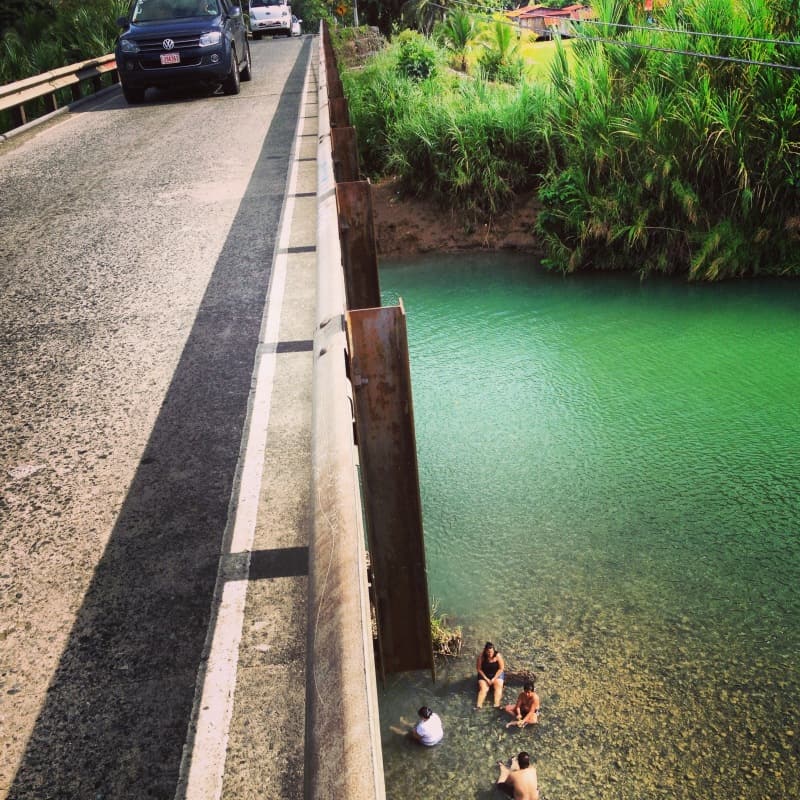 The coastal Caribbean highway is a flat strip of asphalt that cuts through endless forests and farms, interrupted only by some one-lane bridges over slow-moving rivers. Small houses dot the landscape, as well as pipa shacks, where vendors chop open coconuts with a machete and stick in a straw.
"Beautiful day," I said to a vendor as she handed me a pipa.
"Very hot," she said.
"How long have you worked here?" I asked, gesturing to the bamboo stand and its leafy shelter.
The old woman laughed throatily. She waved away the question. "A long time," she said. "I don't remember."
I met laborers biking to work. They nodded to me and murmured, "Buenos días." One skinny young man looked miffed when I passed him, and he quickened his pace, beating me over a trestle bridge. I paused to take pictures, letting him disappear into the distance. The kid was headed to work on a farm, while I was on vacation. Better to let him win.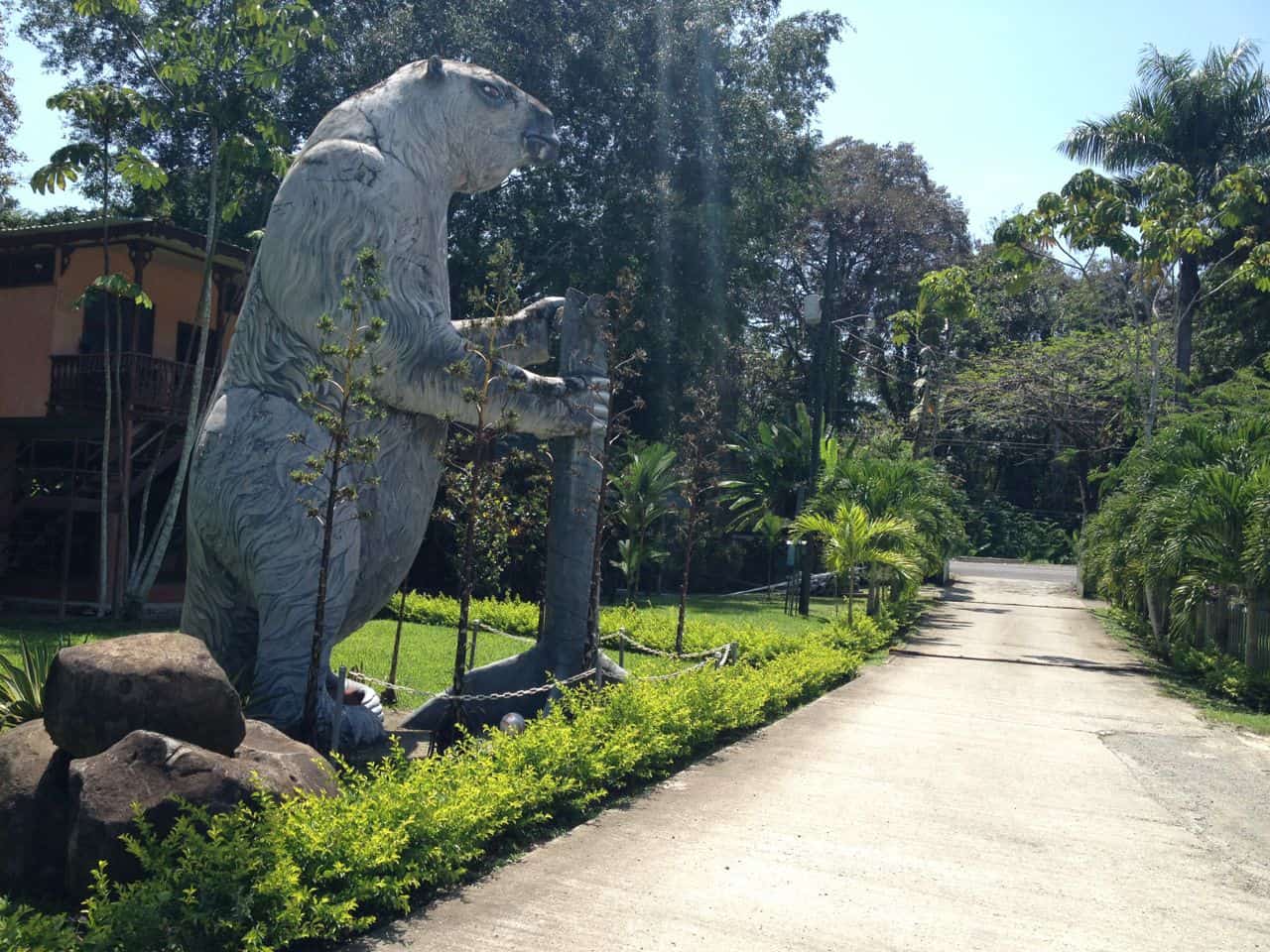 At the Sloth Sanctuary, I turned into the parking lot and locked my bike to a post. In all my months in Costa Rica, I had never seen a sloth in person, but I had heard a lot about the sanctuary and its 130 hectares of protected rain forest. I climbed the stairs into a main lobby, which doubled as a gift shop. I browsed racks of T-shirts and sloth teddy bears, waiting for the cash register to clear. Finally I asked about a visit.
"The tour is about two hours long," said the cashier, a cheery woman from Alaska. "And the next one starts…" She glanced at the clock. "The next one starts at one."
I admitted that I didn't have time and thanked her. This was the one downside to biking across the country: In order to keep a schedule, I would have to skip a lot of sights. Most people don't have weeks or months to spend in Costa Rica, and I didn't want to miss more than a week of work. Instead, I'd take mental notes for future trips. Like a lot of things, the sloths would have to wait.
Just when the endless palm trees became tedious, the forest opened up, revealing patches of beach and the frothing Caribbean Sea. Waves – some of the most coveted breaks in the world – undulated powerfully across the horizon. Tico families roamed the dunes. Children splashed in salt-water ponds. Fathers tended smoking barbeques as teens dribbled soccer balls in the sand.
I had chosen to travel the week of Semana Santa, or Easter Holy Week, when millions of Ticos evacuate the Central Valley and migrate to the beach. My editor had recommended Holy Week for my trip, because inland traffic would ease up, making biking easier. But there was another reason to pick Semana Santa: Costa Ricans become particularly Costa Rican. Churchgoers are unusually pious. Partygoers get reckless. The indifferent are intensely disinterested – in church or booze. I could have picked a "typical" week, but I wanted to see Costa Rica at its cultural zenith.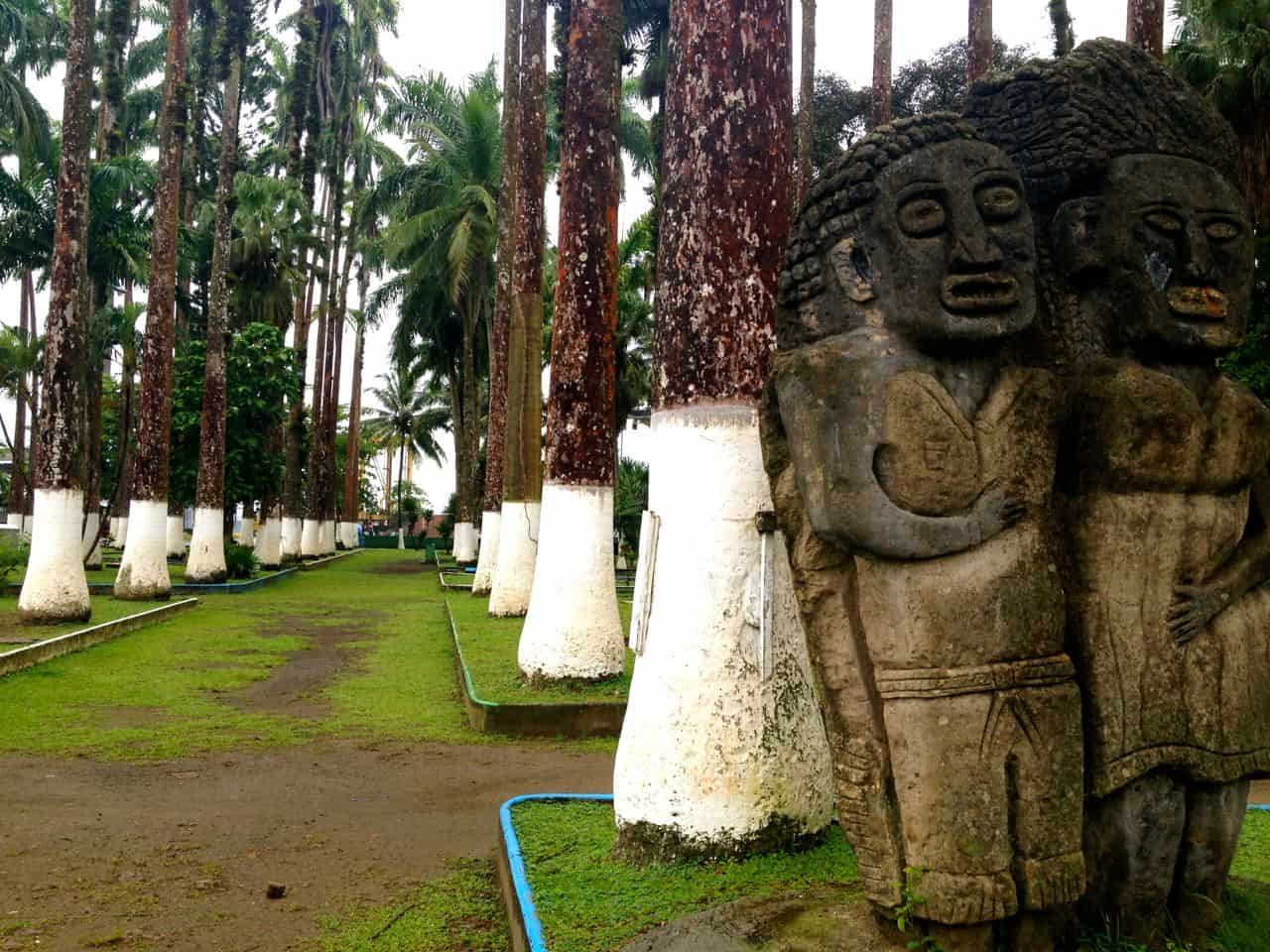 The road to Puerto Limón curves along a lazy crescent of coastline, which is dominated by dense grassland and the near-invisible runway of Limón airport. Cargo ships loom in the distance, their rusty hulls muted with haze. I relished the panorama, this wide stretch of open country, which would seem inviting but for the endless barbed wire fence.
As I coasted into Limón, I half-expected to get knifed at the first intersection. Everyone complains about the city, citing its ugly industrial skyline and high crime statistics. If you're going to get mugged in Costa Rica, they warn, it'll probably happen in Limón.
But I plunged into the center of town and rounded the central park, where robust trees and carved statues punctuated the green lawn. Couples cuddled on the stone benches. Old men watched the cars drive by. A pedestrian walkway was painted in faded African colors, and vendors sold frozen batidos from carts.
"Excuse me," I said, stopping in front of a dockworker in overalls. "Do you know where to find the Park Hotel?"
He smiled broadly and pointed down the street. "Just go straight," he said in Spanish. "About two blocks. Right on the corner. You can't miss it."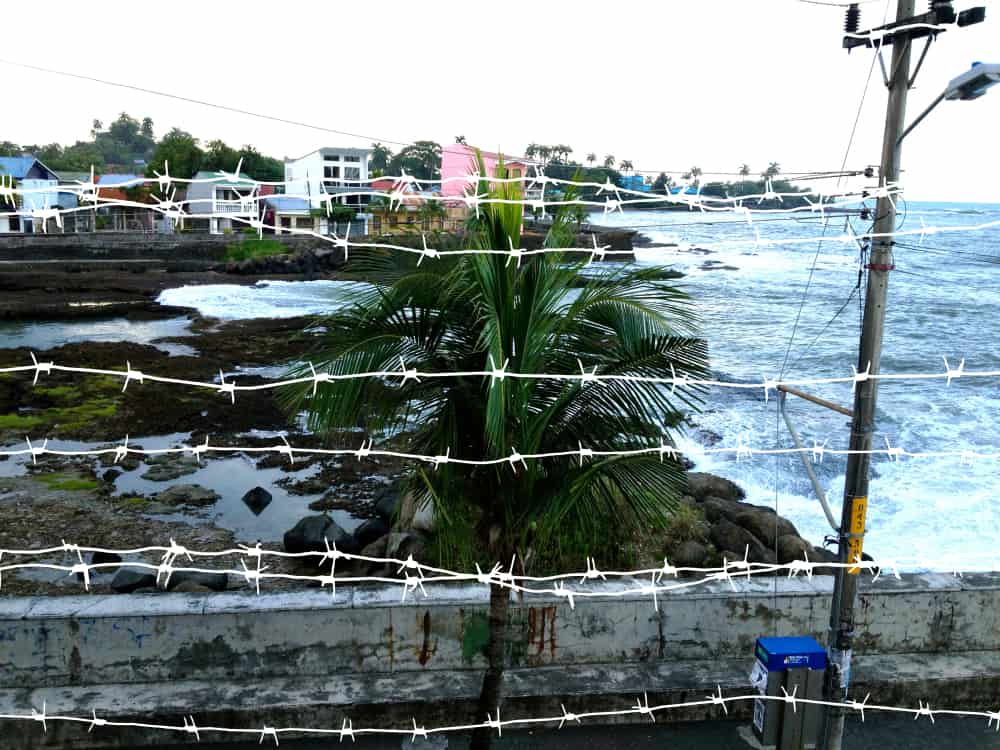 A part of me loves Limón, the same way I loved Pittsburgh: The city is old and weathered, and warehouses line the waterfront. But the place overflows with potential. From the balcony of the Park Hotel, I watched waves crash into a rocky inlet. Families sat on the stone parapet, studying the sun as it sank behind corrugated roofs. Nearby, BMX bikers did wheelies on a concrete court. I was lost in the vibrancy of the moment.
"Discúlpame!" came a husky voice.
I looked down and saw a man standing in the middle of the street. His hair was wild and his tank top and jeans were ragged. He pointed to his forearm, where a cotton swab was stuck fast.
"I need to go to a hospital," he called, his lips quivering.
"I don't have any money on me," I said. It was true.
"Two hundred colones?" he pleaded, dancing on his feet.
"I'm sorry. I don't have it."
He turned away, cursing me under his breath, and strode around the corner.
Tired from my first 65 kilometers, I retired early. My bed in the Park Hotel was soft and warm. Music wafted down the street from a nearby dance club. Laughter echoed outside my window. I tried to watch the news, but it felt like work. Within minutes, my sunburned body went limp, and the mattress seduced me into a deep and wondrous sleep.
Pura Vía is an 11-part travel series about biking across Costa Rica. Check out the next episode on Aug. 27.
Robert Isenberg is a writer and photojournalist for The Tico Times. He is the author of numerous books, plays and documentaries. Visit him at robertisenberg.net.