SEATTLE, Washington – The world's largest private charity – established by the richest but arguably the most generous man in U.S. history – is pouring billions of dollars into improving health care in Central America and throughout the developing world.
In late June, the Bill & Melinda Gates Foundation hosted a panel discussion and lunch for 29 ambassadors visiting Seattle as part of a three-day "Experience America" visit organized by the State Department. The panel's theme: "Seattle as a Global Health Hub" and "How Ambassadors Can Be Partners Abroad."
The diplomats listened intently as topics ranged from the role of animals in food security to the development of vaccines to fight tuberculosis, AIDS and malaria.
Projects funded by the Gates Foundation include a $2 million grant to Oxfam Central America and its local partner, Pro-Vida – an NGO based in El Salvador – to "reduce human suffering and material losses in the face of natural disasters" in El Salvador, Guatemala, Honduras and Nicaragua.
The foundation also has given $875,000 to Managua-based Federación Red NicaSalud to improve child survival indicators in those four countries, as well as $200,000 to CARE and World Vision following the 2007 devastation of Hurricane Felix in Nicaragua, and another $500,000 to Oxfam after a magnitude-7.4 earthquake struck southern Guatemala in November 2012.
In 2010, the Gates Foundation – along with Mexico's Carlos Slim Health Institute and the government of Spain – announced they would each kick in $50 million to establish the Salud Mesoamérica 2015 Initiative to slash health inequities affecting the poorest 20 percent of the population of Central America and southern Mexico. The Inter-American Development Bank is the executing agency responsible for preparing, implementing and monitoring projects funded by the $150 million initiative.
Expected results for the region include a significant drop in the mortality rate of children under 5 years old, a reduction in chronic malnutrition among children and pregnant women, and a boost in the coverage and quality of childhood vaccination, pre- and post-natal care, and access to family planning.
"We've already seen the world cut extreme poverty in half, so progress is possible," Sue Desmond-Hellmann, CEO of the Gates Foundation, said during a welcome lunch for the ambassadors. "We're inspired by that, but the past is no guarantee we'll be effective in the future. We know that progress depends on thousands of NGOs doing work on the ground, and on the private sector investing in the poorest. And that depends on you – the representatives of governments around the world – making that happen."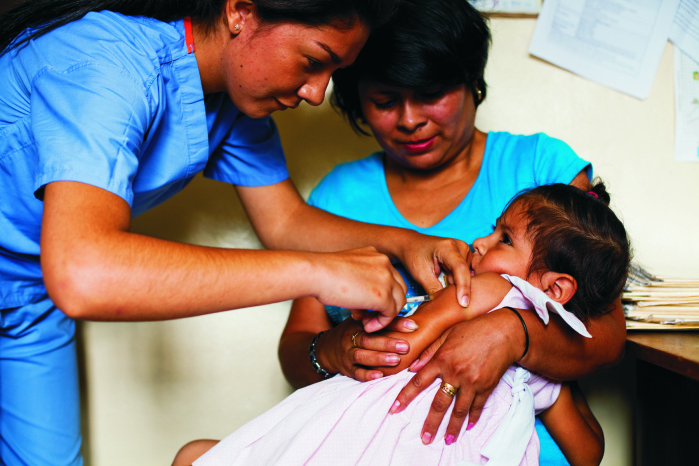 The Gates Foundation was established in 2000 by Microsoft co-founder Bill Gates and his wife, Melinda. That same year, it announced an $800,000 grant to the University of Costa Rica's Population Studies and Training Program.
"For the first time, students and researchers studying population issues at the University of Costa Rica will have a place to share ideas and resources, and begin applying what they learn to help improve the lives of women and children throughout Central America," said program director Luis Rosero when the grant was announced.
In October 2011, UCR received another $100,000 from the foundation "to scale up sustainable seaweed farming ventures in Costa Rica, characterize nutritional values of various crops, and formulate them into a nutritious seaweed meal that can be marketed as a low-cost standalone food or as a supplement."
The Gates Foundation's primary aim overseas is to enhance health care and reduce extreme poverty, and in the United States to expand educational opportunities and access to information technology. With an endowment of $38.3 billion, the foundation now ranks as the largest of its kind worldwide. As of May 2013, Bill Gates (who tops this year's Forbes list of the globe's wealthiest people, with a net worth of $78.8 billion) had personally donated $28 billion to the Seattle-based foundation.
"Through the Gates Foundation, Bill and Melinda Gates decided to devote their energies to achieving global health equity," said Lisa Cohen, executive director of the Washington Global Health Alliance (WGHA), one of the many nonprofits that receive funding from the charity. "What they've done is shine a light and inspire people to tackle these long-term, often astonishingly complicated problems."
Cohen said WGHA received a $1 million, three-year startup grant from the Gates Foundation, and is currently in the third year of a $250,000 grant. Her organization – operating on an annual budget of $600,000 – partners with World Vision, PATH, Washington State University, the University of Washington and other entities to "leverage the collective expertise of our 60-plus members" on global health issues.
"We've got 33 global health organizations within walking distance from where we are now. There are more than 200 global health organizations in this state, working in 156 countries on more than 2,500 projects," explained Cohen, a former journalism professor. "There's a culture of compassion in this state, and a can-do sort of attitude that we want to address problems and that we want to do it together. But it has to be done with the countries as partners. It can't just be lip service."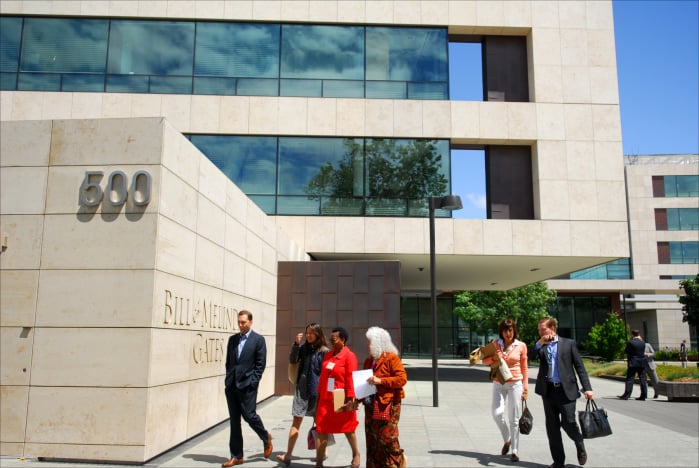 Besides Cohen, the panelists included Anita K.M. Zaidi, director of enteric and diarrheal diseases at the Gates Foundation, Steve Davis, president and CEO of Program for Appropriate Technology in Health (PATH), Christopher J.L. Murray, director of the University of Washington's Institute for Health Metrics and Evaluation, Alan Aderem, president of the Seattle Biomedical Research Institute, and Guy Palmer, director of Washington State University's Paul G. Allen School for Global Animal Health.
"We're an NGO, though we operate like a large and complex business," Davis told the panel. "We do a lot of work on vaccines and drugs in order to get at addressing the health inequities that exist in so many parts of the world."
Palmer, who leads disease control programs in Latin America and East Africa, told diplomats that the health of animals and livestock is directly related to food and economic security throughout the developing world.
"Women and children need a good protein supply, and for most people, the best sources of these are animal protein – whether it's milk, eggs or meat. The ability of children to make an immune response is based on the ability to make protein," he said.
Guyana's ambassador, Bayney Karran, asked the panel of experts what the Gates Foundation was doing to combat the spread of cancer, diabetes, heart disease and other non-communicable diseases (NCDs) throughout the Caribbean and Central America.
It's a concern shared by Ambassador Neil Parsan of Trinidad and Tobago, who noted that 45 percent of his country's 1.2 million people suffer from hypertension.
"The foundation is investing in areas where we feel we can make the most difference," Zaidi replied. "NCDs are preventable through tobacco control and diet. We're taking baby steps toward tobacco control as a global issue, but it's currently not our focus."
Davis, who worked on human rights, global health and refugee issues in the United States, Africa and Asia before becoming PATH's president and CEO in 2012, said the issue is of tremendous importance.
"Chris [Murray] and I are on a Council on Foreign Relations task force on what American policy should be toward NCDs," he told the ambassadors. "A lot of organizations are funding NCD work, and we're doing work on low-cost diabetes treatment in poor countries. But in general, funding is way behind."
Added Murray, a former top official at the World Health Organization: "In Central America, there's a huge upswing in chronic kidney diseases. But that shift in non-communicable diseases in 20 or 30 years took more than a century to happen in high-income countries. Most governments aren't really prepared to deal with it. You see this in Southeast Asia, Latin America, the Caribbean and China."
Among other things, Murray is a founder of the Global Burden of Disease (GBD) approach – described as a systematic effort to quantify the comparative magnitude of health loss due to diseases, injuries and risk factors by age, sex and geography over time.
Several years ago, Murray launched a collaborative effort by 500 researchers from 50 countries that resulted in the Global Burden of Diseases, Injuries and Risk Factors Study 2010 (GBD 2010). This latest iteration of the effort – which is funded by the Gates Foundation – generated nearly one billion estimates of health outcomes for 187 countries and 21 regions, and was published in the December 2012 issue of The Lancet.
"Next year we'll be tracking where the money goes. The underlying belief there is that richer debate in each country about what's important, and that will actually change the way we go about improving health," Murray said. "You can't capture the world's data and synthesize it in a meaningful way without it being a very broad undertaking."