It is a cold and stormy night. We children are starving and dinner is almost ready. The meat is cooked, the rice is done. Now the best part – they're making tortillas from masa right on the stove. The smell is intoxicating. And we hear the tortillas being slapped from rolled masa balls into tortillas between warm, loving hands, making the wait all the more painful.
Everything on our plate is devoured inside these piping hot, thickish, homemade corn tortillas. When food is eaten in a tortilla, in Costa Rica we've traditionally called that a gallo.
Flash forward: Working at construction sites, or grabbing a quick lunch at work in San José. A chunk of chicken with a pile of warm, corn tortillas. I could take on the world after that.
Another flash-forward: Living and working in Mexico (Durango, Zacatecas, Sinaloa) as a geologist. Going out with the field crew, the camp cook loads up our bags with a variety of meats, fruits, vegetables, and, yes, corn tortillas, rolled into a piece of cloth. Lunchtime comes, and regardless of the weather, regardless of the horrible conditions, everything stops while we light a fire, fill our tortillas, warm them over the fire, and stuff them down before a short siesta, and then we take on the world.
We could start with a discussion of corn and where it came from, which isn't clear, but we don't have time to get into that. "Tortilla" is an Old World term from Spain that usually refers to what in other European countries might be considered a frittata, or open omelet. Discovering corn in the New World, and the masa that could be made from it on metates, gave the colonizing Europeans a whole new view of gastronomy. It has become a ubiquitous staple throughout Mexico and Central America, and a good part of South America where it sometimes goes by other names, like arepa.
Unfortunately, in large portions of northern Mexico and southwestern United States conditions were too arid for corn. But there was flour. So, reluctantly our forefathers in these parts improvised making tortillas with flour, to everyone's chagrin.
I don't know about you, but when I was a young one in arts or crafts class, we mixed flour and water to make glue. And for making papier-mâché thingamabobs, which eventually dried out unless lacquered somehow. In high school, we met some Texans who immigrated for the regulation three-year stint at the embassy. They invited us over for Texan food, and dumbfounded, we watched them pour gobs of flour glue on the grill, creating tortilla-looking things that we were then supposed to eat. They tasted like fried glue to us.
Don't get me wrong. My Better Half is a Texan, and this is what she grew up with. I've also lived in Texas, New Mexico, Arizona and California, so I understand that the flour tortilla has become a staple, and amazingly, even favored over corn tortillas by those who simply don't know any better. Plus, my favorite Tex/NM/Ari/Cali-Mex food includes the chimichanga (invented, by the way on 22nd Street in south Tucson), which is one of my favorite things to eat, anywhere, anytime. Not to mention the burrito, which I'll take on like the best of them, and always in a flour tortilla. And don't get me going on the churro, glue extruded and fried in front of you, served hot and covered with sugar. Nothing better – what fried glue is supposed to taste like.
But come on!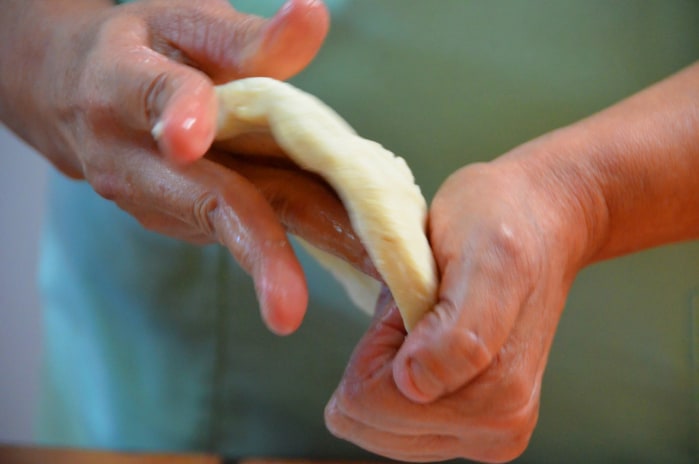 We went to a taco [sic] joint here in San José. There was a salad bar of sorts with great fillings, a very inspiring menu of taco-like edibles, and a friendly crew serving a 99 percent Gringo clientele. We ordered a number of things, and because I wasn't asked (which is what is normally done in the U.S.), I specified, just to make sure, that we wanted tortillas de maíz, as if such an obvious thing even had to be said. The girl blushed. She shuffled her feet. She couldn't look us in the eye.
"Ay perdόn, es que aquí no nos dejan trabajar con tortillas de maíz."
Gadzooks! We left.
Sure, in retrospect, of course I understand. They're catering to a niche that prefers the glue to the corn, and might even be insulted if a corn tortilla was seen anywhere on the premises. But don't expect the Ticos to come a-runnin' unless they're under the impression that because that's what you eat in the U.S., it's better, like a Big Mac.
So in the meantime, I have a fridge full of Escazú's finest tortillas caseras (homemade), and I'm determined to make my other half (the "better" part waiting to see how this goes) appreciate the corn, oh heavenly manna in which we wrap our protein. Of course she loves the cob, slurps up the chowder, and has no problem munching a can of the creamed when feeling peckish. Maybe I'll slip them into a casserole with enough spice to make even that Texan palate go "Gadzooks!"
And of course, corn tortillas are better than glue on the digestion. That's what I'll tell her!
Jonathan Harris is a Costa Rican geologist and president of The Tico Times' board of directors.