There is one important reason Ukrainian authorities are so sure that pro-Russian rebels shot down a Malaysia Airlines jet: An account on the Russian social network Vkontakte, which relays official dispatches from insurgent military leader Igor Girkin, aka Strelkov, boasted about the rebels shooting down a plane at about the time of the crash.
The Boeing 777, on its way from Amsterdam to Kuala Lumpur with 295 people on board, crashed between the village of Grabovo and the mining town of Thorez in the Donetsk region of eastern Ukraine. Air-traffic controllers lost touch with it at 4:20 p.m. local time, pravda.com.ua reported.
The Vkontakte account reported at 5:37 p.m. Moscow time (4:37 in Donetsk) that a large plane – identified as an Antonov An-26 transport plane – "has just been shot down near Snizhne," a town close to where the Malaysia Airlines plane went down. This appears to be an edited version of a gloating post that is available only in screen shots now (I have one). In that initial version, the post went on: "We warned them not to fly in our skies. And here's a video of another bird going down. The bird fell behind a coal heap, residential areas were not hit, peaceful people did not suffer."
The most realistic version of events is that the rebels thought they were aiming a ground-to-air missile at a Ukrainian transport plane. The government is using such planes to drop supplies to servicemen surrounded in a rebel-held area not far from where Flight MH17 crashed.
Even if new information surfaces absolving the trigger-happy Strelkov and his men, there is no denying the fact that the conflict in eastern Ukraine is their doing. Strelkov's top cadre includes military re-enactment enthusiasts like himself who have fought in numerous local conflicts just because they like it. Strelkov's account is full of tales of the rebels' clashes with the inept, bumbling Ukrainian troops: the barely trained army, the National Guard made up of recent street-revolution activists, patriotic volunteers with little fighting experience. The area is full of angry, badly trained people and serious military hardware. The rebels recently seized the Buk ground-to-air missiles, capable of shooting down planes at high altitude, from a Ukrainian base, according to Russian state news agency Itar-Tass.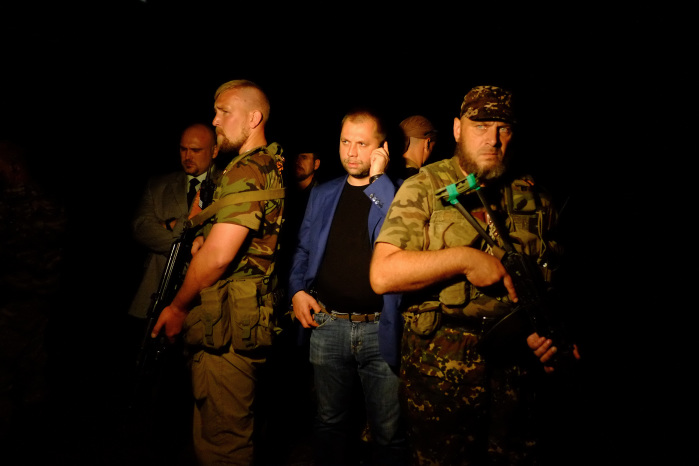 Both sides have more weapons than they know how to use. Ukraine never expected to fight a war at all, especially not with Russian nationalist fighters, apparently backed and armed by Russia. It was started by these fighters and by local insurgents unhappy about the Ukrainian nationalist government in Kiev. It is a battle of amateurs and semiprofessionals _an emotional, dirty, ad-hoc war and a major accident waiting to happen.
The only solution is for professionals to intervene, separate the sides and oversee their disarmament. If the downing of Flight MH17 proves to be the work of participants in the conflict, the United Nations will have cause to send in peacekeeping troops. If Russian President Vladimir Putin resists that, he will be as guilty as those responsible for the crash.
The other alternative is for shocked politicians in Russia, Ukraine and the West to agree that the conflict should end immediately. Strelkov and his fighters, however, are not quite the Putin puppets they are often thought to be. They have their own scores to settle with the Kremlin and nothing to lose. I doubt that the fighting can be stopped by political means.
Bloomberg View contributor Leonid Bershidsky is a a Moscow-based writer.
© 2014, Bloomberg News