Earlier this month, nine Costa Rican athletes flew to Brazil to compete in an international soccer tournament. But unlike La Sele, this team was made up entirely of teenagers – and they represent the eight indigenous peoples of Costa Rica.
The event is called the Indigenous Cup, and although it was held in Brazil alongside the World Cup, the event was as much a community-building exercise as a soccer championship. The event is hosted by Football for Hope, a global initiative to help at-risk youth. Created by the International Federation of Association Football (FIFA) and Street Football World, the Indigenous Cup took place July 3-12.
Representing Costa Rica was Seprojoven, a youth organization that also provides outreach to indigenous communities. Out of 90 multinational organizations that applied for the Indigenous Cup, Seprojoven was among only 32 to be selected. The total roster included 300 players from 26 countries.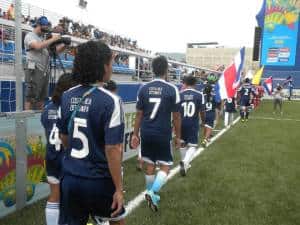 "The [Indigenous Cup] requires skills in communication, leadership, and soccer," explained Roy Arias Cruz, director of Seprojoven. "The week of the event includes cultural exchange activities, a youth forum on the problems for youth in today's world, a workshop on conflict mediation, workshops on samba and capoeira dance, art activities, visits to projects in the favelas and a soccer tournament based on fair play."
To prepare for the tournament, the young players had official practices once a month at soccer fields in San José and Talamanca. They received financial support from FIFA's Office for Social Responsibility, from the Costa Rican Football Federation (Fedefut), and from private donors. They also worked on leadership skills and team-building exercises. Compared to a traditional soccer match, the Indigenous Cup places additional emphasis on civil behavior from its athletes as well.
"There is a special methodology," said Arias. "It emphasizes fair play. In this sense, we won all points for fair play and honesty, respect, friendship, [and] solidarity, for example, but we didn't always score goals."
The team finished the tournament with three wins, two draws, and two losses.