POTOSÍ, Bolivia – Cerro Rico, the fabled peak towering over the Bolivian city of Potosí that supplied silver to fund Spain's colonial empire, is at risk of collapse from overmining, putting thousands of workers in jeopardy.
Potosí, which earned UNESCO World Heritage status in 1987, was seen as the world's largest industrial complex in the 16th century thanks to its massive deposits of silver and tin.
But last month, the U.N. cultural body placed the colonial city, perched high in the Andes, and the increasingly unstable Cerro Rico on its World Heritage in Danger list due to "uncontrolled mining operations."
A symbol of the colonization of Latin America and the exploitation of its rich resources, Potosí and its 200,000 residents now largely live in poverty in the shadow of Cerro Rico, or "Rich Hill."
So despite the dire warnings, no one imagines that silver extraction — basically the region's only source of revenue — could eventually halt altogether, leaving wary officials in a bit of a quandary.
"We are not going to leave this place, because it's the source of food for our families," says Carlos Mamami, who leads one of the privately-run cooperatives that bring together Potosí's 12,000 miners. "Where would we go?"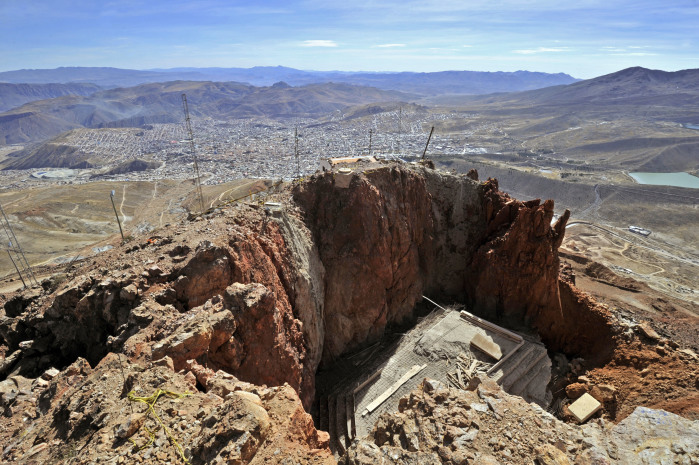 A 'mountain that eats men' 
Cerro Rico has been mined continuously ever since a Quechua man named Diego Huallpa accidentally discovered silver there in 1545, early in the era of Spanish colonial rule.
Silver from Spain's New World mines, especially Cerro Rico, was turned into coins and used to fund Madrid's empire for centuries. The coins remained a global currency well after Bolivia's independence in 1825.
Today, pierced by more than 100 kilometers (60 miles) of tunnels, Cerro Rico is something of a giant ant hill.
So much silver has been extracted that experts believe the mountain, currently 4,787 meters (15,700 feet) tall, has lost 400 meters in height over the years.
Miners still work as they did centuries ago, with picks and shovels, and in difficult conditions, the president of the society of Potosí engineers, Ronald Fajardo, told AFP.
About 5,000 tons of soil, silver and tin are extracted every day.
Each year, about 30 miners die there, according to official figures. But because of the transient and informal labor system, the death toll could actually be much higher.
"UNESCO does not want a World Heritage Site to become a cemetery, a disaster zone," Bolivian Culture Minister Pablo Groux said soon after the U.N. cultural body's announcement.
The tunnels collapse so frequently that the government has tried to stabilise the mountain by filling them with a mixture of cement, sand and polyurethane. But cave-ins have continued.
And the once glorious Potosí — one of the most populous cities in the world, rivaling London, Paris and Madrid by the late 16th century — has meanwhile fallen further into disrepair.
"There is evident deterioration in Potosí because there is no preservation policy," said Osvaldo Cruz, the director of culture for the regional government.
Another source in the Potosí city government told AFP: "There is no preservation of the monuments because there is no money."
Legendary wealth
Potosí, located some 4,000 meters above sea level, and Cerro Rico are at the core of Bolivia's identity. The outline of the mountain appears on Bolivia's coat-of-arms and is engraved in the country's coins.
Legend had it that there was enough silver in Cerro Rico to build a bridge from Potosí to Madrid.
A government agency has estimated that Cerro Rico has produced more than 60,000 tons of silver to date — the equivalent at current-day prices of $40 billion.
But today, Potosi's historic center — with its narrow cobblestone streets, regal homes with stone columns, broad terraces and intricately carved wooden doors — is neglected.
And residents have not seen much of the mineral wealth poured back into the city, in a country considered to be the poorest in South America.
"Here, we are still poor. We don't have any factories here. There is no development — just the mines. What has the mountain left us? Trash and pollution," said the head of the Potosí civic committee, Jhonny Llally.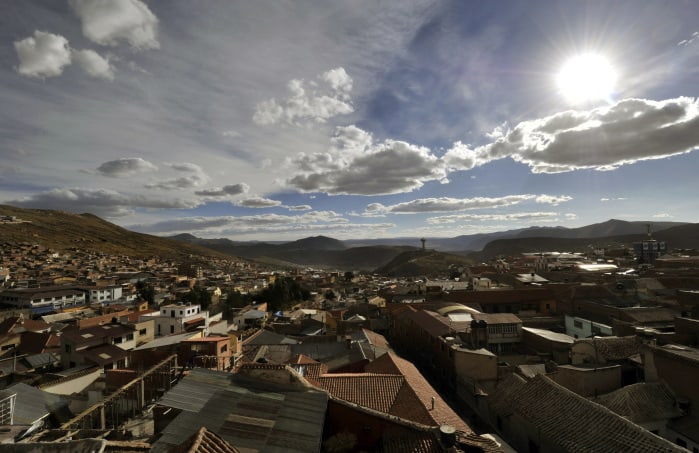 Future unclear 
Faced with the dire consequences of unchecked mining, some residents of Potosí say that activities at Cerro Rico should cease, and the site should be preserved.
"We want them to care for the Cerro and to stop mining there," said Magela Alí.
The Cerro "should remain as a monument," said Gregorio Condori, another resident.
"No more mining should be allowed, and it should be turned it into a tourist attraction — because if not, at some moment, they are going to completely destroy it," he said.
The country's mining minister said Monday that miners could gradually stop working high atop the peak over the next six months, under a deal reached between the government and the cooperatives.
The miners and their powerful privately-run cooperatives are seen as allies of the leftist government of President Evo Morales, making it difficult for ordinary residents to demand tougher action.
One mining engineer, speaking on condition of anonymity, told AFP that he had been threatened for voicing his concerns about the risks.
"If I continue to criticise them," he said, the miners "told me that they would throw dynamite at my home and blow it up."