Update Monday, July 7:
Patrick Hundley appeared before a judge in Puntarenas to appeal his $2 million bail Monday. The judge reduced his bail to $1.5 million, Hundley's lawyer, José Manuel Echandi, told The Tico Times. Echandi said that they welcome the reduction but will continue to push for a bail of $300,000, a figure he said more closely aligns with Hundley's reported income of $73,000. Hundley remains held in preventive detention. The prosecutor's office has still not formally charged the U.S. real estate developer with a crime after five months in jail.
Original story continues here:
U.S. real estate developer Patrick Hundley, 46, is speaking out from his jail cell, where he has been incarcerated for over four months since his arrest in February for allegedly defrauding Michigan investors to the tune of $7 million dollars.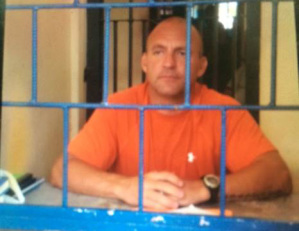 On Monday, June 23, The Tico Times and other English-language media received an open letter from Hundley decrying his preventive detention in a Pérez Zeledón jail, in Costa Rica's Southern Zone. Hundley allegedly offered to help the investors avoid fictitious fees by purchasing land for real estate development through his company. The plaintiffs – Dag Hascall, Robert Sweezie, Dan Carrol and Terry Fiscus – claim Hundley failed to add them as shareholders of a 15,850 square-meter property in Jacó, known for its surfing and beaches, after they gave him $7 million.
The U.S. developer, who claimed to have lost 25 pounds since his detention, focused his criticism on preventive detention, whereby a suspect is held in jail by court order as the prosecution builds a case. Hundley alleged in his letter that the practice "goes against the laws of [Costa Rica] and against all human rights."
Hundley also described overcrowding, a lack of medical attention and violent conditions in the Pérez Zeledón detention facility.
"The current system is evil and a poor, poor reflection of Costa Rica," Hundley said.
"He's been in jail for four months now without a formal charge. His bail was set at over $3 million but original lawyer [Erick Ramos] never consulted him about it. [Hundley] does not speak Spanish and his lawyer did not speak English," Hundley's lawyer, José Manuel Echandi, told The Tico Times in a telephone interview.
Echandi said that he plans to appeal Hundley's bail, which was lowered to $2 million, again this week.
Hundley, a U.S. citizen and Costa Rican resident, is a prominent real estate developer in the central Pacific beach town of Jacó, where he has lived since 2003 and built his first project, Bahia Azul, in 2004. His company Daystar has built another five since then. The developer also was the former owner of the minor league Jacó Rays soccer club.
The defendant claimed in the open letter that he was "taken hostage by the Costa Rican government" after he appeared to give his deposition at the Puntarenas Prosecutor's Office on Feb. 17:
"Instead of giving a deposition, I was arrested. I was taken to a jail cell where I remained for three days. I was never given an explanation or told of my rights. My home for three days was approximately four meters by four meters and I had as many as 16 roommates at any given time. You sleep on the concrete floor wherever space is open."
After a judge in Jacó ordered that he be held in preventive detention in Pérez Zeledón, Hundley wrote:
"The Prosecutor had no proof or documents to support his case, but the judge felt I should be in Prison while the Prosecutor had time to build his case. So, I was taken away from my family and business with no evidence of wrong doing. I was determined guilty until proven innocent, which of course, is completely opposite of how the law is supposed to work."
Preventive detention, the holding of a suspect in jail while the prosecutor gathers evidence to determine if a case should go to trial, is common in Costa Rica. The prosecutor's office denied that Hundley's detention was any indication of his possible guilt, according to a statement The Tico Times received from the Puntarenas office as delivered by the U.S. Embassy in San José.
Echandi, however, alleged that his client is receiving harsher treatment than the other two suspects, both Costa Rican.
"Here in Costa Rica, there is a constitutional presumption of innocence and they've treated him as if he were guilty. They put him under preventive detention while the other two, who face the same charges, [are free]. They just need to sign in [with the prosecutor's office]," Echandi said. The Tico Times previously reported that the other two suspects were a man with the last names Mora Delagdo and a woman identified as Fernández Cruz.
The Puntarenas Prosecutor's Office said they asked that Hundley remain behind bars as they wait to access evidence "important to the investigation" from the developer's computers confiscated during raids of his offices and home in February. As a result, a criminal court in Puntarenas extended Hundley's preventive detention beyond the original two months into August. The prosecution's statement to The Tico Times said they believed Hundley to be a flight risk and wanted to ensure that the developer did not interfere with the investigation.
Hundley claimed that his cell was built for 22 but held as many as 66 during his time there, and he bemoaned a lack of drinking water and a lack of proper medical attention for detainees. "Frankly, the overcrowded and unsanitary conditions breed an unhealthy environment which leads to many illnesses and violent actions," Hundley wrote.
Justice Minister Cristina Ramírez might well agree. Ramírez previously told The Tico Times that overcrowding in Costa Rica's prisons – currently over capacity by 38 percent – is a major contributor to increased violence and poor conditions for the incarcerated and prison staff. Ramírez added that some 20 percent of those incarcerated in Costa Rican prisons are awaiting trials, like Hundley.
There is still no trial date set for Hundley's case.