https://www.facebook.com/photo.php?fbid=574447549330947&set=pcb.574448429330859&type=1&theater
Costa Rica awoke in a euphoric daze Monday after its beloved national men's football team, known as "La Sele," became one of the eight best squads in the world after defeating Greece in a World Cup penalty shootout on Sunday afternoon.
Costa Rica, believed by almost everyone to be one of the first teams eliminated from the Brazil World Cup 2014, has become the darling story of this year's tournament. Facing incredible odds – including the infamous Group D, or Group of Death, or Group of Champions, take your pick – Costa Rica's Sele has shown unmatchable tenacity and determination. Led by the brilliant tactical coach from Colombia, Jorge Luis Pinto, Costa Rica has eliminated the former powerhouses of Uruguay, Italy and England, and now Greece.
When Sunday's tense, nail-biting, heart attack-inducing shootout ended – thanks to a left-handed save from world-class goalkeeper Keylor Navas and five perfect shots from the Tico side – 4.8 million Costa Ricans flooded the streets and central parks across the country to celebrate. The party lasted all night.
Followers and fans immediately flooded the Web with selfies, analysis, joyous posts, congratulations and tearful tributes. Navas, displaying his newly won "Man of the Match" trophy, along with a photo of his historic stop, posted an emotional message full of the type of humility that symbolizes the best of this tiny Central American country and its young national team (see image above):
This stop and this award are for God, my family, my colleagues and for all of Costa Rica!!! Long live Costa Rica, long live the Sele!!!
But Navas' stop wouldn't necessarily have ensured victory had it not been for La Sele's Michael Umaña, who nailed perhaps one of the most stressful, difficult shots in Costa Rican history. Costa Rican TV station Teletica posted a video of sports narrator Kristian Mora calling the win as his colleague tears up. Watch it here. (Warning: Have the tissues handy.)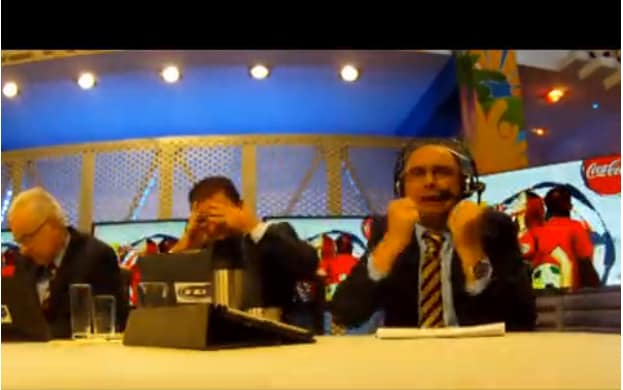 Ticos around the world joined in the party. In New York's Times Square, Costa Ricans rallied to watch the events unfold on the big screen. Following the win, they sang the national anthem, "Noble Patria, Tu Hermosa Bandera," ("Noble Homeland, Your Beautiful Flag"), followed by "oooeee ooeeee ooeee ooeee, Ticoooooos, Ticoooos."
Midfielder Michael Barrantes took us into the post-game locker room:
https://www.facebook.com/photo.php?fbid=1503874226493601&set=a.1497063317174692.1073741829.1478315565716134&type=1&theater
La Nación, Costa Rica's leading Spanish-language daily, posted a touching photo of Tico striker Joel Campbell holding his father's hands in the stands following the match, with the headline, "Costa Rica is among the eight best in the world."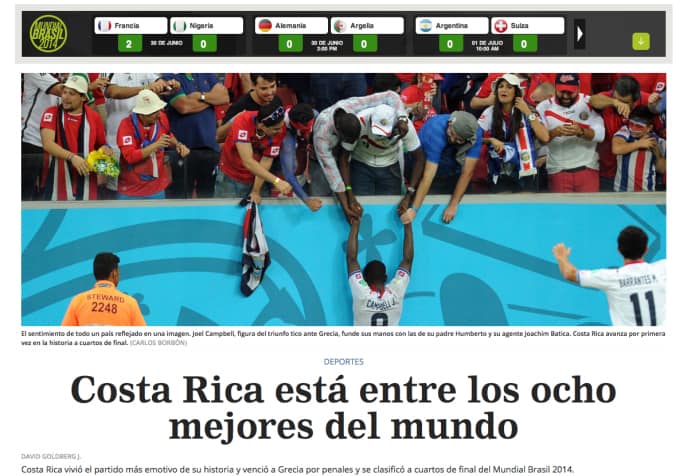 Grupo Nación's sports daily, Al Día, said simply: "Bravery, pride and courage."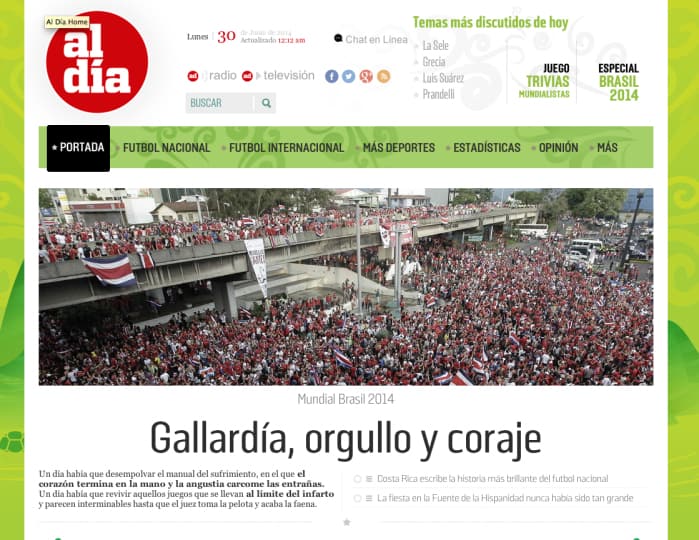 Spain's El País paid tribute to Keylor Navas with a story headlined "Costa Rica's Hero":
Keylor Navas kept a steady hand even in the penalty shootout, certain of his stellar role in Costa Rica's classification to the quarterfinals, illuminated.
The Wall Street Journal juxtaposed "Mexico's Agony" with "Costa Rica's Ecstasy," saying:
In its first attempt, Costa Rica managed what El Tri hasn't in 28 years. Mexico is a specialist in second-round defeats, an unfortunate feat it has managed now in six consecutive World Cups.
Journalist Jorge Ramos tweeted:
Navas, Navas, Navas, Navas y Navas

— JORGE RAMOS (@jorgeramosnews) June 29, 2014
And then:
Costa Rica!!!!!!!!!!! Ese Navas es grande!!!!!

— JORGE RAMOS (@jorgeramosnews) June 29, 2014
Google described the match as "David v. Goliath," noting that if Costa Rica wasn't on people's radar, "they are now":
If they weren't on people's radar, they are now… #CRC #GoogleTrends #WorldCup pic.twitter.com/ceLOxTS1UV

— Google (@Google) June 29, 2014
At The Tico Times, our Twitter feed was flooded with messages of support from around the world.
Congrats to #CRC and @TheTicoTimes – Sloth Kong will fight another day! Vamos #Ticos! pic.twitter.com/PHd8qPNYNS

— OTF Soccer (@OTFSoccer) June 30, 2014
And back home, a proud president who upended half a decade of traditional political rule, celebrated with his people.
https://www.facebook.com/photo.php?fbid=872703992759121&set=a.872701256092728.1073741997.199246583438202&type=1&theater
Costa Rica takes on the Netherlands Saturday at 2 p.m.