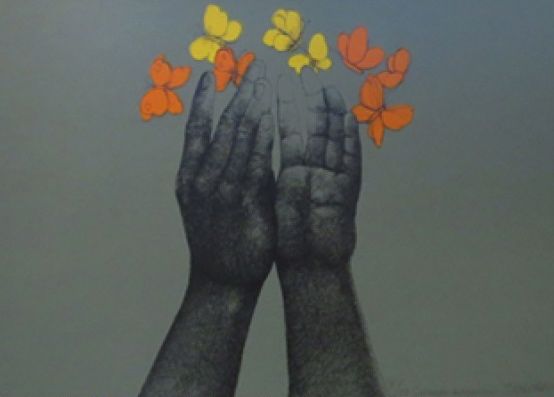 It's one of the miracles of art: If you know what you're doing, you can skip the brush and just dribble paint directly onto paper. The paint plops into lines and curves, drips and splotches, until – voila! – a woman's face emerges, as human and alive as a painting can be.
Such freeform painting is just one of the techniques Fernando Carballo has used over the past four decades, along with drawing and traditional brushwork. Now 72 years old, Carballo is a revered artist in Costa Rica, where he has won awards for his canvases. This month, Casa del Artista has dedicated its gallery to a Carballo retrospective; simply titled "Graphic Exposition," the display showcases 15 of his works.
If you happen to be passing through the neighborhood of Guadalupe anyway, the Carballo collection is worth a visit, especially if you have never heard his name. What's striking about Carballo is that he has tried a variety of styles and media: "Muchacha Bonita" is the portrait of a young woman, a kind of line drawing made from dripped paint. In contrast, "Espalda Masculina" ("Masculine Back") shows a shirtless man's shoulder blades. His musculature is richly colored and shaded with colored pencils. The two portraits seem completely dissimilar, as if created by two very different artists.
Yet all of Carballo's work shares a single trait: it seems slightly unreal. Even his most realistic figures, like the one in "Personaje" ("Character"), is somehow warped or exaggerated. The bald, naked man in "Personaje" is realistically rendered overall, but he has a huge, beckoning hand, like a homunculus in a bad dream. "Madre" ("Mother") is the haunting image of a woman, drawn in stark pen-and-ink, with a stoic face and bulbous lower belly. Carballo imaginatively renders her curvature, from sharp nose to baby bump, with the anatomical freedom of Frank Frazetta. Many of the other figures look like Freudian doodles, playfully sexual though never exactly erotic.
The Carballo exhibit is the perfect excuse to visit Casa del Artista, an art school operated by the Museum of Costa Rican Art. With a name like "Artist's House," you might expect a rundown potting studio in a converted mill, the kind of dusty little workshop you find in quaint U.S. towns. But Casa del Artista is headquartered in a spacious, spotless, super-modern building. The school hosts hands-on classes in every kind of medium. If you have artistic aspirations and you speak even a lick of Spanish, the course catalogue is worth a gander.
In this sense, Carballo's work is the perfect installation for the school's lobby. He demonstrates the range of draftsmanship a single artist can attempt. Try everything, he seems to suggest. Something's bound to turn out right.
"Exposición Gráfica de Fernando Carballo" continues through June 30 at Casa del Artista, Guadalupe. Mon.-Fri., 8 a.m.–8 p.m.; Sat., 8 a.m.–4 p.m. Free. Info: Museum of Costa Rican Art website.