Queen Elizabeth II's birthday celebration on Tuesday was distinctly English. Guests were treated to pints of beer, whiskey on the rocks and fish and chips in a cardboard cone. Flags of the United Kingdom hung from the ceiling and athletes demonstrated how to play rugby. Images of British celebrities and pop culture were projected around a stage, and a painting of the Queen Mum was displayed on an easel stage left, garnished with floral bouquets.
But the celebration also reflected its Costa Rican context. The 300 guests of the British Embassy mingled in the ballroom of the Crowne Plaza Hotel Corobicí in downtown San José, speaking an equal mix of Spanish and English. When the ceremony started, teenaged musicians from the British School of Costa Rica played an orchestral arrangement of the Costa Rican national anthem, followed by "God Save the Queen," and then "Happy Birthday" (or "Cumpleaños Feliz," depending on who was singing along). British Ambassador Sharon Campbell and Costa Rican Foreign Minister Manuel Gonzélez Sanz each delivered a speech in Spanish.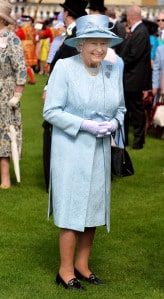 While Queen Elizabeth actually turned 88 on April 21, the honorary fiesta was a chance to celebrate the embassy's achievements and showcase certain groups and businesses, including Costa Rica's Craft Brewing Company, HeartSine and the Costa Rica Cricket Federation (Fedecric).
"There is a national team and also a university league," explained Robert Moers, a Fedecric liaison, who spent much of the celebration demonstrating how to swing a cricket bat. Nearby was an informational poster that read, "Cricket at a Glance."
Do a lot of people come to the games?
"It depends," said Moers. "In Limón, it's more popular, because it's better known among Caribbean people."
Perhaps the most conspicuous attendees were the guardsman who stood at attention at the entryway. This special division of the Costa Rican police force is said to have received training from the British military, and members wear unique uniforms. Given Costa Rica's abstention of armed services, many guests mentioned how curious it was to see Tico policeman in martial regalia lining the carpeted staircase.
Melvin J. Goldberg, a retired U.S. commander, was impressed.
"They saluted me as I came in," Goldberg said. "I have never seen respect like that for an officer in my life. I asked to speak with their commandant. I told him I was honored to be saluted by the police."
Nothing rivals English decorum.