"Try this one on," said the energetic young costumer as she handed me an earth-toned blazer. I slipped my arms through the sleeves and was relieved that it fit perfectly.
"What's your pants size?" she asked, raking through a freestanding shirt rack.
"I'm not exactly sure," I said. "In the U.S., I'm a 34 waist."
As the costumer nodded and went to fetch more options, I wondered who exactly I was supposed to be. The last I heard, I would be playing a "Gringo reporter," which I figured would be easy, since I'm a Gringo reporter in real life. But now I wasn't sure. No one had explained my role. I hadn't even seen a script, much less read it. Then again, that's how movies often work, especially for actors hired at the last minute.
I stood in the middle of a locker room in the Colleya Fonseca Stadium in Barrio Guadalupe, which buzzed with activity. A dozen male actors were dressing themselves in knee socks and athletic shorts, bright jerseys and cleats. Half of them wore the uniforms of the 1990 Costa Rican national soccer team, while the other half dressed in the jerseys of Scotland. Nearly every actor was Tico, and everyone spoke Spanish as a first language. Everyone but me – the only Gringo, and the only guy asked to wear a suit.
This was the set of "Italia 90," a feature-length film produced entirely by a Costa Rican cast and crew. Directed by Miguel Gómez and shot over the course of 20 days, the film's first phase was nearly finished by the time I showed up: The next morning, shooting was slated to wrap.
As I shimmied into a pair of tan slacks, I spotted Alejandra Vargas, the young woman who hired me. "They need you in makeup," she said. "When you're ready."
Alejandra led me into the dark corridor, which was even busier than the locker room. Crewmembers adjusted lights and tinkered with audio equipment. Actors milled around, pouring themselves coffee and water from plastic containers. Other actors formed a line around a makeup artist. One by one, they sat down, received a dusting of base and jogged away. Finally I sat down before the middle-aged man and his makeup kit. He held his brush aloft.
"Who are you?" he asked.
Good question, I thought. I'm not exactly sure.
 •
Three months ago, I received an email from DeleFOCO, an "audiovisual community" that brings together industry talents from across Central America. The email was a casting call for the film "Italia 90." The name meant nothing to me, but as a longtime semi-professional actor, I was intrigued. I sent an email to DeleFOCO, describing myself as a red-bearded Gringo with passable Spanish and a lot of acting experience. If I wasn't right for "Italia 90," maybe I could join a roster for future projects?
To my surprise, Alajandra wrote me back a few weeks later to ask for a head shot. Soon after, she offered to put me in a scene as a "Gringo reporter." The prospect excited me, but there was a problem: I was at the beach and couldn't get back in time. I assumed I'd missed my chance, but after some phone tag and frantic rescheduling, we finally arranged to shoot a different scene on a sunny April morning.
From the moment I arrived on set, I was impressed: I've worked on only a couple of Hollywood sets, and always as an extra, but the Costa Rican studio had all the essentials – catered breakfast, grips, dressers, makeup people and mountains of equipment, from a professional digital camera to boom mics and floodlights. Yet what really struck me was the costuming: Each actor was outfitted with period-accurate Selección uniforms from 1990, including outrageously short shorts. The actors had fashioned their hair into mullets and Jheri curls. The costumers had even applied colored tape to their socks, to make them appear striped.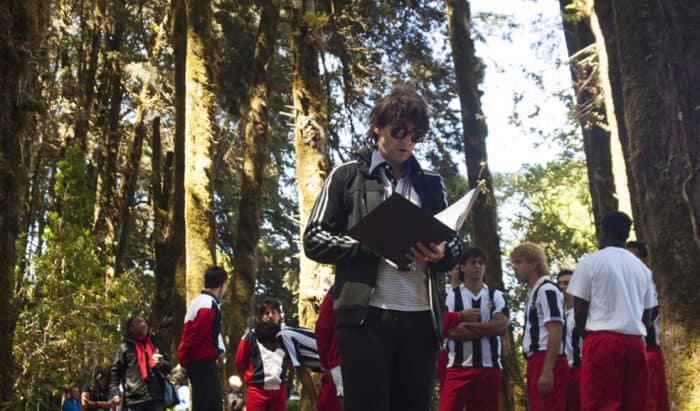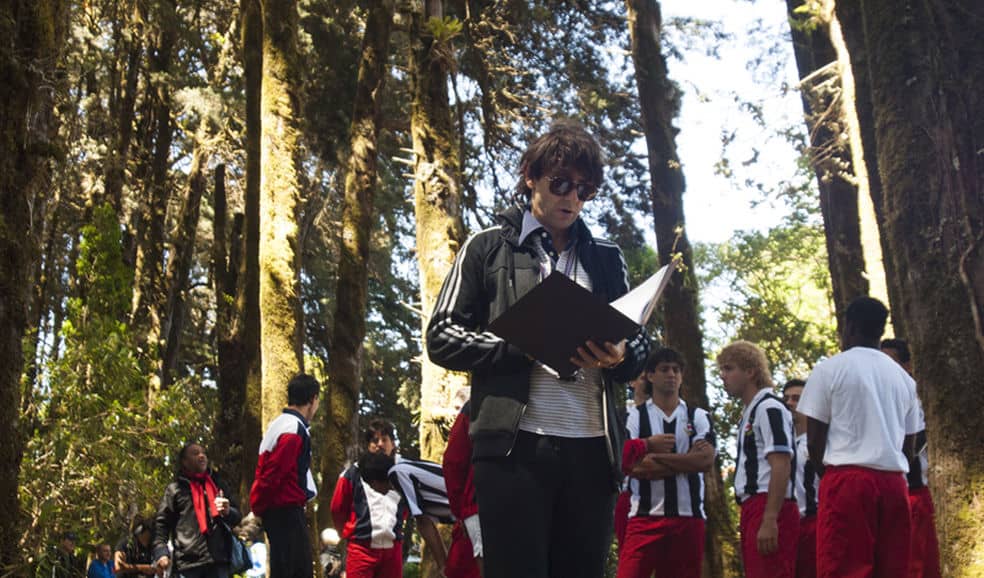 "It's so weird," murmured one actor dressed as a referee. "They look just like famous La Sele players. I keep thinking, 'That's Enrique Rivers.' But then I think, 'No, that's just an actor.'"
I laughed and nodded, even though I had no idea who Enrique Rivers was. Until this past year, I had never seen a professional soccer game played in its entirety, and I knew nothing about the history of Los Ticos. In a way, I was the least likely person to appear in a sports movie, much less a movie about Costa Rican soccer legends. But as I learned more about the project, it became clear how special "Italia 90" would be – not for Gringo reporters, but for Ticos who remembered that fateful year.
•
By 1989, world soccer fans pretty much ignored La Sele. While the team had existed since 1921, Costa Rica's soccer players hadn't impressed anyone for two solid decades.
"It's not like today," my friend Beto recently told me. "They had to work regular jobs."
When Costa Rica qualified for the 14th World Cup, they suddenly had a chance to fly to Italy and perform on a global stage. To everyone's surprise, Costa Rica defeated both Scotland and Sweden in the first round. The 1990 World Cup was also a blockbuster event – billions of people tuned into the games on television, competition was particularly brutal, and FIFA handed out a record number of red cards.
You could say that 1990 was La Sele's "Rocky" moment: They didn't win the cup, but their success in Italy won international acclaim and boosted Costa Rican confidence. Many would argue that that year was the turning point, and La Sele would never be the popular powerhouse it is today without "Italia 90."
I try to imagine a familiar equivalent: If Pittsburgh (where I lived most of my adult life) produced a movie called "The Immaculate Reception," produced entirely in Western Pennsylvania and starring respected local actors, movie theaters would be packed with Steelers fans. The nostalgia and pride would excite everyone who remembered – or had even heard of – that miraculous play in 1972.
For Ticos, "Italia 90" isn't just a movie: It's a chance to relive a national triumph.
 •
"Places, everybody!" shouted Santiago Fornaguera, the tough and humorless assistant director for "Italia 90." "Vamos! Vamos! Rapido!"
As a rule, filmmaking is torturously slow, and most time is spent quietly hanging out, waiting for instruction. (I once spent two entire days bumming around a parking lot, waiting for someone to use me in a scene – and working up the courage to say hi to Maggie Gyllenhaal). In the stuffy corridor of the Colleya Fonseca Stadium, the set was filled with the usual anarchy: cinematographers adjusting the camera, technicians debating how to light the scene, and lots of unidentified assistants scrambling around. To a director, all this stuff makes sense. To a random extra, it's bedlam.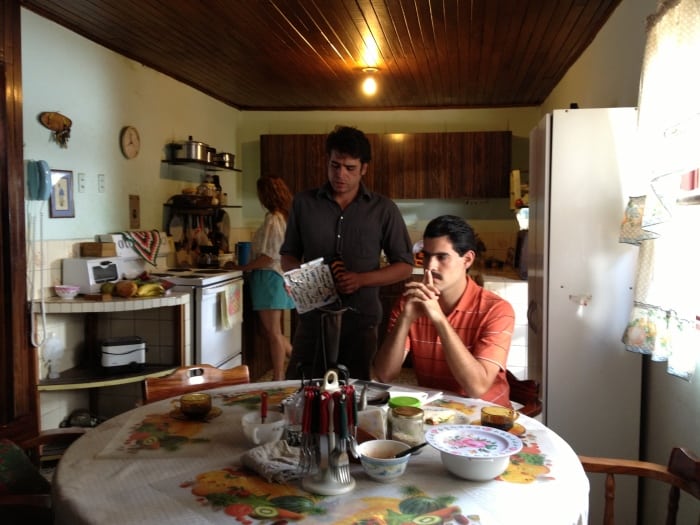 But then the two teams lined up, side by side. At the rear of the line stood a skinny actor in a polo shirt. As we waited for the production team to set up, the actor made small talk with me in perfect English.
"I'm playing Bora Milutinovic," he said. "He was the Ticos' coach in 1990. Really interesting guy. He brought five different teams to the World Cup. He was a real inspiration to the players." He added, "At the end of the shot, I'm supposed to lean into you and say, 'These guys are like my kids.' It's not in the script, but they want to show that moment."
"Lean into me?" I said.
"Yeah. Because you're the Scottish coach."
I smiled at this, but I wanted to double over laughing. The Scottish coach? It didn't really matter who I was, since I had no lines, but I loved the idea of standing in for such a dignified personality. Did the real Scottish coach of 1990 have a red beard? Was he in his mid-thirties? Did I look anything like him?
For a few minutes we joked about how much fun it would be to say some lines in a terrible Scottish accent, but our joviality was interrupted by Fornaguera. "Positions, everyone!" he shouted. "And … action!"
The scene was brief, but it was significant: Moments before the two teams enter the field, the Ticos start tough-talking their Scottish rivals. They yell insults and gruffly chant. One of the players starts to drag his shoes across concrete, and sparks fly from his cleats. (The sparks were a special effect, but they looked fearsome). Then the enormous gates open, and the two teams march forward into blinding daylight.
As film roles go, the "Scottish coach" was almost meaningless, and I might as well have played the soccer ball. But I was thrilled to contribute, in my own tiny way, to a Costa Rican film. Over the course of three hours, I sensed the camaraderie of the crew; aside from one Venezuelan, everyone seemed to be born and raised in Costa Rica. Almost everyone appeared old enough to remember the Italian World Cup. The operation felt tight and professional. In such a small country, where feature films are rare and small budget, I loved the attention to detail: The crew filmed the scene from every angle. Makeup was reapplied to faces for consistency. When actors started to drag, we received cookies and cups of coffee.
Like most movie shoots, the session ended without fanfare. "You're done," Alejandra said. "You're free to go now."
I changed into my street clothes and left the stadium, heading for the nearest bus stop. I was lightheaded and my body ached, as often happens after making the same motions 20 or 30 times in a row, with long stretches between takes. But I was also giddy: I had made my film debut during a critical period in the Costa Rican film industry. I would probably be a fuzzy silhouette in the background. I might be cut altogether. Still, totally worth a few hours on a Thursday.
•
Before I left, Alejandra revealed the film's astonishing timetable: "We want to release the film before the World Cup." That is, within five weeks.
Few features are put together so quickly, and most "post" sessions can take months or even a year. Yet I soon learned that the "Italia 90" team shot footage and then edited the scenes the very same night. Unlike Hollywood films, Costa Rican producers don't get bogged down in the studio system, appeasing focus groups and appealing to the Motion Picture Association for a lower rating. While Café Volio is sponsoring the film, Tico producers don't have to satisfy armies of investors or spend a fortune on publicity. The film's budget is probably modest (the studio refused to give an exact figure), but such freedom is its own virtue.
When the trailer was released online the other day, I was delighted. Tico friends are already excited about the film's official release on July 5, when cinemas across Costa Rica will screen "Italia 90."
"There are several things people don't know about the players or that moment," director Gómez recently told La Nación. "They don't really know about how they prepared. The film is about those guys, who are very humble."
It's impossible to say how good "Italia 90" will be. But it doesn't really matter. I'll just be happy to root for the home team.