As Sir Paul McCartney whipped off his blue blazer and picked up a color-spattered electric guitar, he declared, "I think we're going to have a fiesta here tonight." He punched the word "fiesta," and a wave of cheers washed over the audience. If there's one thing McCartney knows how to do, it's rally a crowd.
The much anticipated "Out There" tour finally played in San José last night, and it more than lived up to expectations. With tickets selling for as much as $700, the concert has been hyped for months. Thousands of diverse fans crowded into the National Stadium to see McCartney play, and most seemed deeply satisfied.
At 71 years old, McCartney still brings the same energy and showmanship he brought to "The Ed Sullivan Show" in 1963 1964. For the better part of four hours, McCartney played more than 30 songs. He introduced each ballad in enthusiastically broken Spanish, dedicating one song to "mi preciosa esposa" (my beautiful wife). He turned "Hey Jude" and "Ob-La-Di, Ob-La-Da" into colossal singalongs. He leaped in the air, held his guitar triumphantly aloft, and exclaimed "Pura Vida" at least three times, inciting roars of affection.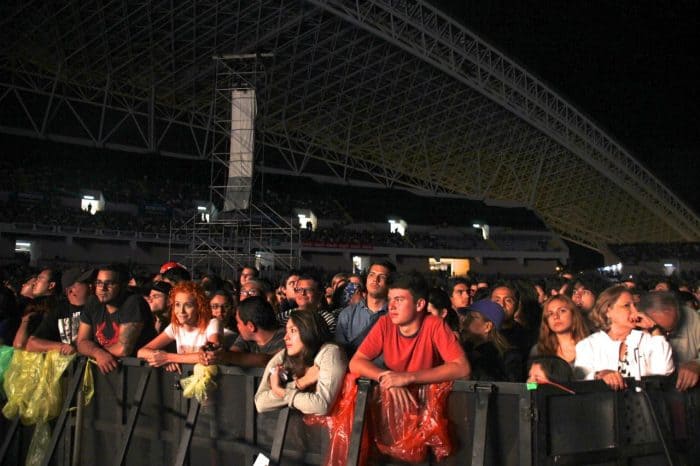 McCartney switched from instrument to instrument, banging out notes on piano, then raking his guitar strings with ease. Advanced age hasn't enfeebled him in the slightest: Along with fellow performers Rusty Anderson, Brian Ray, and Abe Laboriel, Jr., McCartney proved that he can still jam out to hits like "Paperback Writer" and "Back in the U.S.S.R." with youthful virility. McCartney's voice is still strong, and he continues to belt, scream, and hit falsettos for hours on end; his occasionally warble is endearing, just like the late Johnny Cash's.
What's most striking about McCartney is his characteristic playfulness – on stage, he is equal parts rock star and screwball. He made heart shapes with his fingers. He sang the "Olé, Olé, Olé" soccer chant. He raised hands to his ears to encourage more cheering. McCartney is one of the only men in the world who can sport suspenders and a mullet-like haircut and still be galactically cool. Some of his set list sounds like children's songs – the Beatles classic "All Together Now" and his latest single "New" are like pop-rock versions of a Raffi tune – but McCartney can pull off anything. Throughout the show, he looked unabashedly happy. Indeed, he looked like he could play, or even live, forever.
The show had its share of fireworks, lasers, smoke machines, and bursts of flame, and video projections played throughout. But such window-dressing was fairly reserved, for McCartney needed no special effects. In the middle of the show, he drew a ukelele and played a simple rendition of "Something." Faced with a legendary musician and his tiniest of instruments, the audience was petrified with joy. Such moments are never forgotten.