WASHINGTON, D.C. – Cubans have grown accustomed to shortages. From food staples to energy to toilet paper, basic goods regularly become unavailable due to the island's isolation from key international markets.
The newest item on Cuba's list of dwindling commodities is condoms, which are now reportedly in short supply. In response, the Cuban government has approved the sale of expired condoms.
In 2012, when millions of condoms imported from China were set to expire, the government ruled that the expiration labels were incorrect and that they should be re-dated for 2014. The ensuing backlog pushed up the price of a condom from a few cents to about $1.30 (a day's earnings for the average Cuban), and is the proximate cause for the current shortage.
Cuban bloggers first started reporting the scarcity last month, when pharmacies in one central province began running out of the government-subsidized condoms. Now, the shortages have reached Havana suburbs (where Cubans apparently also frequently use condoms to smuggle cheap rum into nightclubs).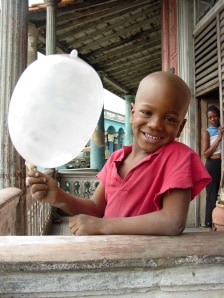 The city of Santa Clara is perhaps the worst affected and has the highest rates of HIV in the country. Although the Cuban government has made no official statements, the state-run sex education center Cenesex is attempting to redirect scarce supplies to areas of greatest need, including specifically to HIV-positive people.
The World Health Organization, among others, has praised Cuba for its successes in promoting sexual health. The island nation has one of the lowest rates of HIV/AIDS in the Western Hemisphere, on par with Finland and Singapore. Those levels are due, in part, to the free universal health care Cuba provides, which includes extensive HIV testing and "graphic" sex education, according to The New York Times.
The achievement is also thanks to some harsh and heavy-handed policies the state has enacted in the name of public health: until 1993, for instance, anyone who tested positive for HIV was forcibly quarantined.
But in general, medical care is known to be quite good in Cuba. Despite large-scale poverty problems, Cubans' life expectancy at birth is higher than in the U.S. The U.S. embargo, however, has dealt hard blows.
In one of the most comprehensive studies on the issue, the American Association for World Health wrote in 1997: "the U.S. embargo of Cuba has dramatically harmed the health and nutrition of large numbers of ordinary Cuban citizens." After the embargo was tightened in 1992, "the number of unmet medical needs – patients going without essential drugs or doctors performing medical procedures without adequate equipment – has sharply accelerated." More recently, Amnesty International and the United Nations have reported that the problem persists.
Now, Cuba's remarkable achievements in keeping HIV/AIDS rates low — admittedly by unethical means, at times — are now imperiled, not by a dearth of advanced medical treatment, but because of a scarcity of the most basic and inexpensive sexual health product.
© 2014, Slate