The bronze sculpture is heavy, but weightier still is its significance: "El Monumento al Agricultor" ("Monument to the Farmer") shows a man and woman bent over their crops, while a small child clings to its mother's dress. Crafted by the Costa Rican sculptor Francisco Zúñiga (1912-1998), the monument commemorates the nation's agrarian tradition.
Thanks to a declaration on April 11, the symbolic statue will return to its original place in downtown Alajuela.
For many years, the monument stood in Alajuela's Prospero Fernandez Park, but after the piece was vandalized, it was moved to the sculpture garden at the Museum of Costa Rican Art in La Sabana Park. Until last Friday, officials were reluctant to return the statue to Alajuela until the city could improve its surveillance and security around the statue.
Culture Minister Manuel Obregón joined Alajuela's mayor, Robert Thompson, and Ricardo Alfieri Rodríguez, director of the Museum of Costa Rican Art, to sign a declaration that the statue would be returned to the park – just as soon as the monument is restored and safety measures are improved.
"When these conditions are already ensured," said Obregón, "the sculpture will be returned to Alajuela, to be admired by [residents of Alajuela] and by the general public."
"[The monument is] the most important one we have from the fruits of master Zúñiga's labors," said Thompson. "That's why, with the signing of this document, we ensure that this monument returns to Alajuela, restored, and represent our city for our future generations."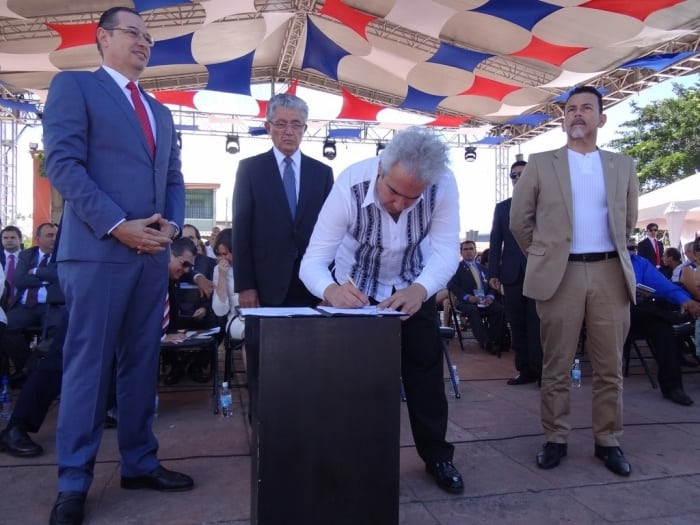 Even the date and place were significant: April 11 was Juan Santamaría Day, perhaps Costa Rica's most patriotic holiday. Santamaría is the country's only real war hero and was alleged to have been born and raised in Alajuela.
Because vandals broke off an arm and finger from one of the figures, the city of Alajuela must pay to replace these parts, as well as restore the sculpture to its original condition.
Such work will take time, as well as the required lighting and surveillance equipment. So far, there is no deadline.