Center-left presidential candidate Luis Guillermo Solís will battle ruling party candidate Johnny Araya in a runoff on April 6 after Solís shocked many in this small Central American country by taking first place in preliminary results released late Sunday night.
Solís, a 55-year-old historian and candidate from the Citizen Action Party, had placed only as high as third and fourth places in national polling. But he captured 30.8 percent of Sunday's vote, overtaking Araya's 29.6 percent, with nearly 80 percent of total votes counted, according to the country's Supreme Elections Tribunal.
"We will govern for Costa Rica. Not one step backward, only forward," Solís told a euphoric crowd of supporters at a post-vote rally in eastern San José. "We're going to win, because we are a people who decided to change."
Thousands of supporters waving the party's red and yellow banners shouted in response to Solís' fiery come-from-behind speech.
Just minutes before, Araya, the 56-year-old former mayor of San José from the ruling National Liberation Party, recognized his campaign had come up short after earlier promising to capture one million votes – which would have put him over the 40 percent of votes needed to avoid a runoff. Araya didn't even capture half that number.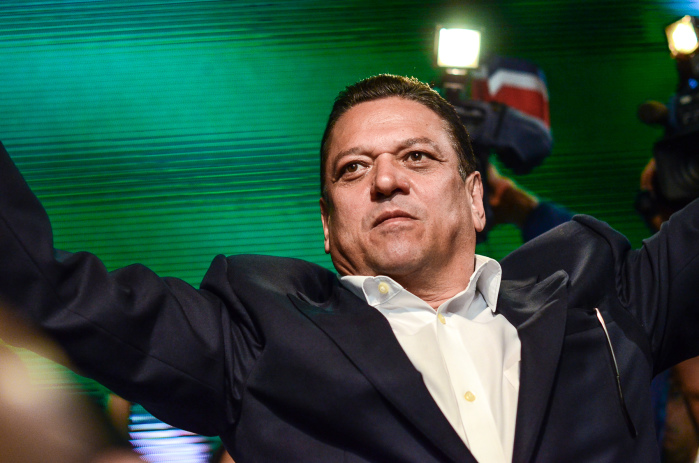 Most polls in Costa Rica had predicted that Araya's main challenger would be leftist candidate José María Villalta of the Broad Front Party. But with only 17 percent of the votes, Villalta came in a distant third.
"The electoral results have left no doubt that we still haven't given enough clear signals to the Costa Rican people that we want responsible change in Costa Rica," Araya said. The former mayor alluded to the difficulty his campaign has faced in separating the candidate from the current administration of President Laura Chinchilla, who has poor approval ratings.
In 2005, Solís left the National Liberation Party, saying it had "lost its soul."
The elections authority has yet to announce final results, but a second-round vote on April 6 is likely.
Just as surprising as Solis' strong finish was Villalta's lower-than-expected vote tally. The 36-year-old lawmaker had solid momentum going into Sunday's vote, with many pollsters believing he could take Araya to a second round.
In an emotional concession speech, Villalta said he faced "a brutal fear campaign" by opponents who compared him to the late Venezuelan strongman Hugo Chávez, but that, "it is clear that the people have spoken and we are going to respect what they've said." Villalta said he had hoped to capture many more votes.
Costa Rica's elections, which were peaceful, showed a growing polarization among progressive and conservative voters.
Although he lost, Villalta said his young party had "a promising future," and would play a strong role in the Legislative Assembly, where the party could capture at least 10 of 57 seats. Before tonight's election, Villalta was the Broad Front Party's sole lawmaker.
Villalta's and Solis' messages of fighting corruption and addressing growing social inequality resonated among many in the country, following what both Villalta and Solís have characterized as 30 years of "neoliberal" rule.
Chinchilla, whose administration is the least popular in the past two decades, leaves behind a fiscal deficit of 5.4 percent, public debt that tops 50 percent of gross domestic product, and a polarized society that has the unfortunate distinction of showing the greatest economic inequality in Latin America in 2013.
Araya unsuccessfully tried to distance himself from Chinchilla's administration, promising to reactivate the economy and reduce poverty, which has remained at 20 percent for two decades. 
Araya promised a "sincere effort" to renovate his party and return to its social democratic roots.
The next president, who will take office May 8, will need to be a strong negotiator to face a divided Assembly, said analyst Manuel Rojas. "He won't be able to govern alone with just his party, which has been the recent reality."
The voter abstention rate in Sunday's election hovered between 32-34 percent of 3.1 million voters, consistent with the previous two presidential elections.