Sala I annuls Crucitas mining concession, dismisses appeals
The Supreme Court's Civil and Administrative Law Branch (Sala I) annulled Wednesday the mining concession issued to Industrias Infinito to operate an open-pit gold mine at Las Crucitas near the Nicaraguan border.
The court's ruling is the latest in a long-running battle between opponents of the mine and Industrias Infinto, which is a subsidiary of the Canadian company Infinito Gold. The company was awarded a mining concession by then-president Óscar Arias in 2006, but lawsuits by environmental groups kept the project hobbled through November of 2010 when the Sala I struck down the project. Industrias Infinito appealed that decision.
Wednesday's ruling, however, dismissed the mining company's appeals. The court also asked Costa Rica's public prosecutor to initiate proceedings to see if criminal investigations are warranted for individuals in the Costa Rican government involved in the mining saga, including former President Arias. The project was first proposed in 1993. 
Additionally, the court annulled numerous environmental permits and declarations issued to Industrias Infinito by the Environment, Energy and Telecommunications Ministry between 2005 and 2008 including and executive decree, approved by Arias, declaring the project to be in the public interest in 2006.
On November 22, four environmental lawyers  had presented a list of demands to the Sala I asking for action on many of the issues the court ruled on Wednesday.
Arias responded to the Sala I ruling Wednesday afternoon on his Facebook page.
"I reiterate that I am at the order of all Costa Ricans as I have always been my entire life," Arias wrote. "I don't know in depth the verdict from the Sala I on the Crucitas case. However, this is a theme that the public prosecutor's office has been looking into for a long time. If, eventually it is decided I can help clear up their investigation, I will, as always, be happy to do so."
In a statement, Industrias Infinito said: "Industrias Infinito learned through the press of the ruling issued today by the Supreme Court's Civil and Administrative Law Branch. (Industrias Infinito) will proceed accordingly to analyze the ruling … The company will evaluate available legal options."
Facebook Comments
You may be interested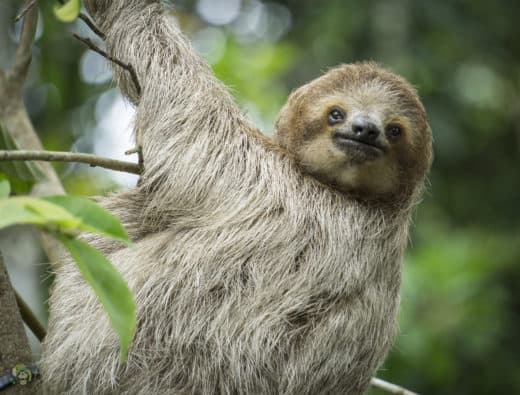 Sloth Sundays
58 views
Slothy Sunday: Happy International Sloth Day!
Toucan Rescue Ranch
-
October 20, 2019
Today, animal lovers, especially sloth lovers, rejoice! It is not only a very Slothy Sunday but also, International Sloth Day.…