Mother's Day Discounts Attract Shoppers
<!– /* Font Definitions */ @font-face {font-family:"Cambria Math"; panose-1:2 4 5 3 5 4 6 3 2 4; mso-font-charset:0; mso-generic-font-family:roman; mso-font-pitch:variable; mso-font-signature:-1610611985 1107304683 0 0 159 0;}@font-face {font-family:Calibri; panose-1:2 15 5 2 2 2 4 3 2 4; mso-font-charset:0; mso-generic-font-family:swiss; mso-font-pitch:variable; mso-font-signature:-1610611985 1073750139 0 0 159 0;} /* Style Definitions */ p.MsoNormal, li.MsoNormal, div.MsoNormal {mso-style-unhide:no; mso-style-qformat:yes; mso-style-parent:""; margin-top:0in; margin-right:0in; margin-bottom:10.0pt; margin-left:0in; line-height:115%; mso-pagination:widow-orphan; font-size:11.0pt; font-family:"Calibri","sans-serif"; mso-ascii-font-family:Calibri; mso-ascii-theme-font:minor-latin; mso-fareast-font-family:Calibri; mso-fareast-theme-font:minor-latin; mso-hansi-font-family:Calibri; mso-hansi-theme-font:minor-latin; mso-bidi-font-family:"Times New Roman"; mso-bidi-theme-font:minor-bidi;}.MsoChpDefault {mso-style-type:export-only; mso-default-props:yes; mso-ascii-font-family:Calibri; mso-ascii-theme-font:minor-latin; mso-fareast-font-family:Calibri; mso-fareast-theme-font:minor-latin; mso-hansi-font-family:Calibri; mso-hansi-theme-font:minor-latin; mso-bidi-font-family:"Times New Roman"; mso-bidi-theme-font:minor-bidi;}.MsoPapDefault {mso-style-type:export-only; margin-bottom:10.0pt; line-height:115%;}@page Section1 {size:8.5in 11.0in; margin:1.0in 1.0in 1.0in 1.0in; mso-header-margin:.5in; mso-footer-margin:.5in; mso-paper-source:0;}div.Section1 {page:Section1;}–>

Colorfulsigns in store fronts along San José's Avenida Central pedestrian boulevard, aswell as in the windows of vendors in malls across the Central Valley, remindshoppers that the day to honor their mothers falls this weekend, and that ifthey plan to buy her something to demonstrate their love, they can do so at adiscounted price.
Mother'sDay in Costa Rica is this Saturday, Aug. 15, and in this year of economic crisis,which has seen reduced spending and tighter budgets, stores have hiked discountrates to appeal to more frugal consumers.
"Weare offering discounts from 40 percent to as much as 70 percent on certain clothingitems," said Marivel Valerín, manager at an Ekono clothing and accessories storeon Avenida Central . "Sales are down a lot this year and we have raiseddiscounts to try to bring in more customers. This year has been different foreveryone because of the crisis. From what I understand, other places have beenmore affected than we have. There aren't the same numbers of shoppers as there werein previous years."
Mother'sDay discounts are abundant in several popular stores in San José. The shoe storeZapatto is offering discounts of 30 to 50 percent on shoes. Carrion, a popular clothingand home accessories store with three locations in the San José area, isoffering 30 to 40 percent discounts on more than half of the Mother's Daymerchandise.
JesseniaEspinoza, manager of the Carrion store at Multiplaza Mall in Escazú, said that althoughnumbers have been down for this Mother's Day season, numerous customers turnedout last weekend and the hope is that last-minute shoppers will bring a high volumeof sales on Friday and Saturday morning as well.
Aliss,a department store that sells clothing, furniture and home accessories in five SanJosé locations, has offered a 20 percent discount from Aug. 1 to Aug. 15. Ifpurchases are made with the Aliss card, which is provided by Citi, the discountis raised to 30 percent. In addition to discounts, Aliss is also promoting theopportunity to win vacations via purchases. With every purchase of over ¢10,000(about $17), the shopper enters a drawing for the chance to win a vacation to BuenosAires, Argentina or a weekend getaway to a beach resort.
"Peopleare doing just about anything they can to increase sales this year," Espinoza said.
Thepersonnel at some stores, however, are feeling more optimistic.
BeatrizCastro, manager of the home, personal care and jewelry division at Universal, alocal chain which offers every thing from books and music to appliances, toclothing and sporting goods, said that the Mother's Day season is the thirdbusiest sales one of the year. The Christmas and back-to-school seasons rank asfirst and second.
"Lastyear during Mother's Day, we had the most sales in the history of the store,"Castro said. "This year, we expected much lower numbers because of the crisis; however,we are doing much better than we expected. Sales and the number of consumers haveexceeded our expectations."
Moststores indicated that perfume, cosmetic products, robes, purses, blouses,cooking accessories and items for the home have been the most popular purchasesduring the Mother's day season. Some stores indicated they would raise discountrates on Friday and even Saturday to attempt to sell Mother's day merchandise.
"Thisyear actually benefits the last-minute shopper," said María Sanchez Calvo, managerat Lux form, a clothing and fabrics store. "Discounts are the highest they've everbeen."
You may be interested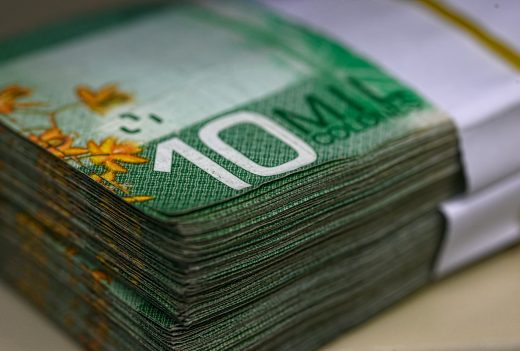 Costa Rica
2539 views
Costa Rica unemployment rate drops to 19%
The Tico Times
-
March 4, 2021
Unemployment in Costa Rica fell to 19.1% in the moving quarter from November to January. This maintained a downward trend…