Almonds and Corals Lodge an Ecotourism Heaven
REMEMBER camp? That magical world of rustic cabins, early wake-up calls and groggy breakfasts followed by days of interminable activity?If you didn't get enough as a child, Almonds and Corals tent lodge, on the southern Caribbean coast, offers a similar experience – plus a mixture of beach, jungle and luxury fit to relax a troop of overworked adults with one glance at their surroundings.A collection of 25 bungalows, one restaurant-bar and a gift shop, Almonds and Corals lies camouflaged on a stretch of beachside jungle in the Gandoca-Manzanillo Wildlife Refuge, near the popular beach town of Puerto Viejo.The hotel opened more than a decade ago, and was built around the concept of environmental awareness to create a unique balance of upscale comforts and the kind of simplicity that appeals to backpackers."To enjoy nature, you need to be inside it," said owner Aurora Gámez. "The Almonds and Corals concept includes sacrificing constructive elements to leave space for nature. It is a unique experience in Costa Rica, a camp with all the comforts to enjoy the nature Costa Rica promotes."HOWEVER, the only element the lodge seems to have sacrificed is air conditioning. Each bungalow contains two to three beds, a futon and a hammock under a tent – the lodge's most singular feature.Zipping up the tent at night and knowing that beds await, rather than sleeping bags – with wood floors, walls and mosquito nets to keep out any creepy jungle visitors – are comforts well worth $75 per night, per person ($50 for residents), including breakfast and dinner.But beware who you let into your bungalow – its infrastructure demands a high degree of trust, with a mere curtain made of tent material separating the bathroom from the rest of the room.With mosquito nets for windows, sound travels easily within the quiet bungalow community. As a group of five Spanish women wrote in the guest book, "the alarm clock (the hotel has) installed is very effective," referring to the daily, early-morning howler monkey wake-up call.WITH days starting early and enough activities to leave you aching, Almonds and Corals is not a resort for late-night partying, but more of a family destination. The lodge offers a selection of tours, including the Crazy Monkey Canopy Tour, a network of 12 cables – the longest extending more than 110 meters – and 15 platforms inside the hotel property. The tour costs $40 and is a reasonable height for those less comfortable off the ground. Other tours include a $10 guided visit to Natura Park, just 30 meters from the hotel. The tour follows trails into the forest leading to a medicinal botanical garden and a model indigenous village, with figures of indigenous people posing in their traditional roles. Almonds and Corals built the model to teach tourists about indigenous living in the area, according to English-speaking tour guide Alonso Herra.The hotel also offers a $35 dolphin tour (a boat tour in search of dolphins), a $35 kayaking tour and a guided bike tour to Manzanillo, with the option of renting bikes for $6 a day, Herra said.AFTER a day of endless activity – or blissful lethargy, depending on the guest's energy level – a sumptuous buffet dinner awaits, with main dishes such as meat in raisin sauce, fish fillet in coconut sauce or chicken lasagna.Nicaraguan cook Marjorie Pucthi says she cannot say what her favorite dish is at Almonds and Corals because she likes them all."We cook everything with love," she said. Dinner includes an enormous salad bar and a cocktail. Personal recommendation: mango con alcohol – there's nothing like it!Meals run on schedule every day, with breakfast from 7-9 a.m., lunch from noon-2 p.m. and dinner from 7-9 p.m. Both the bar and restaurant are open to everyone, including non-guests. Lunch and dinner buffets cost $15 plus tax. OVER meals, when all the guests come together, the hotel's international appeal becomes evident, with accents and languages from around the world keeping dinner conversation interesting.Guillermin and Laurence Goriaux, a French couple who spent four nights at the hotel during a two-week visit to the country, said they were very pleased with their experience. "It is very original, and preserving nature is very important for us," Laurence said. Gina Loitz, a 21-year-old Canadian who spent two nights at the hotel, agreed with the Goriaux. "Other hotels are not as (environmentally) strict," said Loitz, a political science major at the University of Calgary, Alberta."Here, cooks and guests do all they can to help. Simple guidelines are all it takes." THE lodge displays its Sustainable Tourism Certification (CST) near the entrance. The distinction is awarded by the Costa Rican Tourism Institute (ICT) to hotels that avoid as much negative impact on the environment as possible.Almonds and Corals' gray-water and solid-waste treatment plant earned it a level four out of five CST, according to Gámez. The plant filters solid waste from the hotel and separates it from water that is drained into the marshlands in the hotel grounds. The solid waste is reused as fertilizer in the forest, Gámez explained.Other eco-friendly efforts include posting signs for tourists and staff to turn off lights and fans during the day; a plan to save dishwashing water; and signs asking tourists to refrain from extracting plants and to immediately inform the management of the presence of hunters in the area. For more information on the lodge or to make reservations, call 272-2024 or visit www.almondsandcorals.com.
You may be interested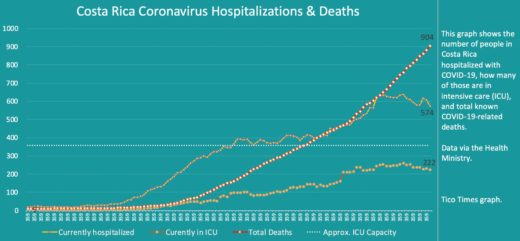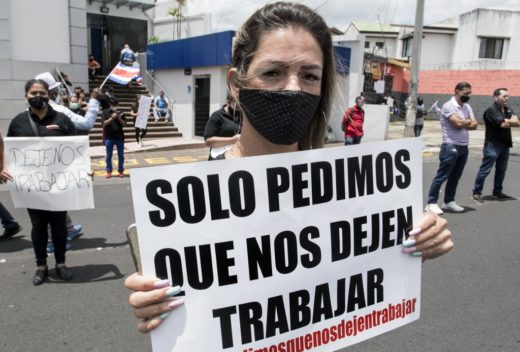 Business
3341 views
Some 34 million jobs lost in Latin America due to pandemic
Carlos MANDUJANO / AFP
-
September 30, 2020
The two aspirers for the presidency of Costa Rica, the evangelical preacher Fabricio Alvarado and the former minister Carlos Alvarado, reach the closing of the electoral campaign for April 1st with a technical draw, according to a poll disclosed this Friday.