What's New in the World of Building Products
FOR decades, concrete blocks have reigned as king in Costa Rican construction. Solid concrete walls provide the best insurance against earthquake damage in this shaky country, or so many Costa Ricans have thought.But a new trend is emerging, one that producers and vendors say is actually better than concrete when the earth starts moving, and one that is mainstream in other parts of the world, particularly North America.More and more, homes in Costa Rica are being built with drywall and siding rather than concrete, particularly where hurricanes are not a threat, said Luis Armador, director of technical studies for the Costa Rican Construction Chamber. As a result, a wide variety of related products is becoming increasingly available in the Costa Rican market.As a whole, products that allow greater flexibility in design and are environmentally friendly – from modular outlets to stain-free paint – are defining the innovation side of the construction market these days.In addition, while Costa Ricans have for decades purchased prefabricated houses, the concept is taking a new path –including homes made of wood and drywall and elevated for flood zones."PEOPLE still mainly build with cement block, because, culturally, they think it is safer for earthquakes. But it is not true," Armador said. "Cement blocks are very rigid and resist up to a certain point, but then they get damaged, whereas drywall is more flexible and is damaged less."Furthermore, drywall breaks in larger pieces and, if it falls, it is lighter, said Miguel Wong, technical advisor for the construction store Abonos Agro (211-9300).In addition to being better in earthquakes, drywall allows less waste and greater flexibility, because it can be cut into a wider variety of forms, Armador said. It can also be 15-20% less expensive than concrete.While the Costa Rican market is only recently taking real interest in drywall, Abonos Agro is already offering a new version of the material: JPM Gypsum Fiber Board, made of a mixture of gypsum and recycled paper fiber, compacted using the latest technology available in Europe.Compared to regular drywall, the material is more resistant to water, fire and impact, and is more soundproof, according to Wong. It can be used in showers and hold wall hangings up to 50 kilograms. The material costs approximately $14 per square meter.Abonos Agro also offers a prefabricated house made of JPM fiberboard. The homes, which include materials for foundation, windows, doors and electrical wiring, cost approximately $220 a square meter and range from 36 square meters to 91 square meters.The fiberboard can also be used outdoors, or in conjunction with siding, Wong said.BUILDERS have only recently started using siding in Costa Rica, according to Luis Ramírez, a representative of Amanco (209-3400), which offers Plycem siding. The product was given a boost when the luxury Four Seasons Resort at Peninsula Papagayo, on the northern Pacific coast, used it in many of its buildings."It opened the eyes of other architects, seeing that it was used on such an important project. They began modifying their designs," Ramírez said.Made with cement and natural fibers and minerals, Plycem siding creates the look of wood, but is more durable and resistant to humidity and attack by microorganisms and other pests, according to Ramírez. The product is also flexible in earthquakes.While the product hasn't fully taken hold in the Costa Rican market, Ramírez said its popularity is growing, "particularly in tourist areas, because it is easier to manage and is cleaner technology, therefore more ecological. It also allows more design flexibility."To serve as the base for these supplies, a stronger, lighter, more tension-resistant frame is the latest offering at Diseños en Concreto (430-0147, 292-6444), according to general manager Bernal Aguilar.WHILE different materials are entering the home construction market, improvements are being made to the old standard concrete blocks.Holsing Concretería (205-2800) is now selling modular concrete blocks, which fit together for "Lego-like" construction, according to marketing manager Manuel Salas. Unlike traditional blocks, which frequently must be broken because the width is not a multiple of the length, the Holsing blocks do not need to be broken, guaranteeing quality in construction, Salas said.In addition, the company recently started offering elevated, prefabricated, concrete homes for flood zones."Traditionally elevated homes are made with wood, but these are made with concrete, guaranteeing durability," Salas said.For those interested in prefabricated wood homes of durable quality, the Canadian company Made Can (232-9192, madecan@amnet.co.cr), which arrived in Costa Rica two years ago, offers pinewood homes for approximately $500 a square foot.WITH its first local customer also the famous Four Seasons Resort, Cindu de Costa Rica (257-7461, www.pescaderoonline.com) is offering new, flat, light, clay roof shingles.The weight of the shingles, which measure 33 by 20 centimeters each, is about half that of traditional shingles – about 30 kilograms per meter versus 60 kilograms per meter. This means structures can be built with less resistance and at lower cost, explained Cindu's Hans Neurohr.In addition, their flat form means the shingles can be used on roofs of diverse forms, with curves and steep grades.Available in colors of almond, tobacco and a mix of the two, architects of the Four Seasons selected the flat shingles "to create a harmonization between the environment and nature," Neurohr said.The tiles have very little pigment, and therefore do not fade, he added. FOR the inside of the home, Lanco Paints (www.lancopaints.com) is now offering a new stainless matte-finish paint. Unlike glossy finish, which is easily washable, matte-finish paint usually permanently changes color or fades when wiped. The new paint, available at Intaco (211-1717) and Ferretería El Mar (223-2245), is resistant to washing.Regio Sistemas Eléctricos Modulares (383-2859) offers sleek, new, modular outlets that can be pieced together in a wide combination of colors, with different-colored outer plaques, sockets, cable plugins and light switches.Repolen (843-5180) is a new type of pipes and fittings made with a special material that can be easily and permanently pieced together using thermo-fusion, replacing PVC, lead, iron and copper pipes to carry hot and cold water. The new pipes, made of copolymer polypropylene with polifusion welding, are much more durable than metal pipes, which rust, and can be installed more easily.The latest in construction and design can be found at Deco Plaza, a new design and exhibition showroom in the western San José suburb of Escazú, 200 meters north of Multiplaza mall. The construction center consists of three buildings featuring stores offering innovative floors, "smart homes," ironwork and playgrounds.
You may be interested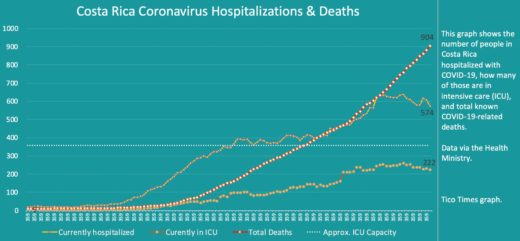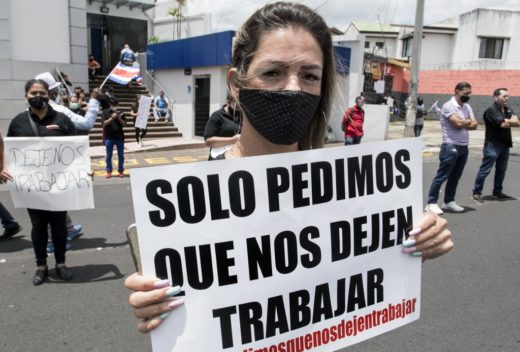 Business
3341 views
Some 34 million jobs lost in Latin America due to pandemic
Carlos MANDUJANO / AFP
-
September 30, 2020
The two aspirers for the presidency of Costa Rica, the evangelical preacher Fabricio Alvarado and the former minister Carlos Alvarado, reach the closing of the electoral campaign for April 1st with a technical draw, according to a poll disclosed this Friday.