Blue Water at Coco and Caño Islands
COSTA Rica's fame among divers is due to profuse wildlife, not transparently clear waters as at other destinations. Most divers come here to see big animals, such as dolphins, sharks and rays, in the Pacific, and small animals, such as colorful fish in coral reefs, in the Caribbean.Divers here hope for good underwater visibility to see the marine life around them. But underwater visibility, or "vis," is fickle in coastal waters fed by rain-forested mountains. Vis ranges from nada on a bad day to almost 30 meters on a great day at most Costa Rican dive sites, and depends a great deal on sediment from rivers washed into the ocean.However, there is a place where the water is always crystal-clear – offshore, far from land or river. An hour's boat ride straight off the coast from anywhere in the country will usually put you in offshore blue water.Probably the best place to access blue water is off the Drake Bay area, because of Caño Island's presence 22 kilometers offshore. The island makes an excellent safety base, allowing easy day trips to water 2,000 meters deep.Out here in the blue, the vis holds from about 30-60 meters. That's clearer than most swimming pools – water clear enough to see a big blue whale in its entirety.BLUE whales are not the only beasts known to frequent Costa Rica's big blue. Massive groups of all sorts of animals often come together in vast feeding congregations. Mammals, birds, fish and reptiles fill the water with life. These great gatherings are arguably the most fantastic wildlife spectacles in Costa Rica.Dozens of species mix in action that might be likened to the African veldt. Pods of spotted, spinner, Risso's, common and bottle-nosed dolphins frequent offshore waters in groups numbering in the thousands. Smaller groups of many other whales and dolphins might show up. Large sharks, such as silkies, duskies and makos, often join the party. Indo-Pacific sailfish like the action, as do blue, black and striped marlin. Giant mantas and olive ridley sea turtles often appear. Tuna the size of people might rocket through these frenzies of life. I usually put my hands under my armpits when this happens, just in case my fingers look appetizing.Brown boobies bob and dive among blue-water marine-life congregations. They may plunge 10 meters below the surface, snag a fish, then swim up flapping their wings. These sleek birds may stay below the surface for more than 30 seconds at a time. The huge and magnificent masked booby might make an appearance, along with many other marine birds, including terns, frigate birds, jaegers, petrels, noddies and tropicbirds.THE offshore blue-water ecosystem is probably the least known and protected of Costa Rica's ecosystems. Many in the Drake Bay area are hoping to see a slice of the incredible area protected, perhaps managing use everywhere in sight of Caño Island. This would be the first offshore protected ecosystem in the country accessible on a day trip. In a country known for protecting ecosystems, preserving at least a tiny piece of its biggest, bluest and perhaps most impressive ecosystem would seem to make sense.The first step to protection is awareness, and tours to the blue water may be the best way to make people care about and understand this wonderful life zone. These tours are growing in popularity and may soon rightly join the ranks of Costa Rica's most famous trips.Make sure you go with a certified and experienced guide, whether you snorkel or scuba-dive, for your own protection. I have received reports of some operators telling their divers to get in the water with no guide or with inexperienced and untrained guides. Would you get out of your car in the African bush with no guide if your driver told you, "Go ahead – I'll wait here"?Certified dive masters and instructors might cost more and be a little harder to book and find, but the payoff is a proven safety record. The best chance to observe the wildlife you came to see is with a dive guide who knows the habits of the animals and looks for the best conditions. Knowing when to stay in the boat and not dive is also important. Look for an internationally recognized certification such as that from the Professional School of Diving Instructors (PADI).At press time, blue-water conditions were happening at Coco and Caño islands. The northwestern province of Guanacaste and the Caribbean report that some rain runoff is making things murky. For information or to contribute to this report, call 835-6041, e-mail shawn@costacetacea. com or visit www.costacetacea.com.
You may be interested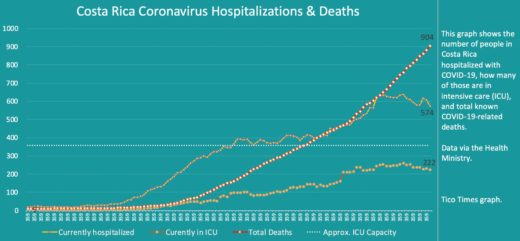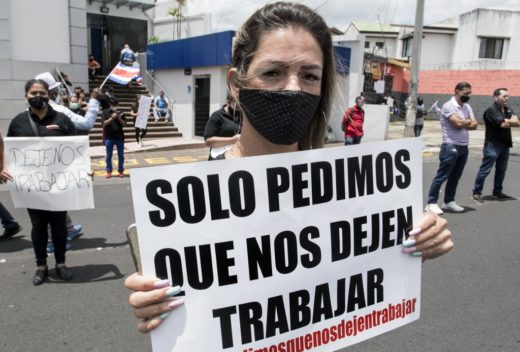 Business
3341 views
Some 34 million jobs lost in Latin America due to pandemic
Carlos MANDUJANO / AFP
-
September 30, 2020
The two aspirers for the presidency of Costa Rica, the evangelical preacher Fabricio Alvarado and the former minister Carlos Alvarado, reach the closing of the electoral campaign for April 1st with a technical draw, according to a poll disclosed this Friday.