Carate Costa Rica: A Dispatch from the edge of the world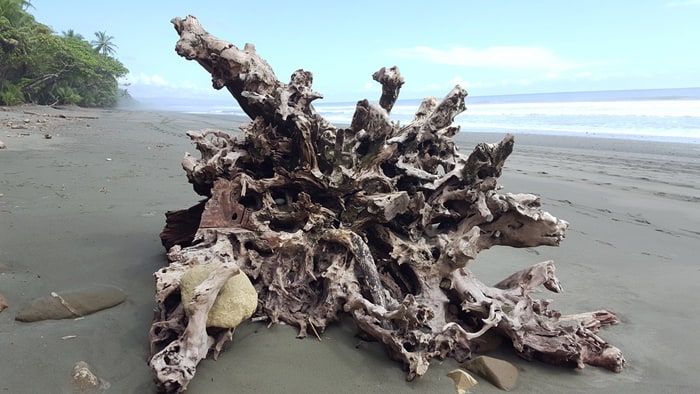 CARATE, Puntarenas — By national highway, Carate is the farthest you can get from San José and still be in Costa Rica. It is a rural hamlet spread along the Osa Peninsula's Pacific coast between the crushing surf of the open ocean and the rugged mountains rising within a mile of the beach to form the peninsula's divide. With 82.7 inches of rain reported in October by the Lookout Inn's Terry Conroy — who has collected daily rain records for 18 years — the forests that spread inland put the "rain" back in "rain forest."
The Osa is thought to contain 2.5% of the entire planet's biodiversity. Many of its plant and animal species are endemic — observed nowhere else in the world — and many others are threatened or endangered but relatively common in and around Carate.
"At night you can see the martilla — kinkajou — sometimes," reports Felipe Morales, the manager of La Leona Lodge at world's edge. "The turtles even lay right out there, the hawksbill and green turtle, rarely even the leatherback," he says, motioning toward the beach across the lawn from the bar where we are seated. "Yesterday there was a hatch of baby turtles just down the beach. In the summer, when there is little water in the mountain, the tapir can be seen every day nearby in the Madrigal."
At the outbreak of World War II, Carate was one of two offshore gold dredging operations in the world, connected to the planet by the beachside airstrip that today is paved and licensed by Civil Aviation and services dozens of daily charters. Carate's population swelled during the Osa's 1980s gold rush in the tumultuous years following Corcovado National Park's controversial formation by executive decree. Today Corcovado is a World Heritage Site and crown jewel of Costa Rica's national park system. Carate is the gateway to its southern entrance, the La Leona Ranger Station, a three-kilometer beach hike away.
According to Jessica Mata, the park's interim administrator, 80,385 people visited Corcovado and the nearby Isla del Caño Biological Reserve in 2015, with 70,142 logged for 2016 through September. For the majority of travelers who find themselves in Carate, it is commonly on the way into or out of the park. However, Carate's forest is contiguous with that of Corcovado, and is brimming with wildlife. With its handful of outstanding ecolodges, Carate is a superlative destination in its own right.
Carate's 100 or so full-time residents are scattered along one of the most violently beautiful natural settings anywhere, the raucous Pacific punctuated by lagoons and estuaries, the turbid flow of the golden Carate River emptying bleakly into the sea there by the end of the road.
The highlight of Corcovado National Park is Sirena Ranger Station, nestled in its heart. But to get there you must navigate a byzantine permits process, hire a private guide, and commit to either grueling back-to-back hikes or fork out the coin for charter flights, since Sirena also has a landing strip.
One of the easiest ways to get to Corcovado is by boat from Drake Bay for a day hike, no camping required. You can also hike in and out of parts of the park in a day from Carate and a couple of other places. But for the full Corcovado experience, plan on camping at Sirena. You will have to bring your own food, though no cooking is allowed.
As stunning as Sirena's primal spectacle of animals is, the logistical challenges put it beyond the reach of many travelers, its bucket-list prominence notwithstanding. By comparison, the ecolodges of Carate are easy to reach, offer luxurious open-architecture lodging and haute cuisine, and boast a wider array of ecosystems than the raffia palm wetlands of Sirena itself.
I have walked the park plenty of times and have no qualms leaving the Bataan Death March to Sirena to wide-eyed newcomers. At this writing I am sitting in a lawn chair looking over the Pacific at the edge of the immaculate La Leona Lodge lawn, unable to focus on my novel for all the impressions washing over me.
For me La Leona is the perfect middle ground on the exertion/reward spectrum. The three-kilometer beach hike is a good-enough workout for today, and we'll get our fill tomorrow on the La Leona sector Corcovado tour we signed up for. And unlike Sirena — situated in a breathless and stuffy meadow a 20-minute walk from the sea — La Leona Lodge is right on the beach and washed with the titillating offshore breeze that tickles both my scalp and my fancy.
I see three boats on the horizon, about seventeen miles out, little blebs of curvilinear discontinuity bound to or from the Panama Canal 270 miles as the crow flies to the northeast.
Thirty miles straight out from where I sit, the bottom falls out of the eastern Pacific along the Middle America Trench to reach a depth of 21,000 feet That's where the subduction zone is that keeps my San José patio dusted with ash from the recent eruptions of Turrialba Volcano.
As if that were not cool enough, less than 50 miles to the east, the subduction zone dies out, clogged with the great thickness of the submarine Cocos Ridge that extends all the way to the Galapagos, 800 miles away. The thick wedge of oceanic crust subducted just a few miles away from me causes the Osa Peninsula to rise at an uplift rate second on Planet Earth only to that of the Himalaya Mountains.
It's a lot to take in on a first beer, so I scuttle over to the bar to rustle up another.
I had an epic sleep here a few years ago when there came a great storm that poured all night long, the surf crushing, roaring and grinding amid giant claps of thunder, the sky torn open through pitch darkness weirdly strobing with lightning bolts.
Cozy and secure inside the buffeted tent, I was beset beneath the driving rain with the fevered dreams of adventure, chance and conquest that I am not likely to soon forget. As the sun falls beneath the horizon, I am already imagining another epic sleep, my reward centers tingling in anticipation. Dinner first . . .
Eighteen years later, the Lookout Inn is still true to its original slogan: "The only beach hotel in Carate." It's right on the road, one kilometer before its end, with sumptuous rooms and cabins perched on the hillside, fine dining, multi-tiered views, immaculately anointed accommodations. It is a labyrinthine architectural integration of Timothy Leary and IM Pei, with PT Barnum intruding with animals on all sides, the plump housecat nonplussed with all the scampering about of critters.
With the canopy integrated into all the levels of the Lookout, there are capuchins waiting their turn at the feed bag and squirrel monkeys snatching fruit from the veranda to skitter away and gorge. A scarlet macaw feeds on sunflower seeds a few feet away, and a toucan probes a papaya 30 feet below. A giant iguana is improbably perched in the very top of a tree down below, swaying in its precarious perch to take in its vast kingdom, safe from all but avian predators. Brown pelicans hunt baby sea turtles in the surf, their wingtips inches from the rising curls.
At dinner our party is seated with a distinguished couple from the Turks and Caicos, and Richard, the silver-haired gentleman, quizzes me in an Irish brogue on Crocodile Bay's marina project. We pony up for soup and salad at the veranda bar as the inquiries move to San José highlights, local medical services and airstrip carrying capacity. As the dishes are cleared in advance of the main course, a gray four-eyed opossum traipses across the roof beams of the cupola, and the madam suspects we are pulling her leg, that it is really a rat.
We are served shrimp and pulled-pork rice, with sautéed cauliflower and beans, with an in-house hot sauce that is as good as I have ever had, made from chilies grown on the grounds. Richard admits to having been served opossum once in Australia and having actually eaten it — disgusting, he recalls. I cannot myself boast such a thing. Where I come from, opossum has a reputation for being a bit greasy, and as far as roadkill is concerned, fresh-flopped coon is higher on the hog.
I've been on turtle patrol before and eagerly pass the baton of opportunity to younger companions and chuckle as I turn back the sheet and imagine them tromping in the night's wet sand in the red-light dark, washed over and greasy with sea spume and sweat, stalking the green and hawksbill turtles that nest here. Some things, like dropping acid, you only have to do once in life to get the full effect, and turtle patrol is for me one of those things. I have been assigned the Honeymoon Cabin, and it is some crib: chic, well-lit by LED, elegantly outfitted, and instantly comfortable.
Yet the bed is suspended from the roof by ropes, and it sways as I angle my way into it. It has the feel of a practical joke and is not the sort of bed — I suspect — you want to get into blind drunk, especially with all the nocturnal animals out there chirping and buzzing and moving branches in the dark. I can't imagine the complications that the bed's suspension impose on sexual congress, a pretty important consideration for a honeymoon suite. Thankfully, tonight I have no reason to expect to have to rise to the erotic exhortations imposed by this bed. And there is a little fan behind, and by the middle of the night amid ribald dreams, it gets even a bit deliciously cool. Not enough to turn off the fan, but just up to the point where the sheet is barely enough to stave off the chill.
Other than La Leona Lodge and Lookout Inn, Carate boasts Luna Lodge, Finca Exotica, Laguna Vista Villas, and the Iseami and Playa Lapa guest houses. From Luna's yoga deck aerie to the Romanesque infinity pool at Laguna Vista to the organic gardens and orchards at Exotica, Carate is brimming with quirky abundance, and you can still buy beer, cigarettes, candy and gold at Glen and Daisy's pulpería, at least whenever they bother to stroll down from the house to open it up for business.
How to get here
The Carate colectivo truck departs at 6 a.m. and 1:30 p.m. daily from Puerto Jiménez for $8 one way, returning at 8:30 and 4. Drive and park at the beach or at Glen and Daisy's for $5 per night or at La Leona's staging station or the Lookout Inn for free. Fly in on Alfa Romeo charter from Jiménez for $180 or from San José for $970.
What to do here
Wildlife and waterfall tours, sea turtle tours, lagoon kayaking, horseback riding, yoga, recreational gold mining, farm tours with buffalo cart rides and cheese-making. Check ahead of time with your lodge or browse the full set of Osa options here.
Corcovado National Park
Ask your lodge for single-day tours or contact a guiding outfitter in town for 2- and 3-day custom Corcovado expeditions. For more on Corcovado click here.
Where to stay
La Leona Lodge, Lookout Inn, Luna Lodge, Laguna Vista Villas, Iseami Guest House, Playa Lapa, Finca Exotica
Caveat
Carate means hookworm, and the place name was not chosen at random. Enjoy nature, but remember to wear shoes when hiking in the forest!
Paul Collar is the owner of Osa Corcovado Tour and Travel in Puerto Jimenez. Contact him at admin@soldeosa.com.
You may be interested