Costa Rica confirmed 28 new cases of the coronavirus over the past day, totaling 984 cumulative known cases, the Health Ministry announced Wednesday afternoon.
The 28 cases are Costa Rica's largest day-to-day increase since early April. Of those, 18 had already been issued precautionary isolation orders after coming in contact with other positive cases, the Health Ministry said.
Five more people have recovered from COVID-19, leaving Costa Rica with 639 total recoveries and 335 known active cases.
Ten people have died after contracting the coronavirus. Twelve people are hospitalized with COVID-19; two people are in intensive care.
Costa Rica has processed a total of 24,338 diagnostic tests for SARS-CoV-2 (635 more than Tuesday), which corresponds to 4,762 tests per 1 million people. The country has averaged 286 daily tests over the last five days.
Health Ministry expresses Nicaragua concerns
Health Minister Daniel Salas said Wednesday that Costa Rica considers Nicaragua as its biggest risk factor for an increase in coronavirus cases.
"Our primary health risk is the high level of circulation of the virus that exists in our neighboring country of Nicaragua," Salas said. "That's the biggest risk we face right now."
Nicaragua has reported 759 infections with 35 deaths, but a prominent Nicaraguan NGO, Citizen Observatory, says the government is hiding the real extent of the crisis.
Citizen Observatory claims the true number of cases as of May 20 was 2,300 — with more than 400 deaths — and that hospitals are being overwhelmed.
Of the 984 cumulative coronavirus cases identified in Costa Rica, 180 represent foreigners, according to official data, though the nationality of those foreigners is not identified in detail.
Salas emphasized that Costa Ricans must also follow health recommendations in order to limit the spread of COVID-19.
"I don't want people to misinterpret," Salas said. "Transmission due to our own behavior is still a risk.
"But the circulation [of the coronavirus] that exists in our brother country of Nicaragua adds to the risk of transmission in our country."
Ongoing coronavirus measures
Costa Rica has extended its border restrictions, banning foreign visitors until June 15. The government has announced a timeline for reopening the country and began opening national parks and beaches last week.
"Imported cases are one of the biggest risks we face as a country," Román Macaya, president of the Costa Rican Social Security System, said Saturday.
Health Minister Daniel Salas said Monday that Costa Rica will re-apply measures if the amount of cases begins impacting the country's healthcare capacity.
"Let's be responsible, please," said the Minister of Public Security, Michael Soto, noting the amount of people who have flouted health recommendations. "You are risking your health, and also the health of your family and people around you."
If you believe you may have contracted the coronavirus or have questions regarding the virus, contact Costa Rican health authorities by dialing 1322.
Active coronavirus cases in Costa Rica
The biggest increases in known cases this week are in the cantons of San Ramón, Alajuela and Abangares, Guanacaste.
Click a blue marker for more information. This map has been updated through Wednesday, May 27:

The below chart was last updated May 26. We will update it weekly or when there are significant changes: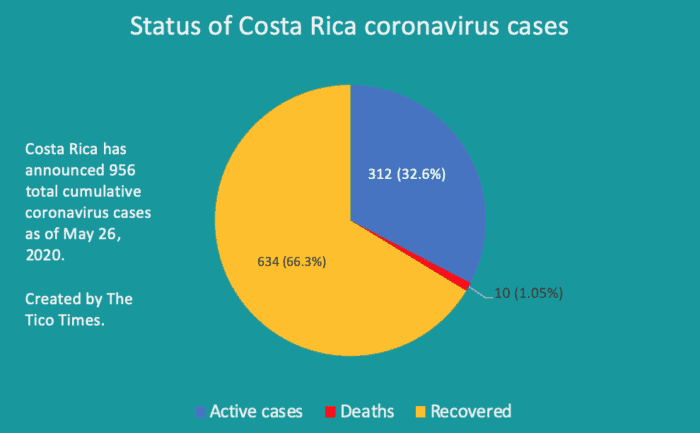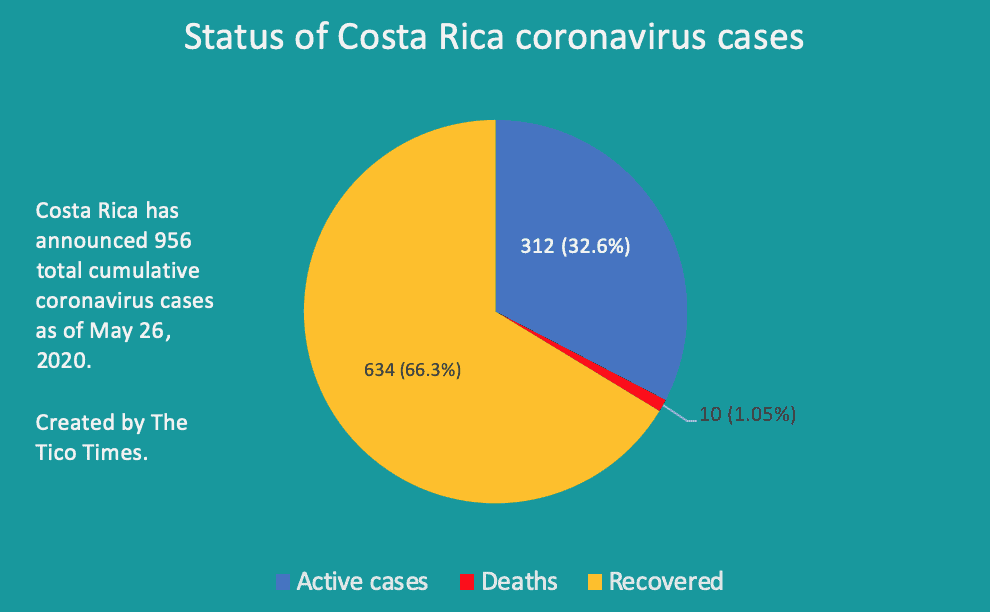 Timeline of COVID-19 in Costa Rica
Costa Rica is enforcing nationwide driving restrictions until June 1. Click here for full details.