The Costa Rican Social Security System (CCSS) on Monday began its annual nationwide influenza vaccine campaign.
Costa Rica hopes to vaccinate 1.3 million people, according to CCSS President Román Macaya, and achieving that goal is of greater importance than ever due to the coronavirus pandemic.
"This year's campaign is important because an influenza patient can have complications. They can end up in a hospital, or an intensive-care unit, where they'll compete for a bed with a coronavirus patient," Macaya said. 
"In the context of the pandemic, it's very important." 
Macaya stressed that the Caja is conducting an "efficient but careful" annual vaccine push. Whereas in most years, the campaign lasts a month, it has been extended to nine weeks — until July — in order to reduce potential coronavirus transmissions.
The CCSS has instructed that the public visit vaccination centers at the appropriate date and time corresponding to their age, population, and first letter of their first surname.
7:30 a.m. to 10 a.m.: Elderly adults (65 years or older).
10:30 a.m. to 3:00 p.m.: Pregnant women, children from 3 to 7 years old, adults from 59 to 64 years old, and people from 7 to 58 years old with risk factors (diabetes, heart disease, respiratory illnesses or morbid obesity).
10:30 a.m. to 3:00 p.m.: Children from 6 months to 3 years old.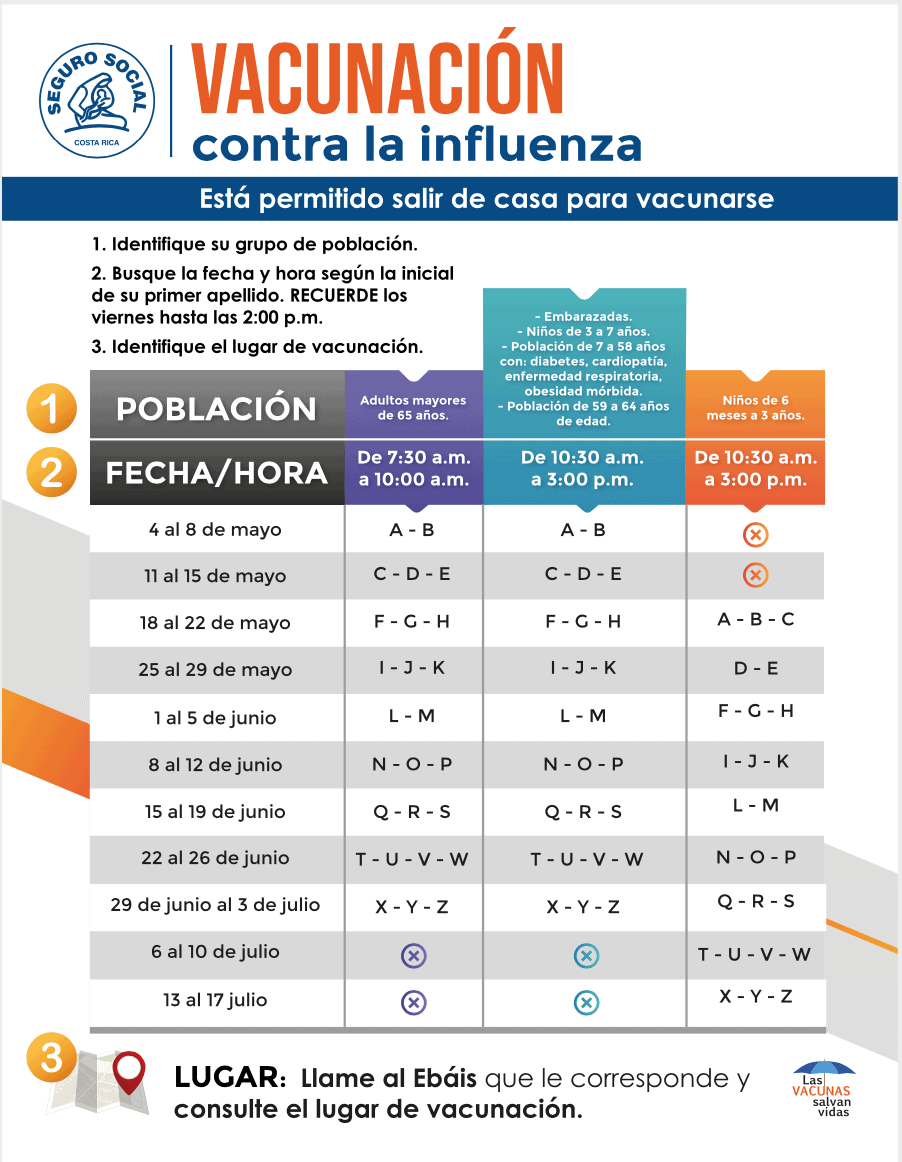 (Still confused about when it's your turn? Visit the CCSS website for a step-by-step guide.)
Seasonal influenza and associated respiratory diseases can kill up to 650,000 people each year, according to the World Health Organization.
UNICEF data indicate Costa Rica vaccinated 95% of children against diphtheria, tetanus and pertussis (DTP) in 2018, a figure which the organization says is "an indicator of how well countries are providing routine immunization services."
In some cases, the Child Welfare Office (PANI) says vaccinating children is an "obligation" for parents and guardians.
"Costa Rica has one of the highest vaccination levels in the world," Macaya said. "One of Costa Rica's great assets are the antibodies that circulate in the blood of our citizens. That is thanks to the millionaire investment of our country. Prevention is the best investment for health."