The Toucan Rescue Ranch has had an amazing year rescuing, rehabilitating, and releasing Costa Rican wildlife!
One of our most successful programs to date, the Saving Sloths Together program with The Sloth Institute of Costa Rica, has experienced major growth this year in terms of release and research for both two- and three-fingered sloths. But first, what exactly is Saving Sloths Together?
In 2017, Toucan Rescue Ranch and The Sloth Institute came together to form Saving Sloths Together (SST), a Costa Rica-wide project seeking to provide greater opportunity for sloths in need. By combining each organization's skills and knowledge, we are able to improve the process of sloth rescue, rehabilitation, and release. This partnership utilizes scientific expertise, dedication, passion and decades of experience to provide the very best program for every sloth that needs help gaining a second chance at life in the wild. An entire volunteer team has been constructed around this initiative with dedicated Sloth Technicians working around the clock to gather data on the behavior of released sloths, such as their foraging skills, sleeping habits and basic instincts.
Saving Sloths Together is a step-by-step program for rescued and orphaned sloths. Toucan Rescue Ranch and The Sloth Institute have created "classrooms" based on each sloth's age so that they can properly be rehabilitated for the wild.

Baby sloths begin their TRR journey in Sloth Preschool, where they are being hand-fed goat's milk and sometimes even incubated! They are often very vulnerable at this stage and require constant care and attention – something their mother would have been giving to them.
Once they are a bit older (about 6 months to a year), they move up to Sloth Elementary, where they get to climb on a structure all day and eat solid foods on their own. They start to gain more independence at this stage.
At about one year of age, they will move out to their very own enclosure at Toucan Rescue Ranch Headquarters called Sloth High School. Here, they are on their own all day and night. A couple of times a week, the high schoolers are taken out to the Sloth Rehabilitation area, where they can climb on trees and snack on various delicious leaves such as beach almond and ficus.
The sloths in the program are deemed ready for graduation through a joint decision between TRR and TSI. Sloths that have advanced in the program together are sent as a group to the TRR Release Site or to Manuel Antonio, Puntarenas (based on which side of the country they were rescued from). There they will be completely on their own and must acclimate to the climate of the rainforest within a very large enclosure — far from any humans. They are fitted with tracking collars and closely observed for proper behaviors, and once they are ready, the door will open on their enclosure and they will be free to take on the rainforest!
This entire process takes at least two years, and sometimes longer depending on the condition of the sloth when it arrives. After release comes the very important research component, where The Sloth Institute Sloth Technicians will track the animals using their collar tracking number. The observations they make are extremely important to the success of the program because it clues us in on the ability of sloths to adapt back into the wild, and also tells us how successful our rehabilitation program is in terms of release, which is always our goal.
Since the founding of this program, we've had a number of successful releases! Look below for a full list of sloths in Saving Sloths Together.
Before the Saving Sloths Together program, the Toucan Rescue Ranch had released over 30 sloths, but without tracking collars. Due to the generosity of our corporate sponsor, Café Britt, we were able to become one of the first wildlife rescue and release centers in Costa Rica to release sloths with tracking collars! If you're interested in learning more about an individual sloth, their stories, or how the program works, please ask us via our social media or email. We are happy to share! And, if you would like to support one of these sloths, you can symbolically adopt them and follow their journey at TRR online!
Releases with Saving Sloths Together at the TRR Release Site
Hannah and Ellie: The first two to be released in the program. Their collars are almost ready to expire, and they'll need to be fitted with new ones!
Café Britt Group: Latte, Chai, Chispa, Lenny
Fight Club Group: Ringo, Bowie, Taquito, Santana, Ash
Injured/Rehabilitated Juvenile & Adult Two-fingered Sloths: Tina, Rihanna, Oro, Jeoffrey, Jamie, Dota, Cersei, Jock, McCree, Shakira, Fergie, Puchi, Karen, Huele, Meatloaf, Damian, Ripley, Pumpkin Pie, Guy, Lotti, Erica
Injured/Rehabilitated Juvenile & Adult Three-fingered Sloths: Mystique, Bocelli, Cinnabon, Thumbelina, Logan, Bella, Allie, Moana
Amputees (One-armed Sloths): Sombra (amputated, electrocuted), Socorro (amputated, dog attack and infection, Ricky (very severe electrocution case)
Wild Sloths with Tracking Collars for Research
Hulk
Poison Ivy (had a baby)
Captain Marvel (had a baby)
Releases with Saving Sloths Together in Manuel Antonio at The Sloth Institute of Costa Rica
Destiny
Enrique
Sia
Training for Release in Manuel Antonio at The Sloth Institute of Costa Rica
Roger
Toto
Bilbo
Training for Release at TRR Release Site, Sarapiquí
Slothletes 2018: Adele, Huey, Goldie, Twix
Lord of the Rings: Frodo, Pippen, Luke, Gimli, Stevie
Training for Saving Sloths Together at Toucan Rescue Ranch Headquarters
Slothletes 2019: Aurora, Harriet, Grumpy, Camila
High school: Snickers, Phoebe, Rachel, Bon Jovi, Anise, Arya
Elementary: Lu, Susanoo, Dopey, Oatmeal
Preschool: Lala, Howie, Gaspar, Luna
Nursery: Rolo
— Ally Chamberlin is a Marketing Intern at Toucan Rescue Ranch.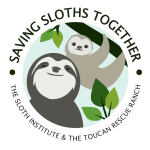 This article was produced by The Toucan Rescue Ranch. The Toucan Rescue Ranch specializes in helping wild animals recover so that they can be reintroduced into the wild. For more information or to donate, visit the Toucan Rescue Ranch website.