Big Apple, meet Pura Vida.
On Thursday, American Airlines launched a new direct, nonstop route between New York's John F. Kennedy International Airport (JFK) and Costa Rica.
The inaugural flight was welcomed at Juan Santamaría International Airport (SJO) near San José with a traditional water-cannon salute:
En este momento aterriza el vuelo inaugural de @AmericanAir, el cual operará de manera diaria entre el Aeropuerto Internacional John F. Kennedy en Nueva York y el Aeropuerto Internacional Juan Santamaría. ¡Esperamos que todos los nuevos turistas disfruten de nuestro país! pic.twitter.com/vx4nK3HVrz

— Carlos Alvarado Quesada (@CarlosAlvQ) November 22, 2019
"The contribution of American Airlines with its offering of almost 67,000 new seats is extraordinary news for the tourism sector and is an important contribution to national economic activity, whose main driver is tourism," Maria Amalia Revelo, Minister of Tourism, said when the route was announced.
American Airlines will also offer Saturday flights from JFK to Daniel Oduber Quirós International Airport (LIR) in Liberia. Those start Dec. 21.
The routes will operate as follows, according to a press release from the Costa Rican Tourism Board:
JFK-SJO: Departs New York daily at 3:59 p.m. and arrives at 9:42 p.m. Departs the San José area at 11:03 p.m. and arrives in New York at 5:19 a.m.
JFK-LIR: Departs New York on Saturdays at 7:00 a.m. and arrives at 10:55 a.m. Departs Liberia at 11:04 a.m. and arrives in New York at 4:59 p.m.
All flights will be operated by Boeing 737-800 aircraft, according to American Airlines. Aircraft N917NN, which operated Thursday's route, is painted in a retro AirCal heritage livery.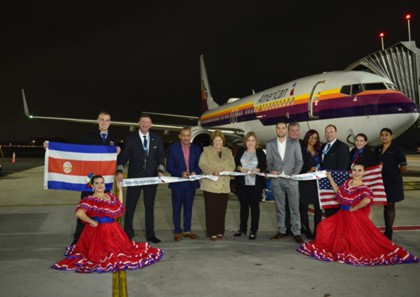 Earlier this month,
JetBlue also began
 flying non-stop between Costa Rica and the United States's biggest city.