Travel writer Ed Boitano recently spent some time in Costa Rica. He chronicled his experiences at the publication Traveling Boy. 
We're re-publishing his story in three parts so readers of The Tico Times can experience Costa Rica through an outsider's perspective. Read Part 1 here. Part 2 is below. 
* * * *
Pre-Columbian Costa Rica was populated by 400,000 Amerindians. The various tribal nations seemed to be a cultural mix, influenced by the Mesoamerican civilizations of north Central America and the Macro-Chibcha civilizations of northern South America.
Columbus arrived on his fourth and final voyage in 1502, needing repairs to his vessel, off the coast of Limón. Greeted by welcoming tribal chieftains, he noticed gold and silver worn by some. He made a wrong assumption that this was a place of plenty. He proclaimed this new land as "Costa Rica" ("Rich Coast"), which led to the arrival of full force Spanish conquistadores in search of bountiful treasures – but there was virtually nothing to be found.
The remaining indigenous people – most had died due to warfare and the spread of European diseases – would not adhere to the usual barbarous Spanish practice of encomienda (forced labor).
Costa Rica was described as the poorest and most miserable Spanish colony in all of the Americas by the Spanish governor. Most of the Spanish left in search of wealthier lands, while the remaining settlers headed for Central Valley, where they found rich volcanic soil, ideal for farming, with no choice but to work the land themselves.
This period of history created the foundation for Costa Rica's development as a more egalitarian society than the rest of Central America, resulting in a rural democracy with no oppressed mestizo or Amerindian class. After the final Spanish defeat in the Mexican War of Independence (1810–21), Spain declared the independence of all of Central America. Called the Federal Republic of Central America, Costa Rica eventually broke away and established its own democratic nation in 1838.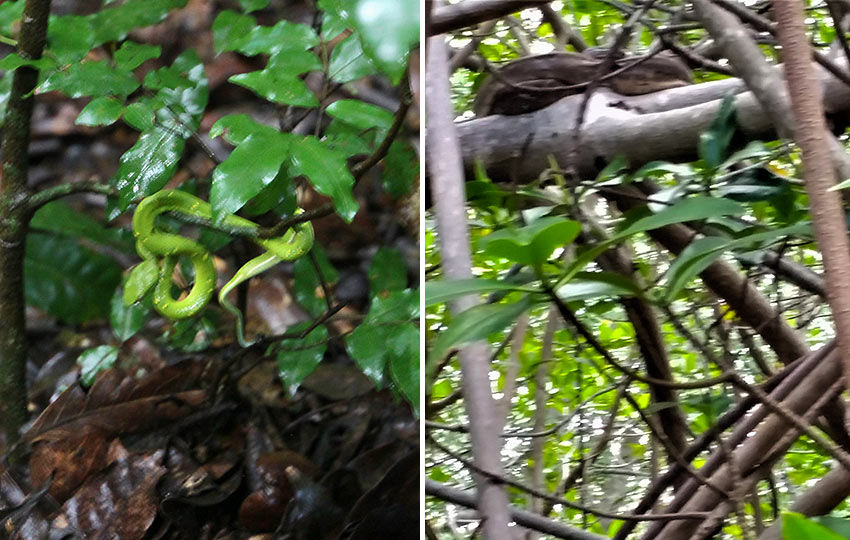 Costa Rica has experienced relatively few significant periods of violence.
In 1948, a six-week civil war broke out between liberal and conservative forces that left 2,000 Costa Ricans dead. A new constitution was enacted, which abolished the army and granted women and Afro-Costa Ricans the right to vote — creating a stable democracy, progressive social policies, free compulsory public education, high social well-being, and emphasis on treating all citizens equally.
In 1987, President Óscar Arias Sanchez won the Nobel Peace Prize for brokering a peaceful agreement between the Sandinistas and US supported Contras, a remnant of the brutal Nicaraguan regime of President Anastasio Somoza. A covert CIA airfield just across Costa Rica's northern border was quickly abandoned, which led to a nationwide celebration where children planted trees on the empty airfield.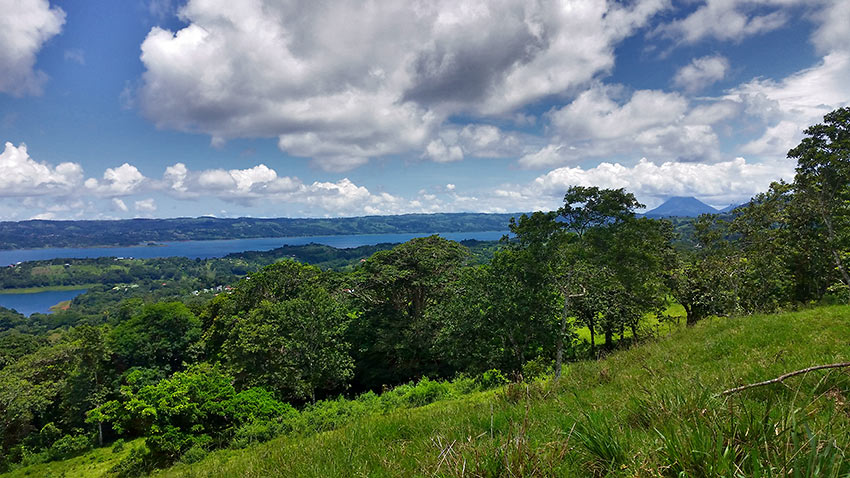 San José: Your journey will probably begin with a flight to the capital city of San José, due to its direct access from many US cities. Located in the center of the nation, peopled by 1.035 million citizens, San José's densely packed urban center at times felt like a third-world city.
Wealthy expatriates generally live in self-contained guarded communities in the hills, complete with barbed wire as protection. Many visitors use it as a one-night stop-over and then head for their destinations of choice.
I had been warned: as a new capital city it is a bit charmless, with only a few examples of colonial architecture, museums, historic government buildings and grand boulevards. I took a midnight stroll on Saturday and another one the next morning.
Contrary to popular opinion, it was a great experience. I felt safe and enjoyed the colorful Main Market and sense of life on the streets of Costa Rica's largest city. My hotel, located a block away from the city center, was buttoned up like a fortress, with steel shutters blocking the parking area. It was almost midnight, and I must have driven four times around long blocks to find the unassuming locked entrance with barely a small sign. But, once inside, I was greeted by the manager who was helpful and hospitable, serving almost like an ambassador. This was my first indication of the kindness of the Ticos.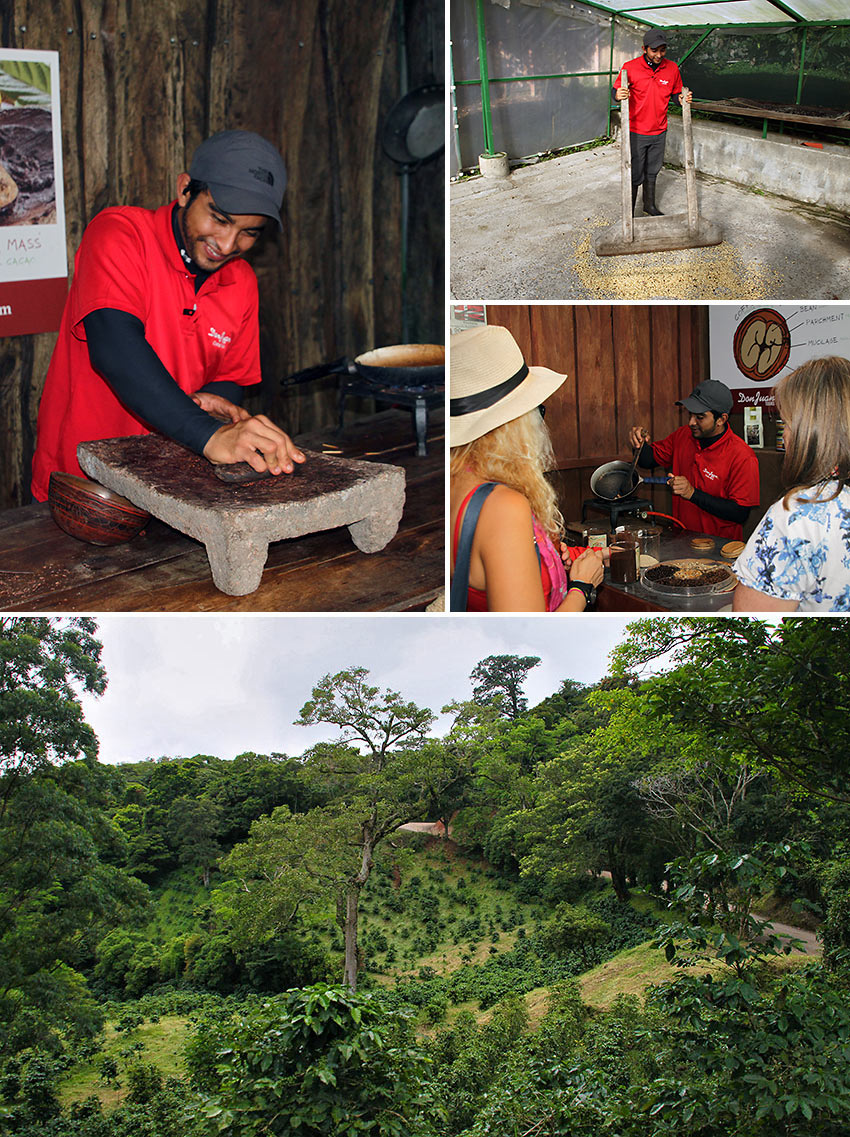 Don Juan Coffee Tour: What nation leads the world in coffee consumption? Did you know the lighter the bean, the more caffeine?  Or, that vanilla needs to be added to the cacao bean in order to transform it into chocolate? All this and more is what I learned at the two-hour Don Juan Coffee Tour.
Located in the rich coffee country hills of Monteverde, I received a real taste of coffee education from touring the plantation's sprawling coffee fields to the processing of the beans.
The tour also included turning Don Juan's cacao beans, whose birthplace is pre-Columbian Central America, into chocolate. Aztec Emperor Montezuma II reportedly drank 50 flagons per day of the liquid chocolate (ocōlātl), mixed with water, honey and dried chili pepper.
Visitors are welcome to participate in the process from grinding coffee beans to pounding the cacao into a paste. As an extra treat, I received coffee, chocolate and limeade tastings, made from the plantation's sugar canes.
This was my favorite tour in Costa Rica.
(By the way, Finland leads the world in coffee consumption per capita.)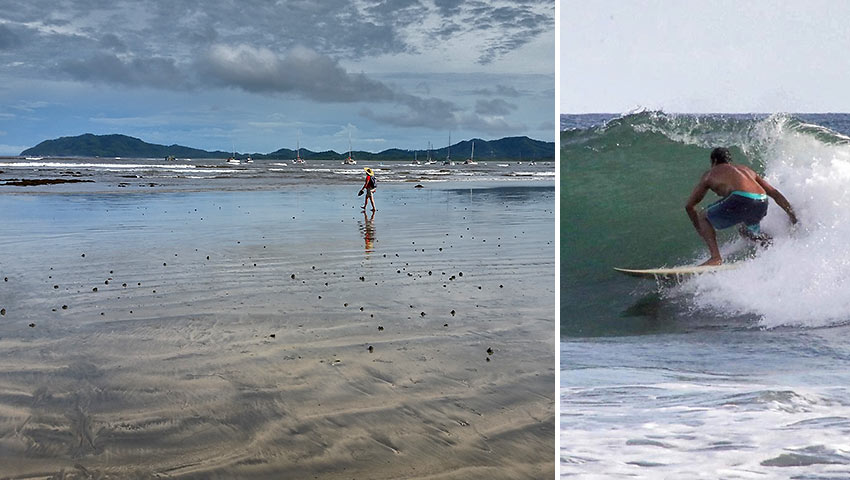 Tamarindo Beach: For ocean pleasures, the surfing Mecca of Tamarindo Beach on the northwest Pacific Coast is a prime spot for surfing schools and sport fishing charters, diving and sunning.
This is a location where the locals can be a little relentless selling souvenirs, such as wooden oxcarts (a national symbol) constructed with recycled wood. To the north, Playa Grande is a major nesting site for huge leatherback turtles and forms part of Las Baulas National Marine Park. The mangrove-lined estuary of Tamarindo Wildlife Refuge protects animals such as howler monkeys and crocodiles.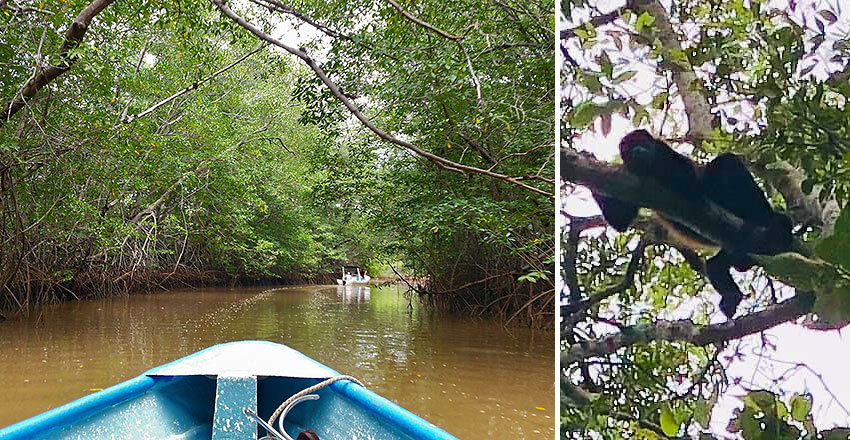 Conchita Tours: On the last day, I was able to book a two-hour jungle boat tour with Conchita Tours. Floating through mangrove swamps in the safety of the boat, the highlight was finally spotting a family of howler monkeys sleeping in a forest canopy. Their unique howls had served as a soundtrack for my every night. The little critters, though, were hard to capture on film. There were a number of crocodiles lazing on the shore, which explains why the monkeys prefer the safety of the trees.
— A Seattle native, Ed Boitano has devoted 30-years of his life to writing about travel.
Stay tuned for Part 3 tomorrow! Read Part 1 here or at Traveling Boy. 
This story was updated to remove a line that incorrectly said San José became Costa Rica's capital city in 1948. This actually occurred in 1823.