Bocas del Toro is an archipelago in Panama near the border with Costa Rica with incredible white-sand beaches, diverse wildlife and renowned parties.
From San José, the journey to this backpacker's gem is filled with twists and turns and is not without obstacles. And that's where we come in. An idea of how you intend to go and how much money you want to spend can make it much easier. In this article, we'll give you some tips on how to get across the border and save money while you do it — and all, hopefully, without having to throw an elbow or shed a tear.
Getting to the Costa Rica-Panama border
The most cost-effective way to reach the border with Panama from San José is by walking or hitchhiking. But more realistically, you'll want to take an early MEPE bus to Sixaola. It costs 7,310 colones (about $12.30) and takes about 5.5 hours, depending on traffic and weather.
You can purchase the tickets in advance, and there are multiple buses a day. The earlier you start, though, the earlier you'll get to Bocas del Toro.
The buses are comfortable, though there is no bathroom on board. MEPE makes one stop halfway through the journey in Limón, but it lasts about 10 minutes, so move fast if you need to use the bathroom (for 200 colones) or buy a batido.
You can also use an ATM during the Limón stop, and that's a good place to withdraw U.S. dollars — which are accepted in Bocas del Toro and throughout Panama — if you haven't already. Many transactions in Bocas del Toro are cash-only, and you may need a sizable amount of cash on-hand to enter Panama. (More on that later.)
But be warned: The ATM gives you your money before returning your card. Speaking from personal experience, don't leave your card in the ATM only to remember it hours later as you're entering a new country.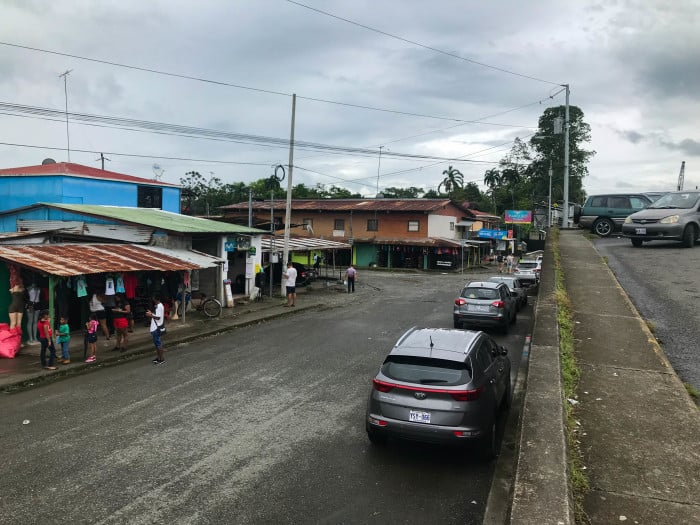 Crossing the border from Costa Rica to Panama
When you reach Sixaola, you'll be welcomed by a person in a yellow vest who will direct you to a nearby storefront where you'll pay a small ($7, in dollars or colones) fee for an exit stamp from Costa Rica.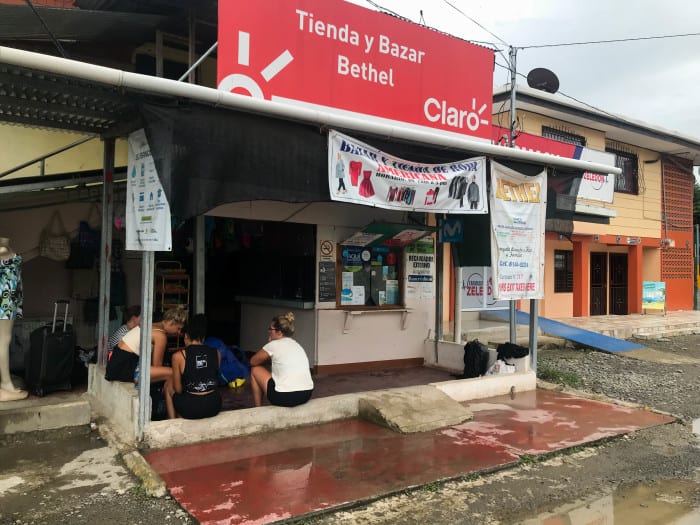 If you are not a Costa Rican citizen or permanent resident, you will need to show Panamanian authorities that you have a flight out of Central America within the next 90 days.
If you show up at the border with very few plans for your future, like I did, Panama will not let you into the country.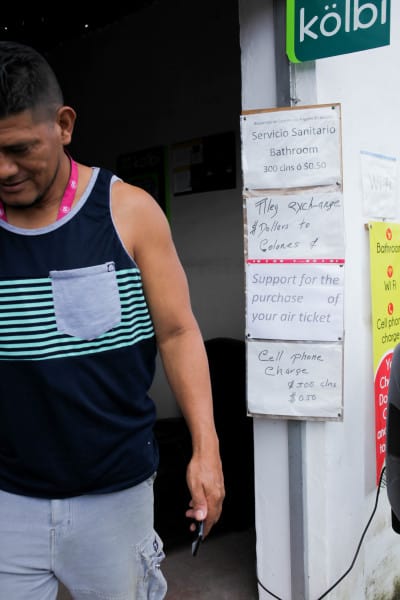 Fortunately, down the street from the bus stop is a kiosk which charges $1 for internet access to buy a plane ticket. Of course, you won't actually be out the price of a plane ticket. Most United States-based airlines offer free cancellations within 24 hours, as do many travel sites such as Expedia. (Just don't get distracted by the rest of the trip and forget to cancel your ticket, as I almost did.)
After paying your exit stamp, you'll walk up a hill to the Costa Rica Migration Office, which is generally a painless process but can involve waiting in line outdoors for some time.
Next, you'll walk the bridge across the Sixaola River into Panama, where border guards will wave you into a small office to complete an immigration form.
Sometimes, the Panamanian border patrol will ask for you to demonstrate how much money you're bringing. While strange, this isn't a bribe attempt. Make sure you're carrying enough U.S. or Panamanian currency ($100 per day, per person) or bank statements and a credit card and you shouldn't have any issues proceeding.
Finally, you'll be directed down a small hill and take the first left to the open-air Panama Migration Office. Occasionally, there are lines here too. The officials look at your passport, ask about your plans in Panama and, if you're not a Costa Rican citizen or permanent resident, check your proof-of-travel out of Central America — so make sure you have that ready.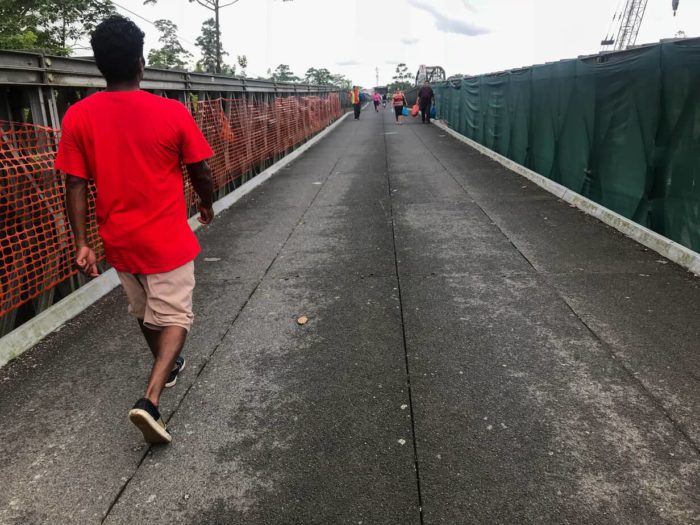 Here, now, is another tip for the thrifty traveler: While Panama is generally cheaper than Costa Rica, Bocas del Toro, as a prime tourist destination, is not. You can save some money by doing your first round of grocery shopping at the border. There is a grocery store and several duty-free shops, where, as an example, you can buy Abuelo Rum for about half the price as what it costs on the islands.
Getting from Sixaola/Guabito to Bocas del Toro
The next step is actually getting to the islands.
For this step you have a couple options. One of the first things you'll notice in Panama are the groups of aggressive men trying to load you into colectivos. They will likely try to sell you a $10 trip to the water taxi port in Almirante.
Realistically, the base price is $5, and you can usually haggle — especially if you speak Spanish. At one point I convinced one of the men to knock my price down to $7, and when he walked me over to the driver, the first thing he did was to tell him that I speak Spanish. So, without purposefully feeding any traveler paranoia, if you don't speak Spanish and think you're being talked about without your knowledge in situations like these, you're probably right.
One way to barter for a lower colectivo price is to tell them you've done the trip before and that it had only cost $5. Once you've paid, the drive between the border and Almirante takes about an hour.
Another way to get to the water taxi offices in Almirante is by public transportation, though it's more complicated and ultimately only saves you about $2. There's a public bus near the border that will take you to Changuinola, where you'll transfer to another bus that will take you to Almirante. The buses run about every half an hour.
In Almirante, you'll pay $6 for a one-way boat ride to Isla Colón, the most populated island in Bocas del Toro. You can also pay $10 for a round-trip ticket. These prices are not negotiable.
Reaching Isla Colón in Bocas del Toro
Once you've made it to Isla Colón, the next part of your trip will depend on your accommodation.
There are many fine hostels on the main island. It's also the hub for food and parties. Every week, there's an event called "Filthy Friday," which, while I didn't attend, can only imagine means rivers of filth unleashed from huge spigots at the top of the town hall, flowing through the gutters, collecting tourists clad in flip flops, beers gripped tightly in their sunburned hands, and dragging them down, ever deeper, into the depths by the straps of their internal-frame backpacks, never to be seen again.
Just kidding. But the point stands: If you're visiting Bocas del Toro for the nightlife, Isla Colón is a good place to start.
A less-populated option is Bastimentos, which is home to the tremendous Wizards and Red Frog beaches. You can reach Bastimentos with a 10-minute water taxi from Isla Colón. These generally cost $5 one-way.
At this point, you can finally crack open your first cold Balboa and pat yourself on your (almost certainly sweaty) back for having made it through a long, humid day of traveling and haggling.