Agoutis galore, colossal art, a walk through history, saving Bellbirds and a reincarnated eco-lodge: Some new reasons to head back up the green mountain in Monteverde Costa Rica.
Senda Monteverde Hotel
Like a phoenix rising from the ashes, the former Sapo Dorado Hotel in Monteverde has come back to life after almost a decade of ruin. Unlike its earlier, doomed namesake — the golden toad that was officially labeled extinct in 1989 — this incarnation abounds with life and has a new name: Senda Monteverde.
Along with other members of the Birding Club of Costa Rica, I had a weekend preview of the new lodge, brought back to life by fellow birders John and Lisa Aspinall. The Aspinalls also own the Arenal Observatory Eco-Lodge, a mecca for birders and naturalists for more than 30 years.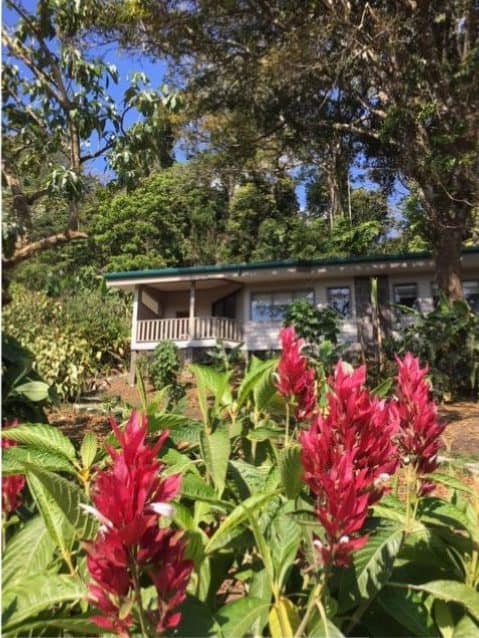 I remembered the Sapo Dorado from 20 years ago – it was the hotel I stayed in on my first Monteverde visit. But nothing was the same, apart from the location, south of Santa Elena on a hillside backed by forest.
In partnership with the Cayuga Collection of sustainable lodges, the Aspinalls have transformed the old cabins, adding comfort and sophistication with chic furnishings, decorative touches by local artisans, ultra-modern lighting, rainforest showers and private terraces for wildlife viewing.
The airy restaurant with wraparound windows serves contemporary versions of locally sourced cuisine. Early risers and birders will especially appreciate the complimentary coffee and cookies available from 5:30 a.m.
The property's original trees remain, including the ancient higuerón, whose spreading branches shade the new reception and restaurant buildings. New plantings pepper the hillside with color, and trails and footbridges, along with a suspension bridge, lead to lookouts and into the forest.
Birds abound in the gardens and trees. Watch for the gaggles of Gray-headed Chachalacas that pick their way across the lawns at dusk.
The receptionists are helpful and well trained to provide whatever guests might need, from delivering fresh milk to your room for morning coffee to reserving local tours.
Perhaps the most attractive feature of a stay here, especially for birders and nature lovers, is the easy access – along a short forest trail – to Monteverde's newest nature reserve, the Aguti Refugio, which opened in 2018.
Aguti Refugio de Vida Silvestre
There's no escaping this reserve's namesake. Agoutis abound, from the reception area where two giant agouti statues sit up and beg to be photographed, to the 4 km of paved paths and walkways. You'll hear agoutis rustling in the underbrush and catch them scooting across the trails.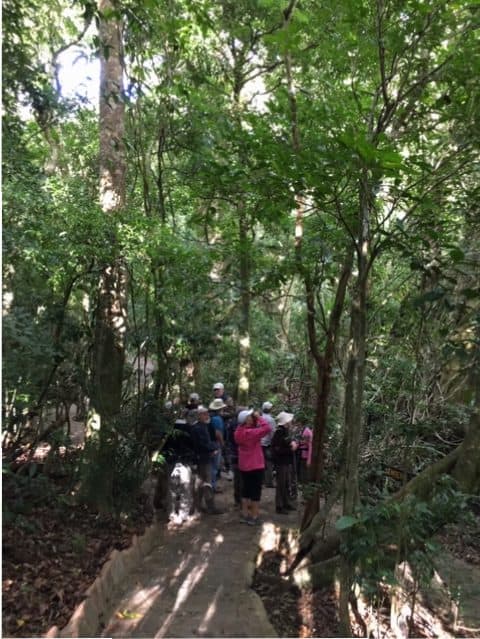 The reserve's 11 well-marked trails take you along avenues of towering matapalo trees, around four natural ponds, through meadows buzzing with hummingbirds, along hillsides strewn with a cat's cradle of twisted vines, and up to a mirador overlooking the Gulf of Nicoya.
At the top, the reserve borders a huge forest covering thousands more acres, providing even more wildlife habitat. Recorded bird species include colorful Orange-bellied Trogon, Emerald Toucanet and Golden-browed Chlorophonia.
With an early start, at 7 a.m., you can have the reserve almost to yourself. Last admission is at 3:30. There are also guided walks and bird-watching tours, along with a two-hour guided night walk. (www.agutimonteverde.com; 4000-3385. $15)
Planting Trees to Feed Three-Wattled Bellbirds
As important as nature walks, the Aguti Reserve has another mission, says director Victorino Molino: providing habitat and a corridor of forest for Three-Wattled Bellbirds migrating between Panama and Costa Rica.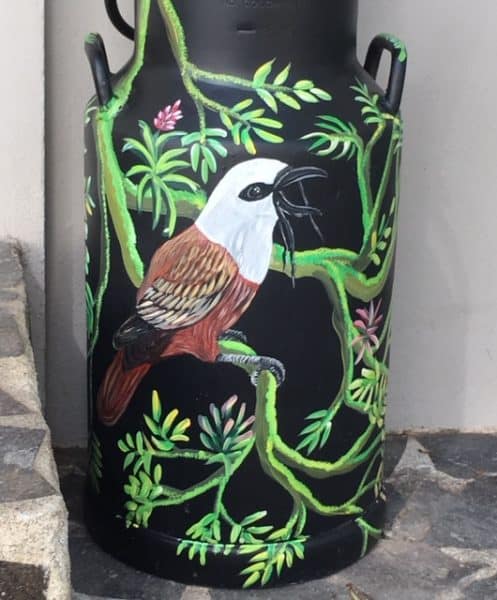 Thanks to land cleared for pastures and frequent fires along the dry Pacific side of the continental divide, the Bellbirds' main source of food — wild avocadoes – is in short supply. The goal of the Costa Rican Conservation Foundation, which Molino co-founded, is to reforest the Bellbirds' migratory path with varieties of wild avocado trees. (To learn about the program or to donate, go to www.monteverde-institute.org and click on Reforestation.)
Molino also has an animal rescue license from the Environment and Energy Ministry (MINAE). The day I first met him, he had just retrieved a tarantula from the home of some worried Santa Elena residents.
On my return visit, he announced he had recently become the "happy father of a baby Mexican porcupine that had been attacked by a dog." His usual rescues involve snakes, mostly boas, which he releases high up in the forest.
Art for Fun and Photos
Even if you hate to shop, it's worth a visit to the Centro Commercio Monteverde, the large, white shopping center, between Santa Elena and Los Planes. The center has become a photographer's dream, with mural-sized birds painted by local artist Roberto Wesson.
You can pose your friends against a wall of giant Long-tailed Manakins, under the sharp gaze of a looming Gray-necked Wood-Rail, or alongside Monteverde's signature bird, the Three-Wattled Bellbird. One outer wall features a wall-size sloth, with room for posers to stand under a three-toed paw.
You can see more of Wesson's work at Arte Jaguar Gallery, (www.artejagua.com), a half-mile southwest of the Villa Verde Hotel, off the road to the Monteverde Reserve.
Following in the Footprints of History
Ever wondered how Monteverde was settled and grew into the thriving community and eco-tourist destination it is today? On this two-hour walking tour by knowledgeable locals, you'll get the inside story, from the earliest Costa Rican gold-prospector settlers to the arrival of the Quakers and the development of conservation and nature reserves.
The daily tour starts at 2 p.m. at the Cheese Factory and ends at the Monteverde Café with a cup of coffee accompanied by insights into sustainable agriculture and coffee growing. All proceeds go to the non-profit Monteverde Community Fund. (www.exploremonteverde.com, 2645-6565, $35/donation.)
Dorothy MacKinnon has spent the last 20 years traveling and writing about Costa Rica, for The Tico Times, Fodor's Guide to Costa Rica and the Insight Guide to Costa Rica. Her latest book is "Insight Guides Explore Costa Rica" for independent travelers.