SANTA TERESA, Puntarenas — It's easy to think the ocean is infinite when you're standing on its shore, refreshed by its cool touch and comforted by its pounding lull. Especially here, near the tip of Costa Rica's Nicoya Peninsula, where the white sand seems to stretch forever in each direction.
But look closer, Carolina Chavarría Pozuelo asks. Please look closer. Walk the town's roads and notice the trash dumped along their edges. Stroll the beaches and see the canals draining dirty water into the ocean.
This is Santa Teresa's tenuous reality. The Cóbano district — which contains the beach towns of Santa Teresa, Mal País, Carmen and Hermosa — has changed dramatically over the last decade as tourists visit a region which promises a peaceful, laid-back attitude complemented by unspoiled natural beauty and surf. Those tourists bring money they're eager to spend on food, housing and transportation — and new businesses have formed as a result.
But that growth lacks the necessary oversight and supporting infrastructure, Chavarría says, which puts the area's biggest draws in peril.
"It frightens me that there won't be the structure or long-term planning that could support the expansion of the town while at the same time respecting the natural resources available," she said. "The economic development, advancement of public services and environmental protection need to go hand-in-hand. If not, how much growth can we take?"
Chavarría is the director of the Nicoya Peninsula Waterkeeper, a non-government organization that acts as a watchdog for clean water in the South Nicoya Peninsula. While the local government has been ill-equipped to oversee the area, the Waterkeeper group helps ensure new and existing establishments follow regulations.
And Chavarría is disappointed by what they've found. In an interview with The Tico Times, she alleged many businesses in Santa Teresa and in surrounding towns take advantage of lax oversight and follow environmentally harmful processes.
It's a situation that frustrates many residents: How can you sustain the economic boom without fracturing the community or irreparably harming the environment that attracted the growth in the first place?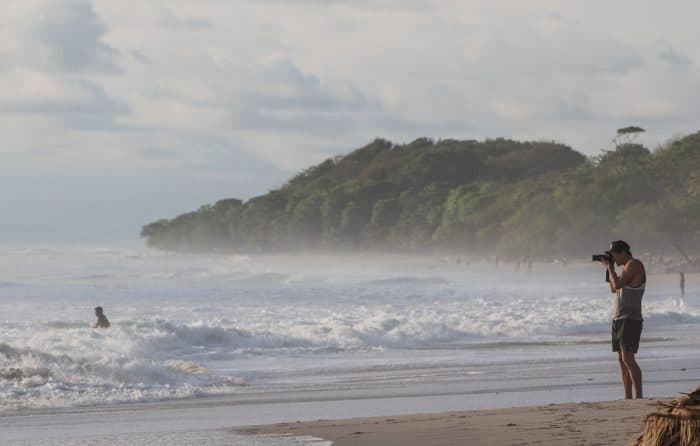 * * *
Part of Santa Teresa's allure is its relative inaccessibility. It's more than four hours from Liberia, which houses the closest international airport. The majority of visitors from the populous Central Valley come via ferry, but even that drops passengers off in Paquera, a one-and-a-half-hour drive away — when the roads are good.
The last stretch of the journey, the 15 kilometers from Cóbano to the Pacific Ocean, is a hilly, winding pothole-filled dirt adventure better suited for an ATV than a car.
But the reward at the end is the crossroads, the single intersection that will take you to Mal País or to Santa Teresa or to any of the other beach towns, which are less "towns" in the traditional sense and more a concentration of shops and stores and hotels alongside a single dusty street.
That much hasn't changed in the region, but what has changed is, well, just about everything else.
The Cóbano district lists a population of approximately 5,200 inhabitants, though the local government notes the number fluctuates greatly throughout the year due to visitors. In December and January, two of the busiest months in Costa Rica for tourism, residents say the main street can become virtually impassable, a backlog of traffic sharing the unmarked street with parked cars and pedestrians.
"The area has changed a lot," Chavarría said. "From the late 90s until now, it's a different place entirely. […] A lot of people think Santa Teresa is too full, too loud now. So people looking for peace and quiet move elsewhere."
Until the opening of an aqueduct in earlier this year, Santa Teresa and its neighboring communities relied on tanker trucks to deliver drinkable water during the December-to-May dry season — which coincides with the busiest months for tourism in the country.
The improvements in water accessibility have allowed for larger construction projects, and there is plenty of demand for that growth. According to the Costa Rican Tourism Institute (ICT), the industry continues to expand in Costa Rica, now accounting for 6.7 percent of the country's GDP. In 2017, the ICT estimates 29.8 percent of all tourists, or 531,304 people, spent at least a night in Puntarenas province, up from 132,768 people in 2006.
Today, you'd be hard-pressed to walk more than a couple minutes through Santa Teresa without seeing workers laboring to finish new buildings in time for the expected wave of tourism that begins this month.
But essential government services haven't quite caught up to the private sector. There is the issue of the unpaved, potholed roads, for starters. And residents say garbage isn't always collected on-time, if at all. Then, of course, is water consumption and treatment.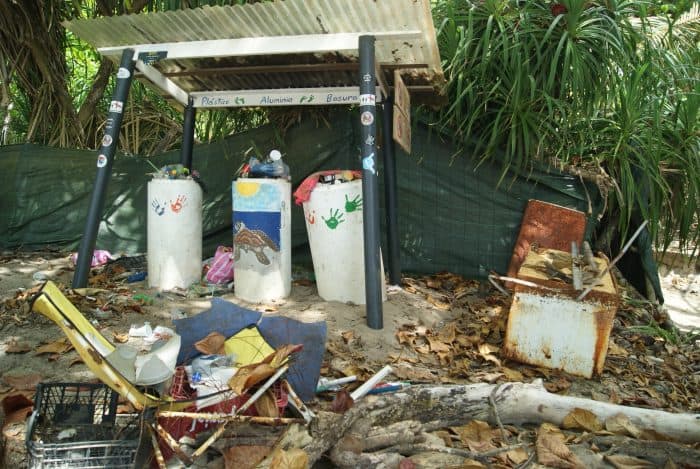 Hotels, a virtual necessity for tourism, are heavy consumers of water. Numbers vary, but according to a study report prepared for the city of Seattle, a hotel will typically use between 100 and 400 gallons of water per day per room — lodging with full-service restaurants and on-site laundry facilities use more. That water has to go somewhere, but according to the Municipality of Cóbano, blackwater — water polluted with food, animal or human waste — "does not yet have a network that prevents it from being directed toward the nearest streams," leaving each business responsible for its own water treatment and disposal.
Alberto Vásquez Granados, the Environmental Manager for the Municipal Council of Cóbano, told The Tico Times that "other sites in Costa Rica have a much greater environmental impact than Santa Teresa from wastewater contamination, which has caused Santa Teresa not to be on the first or even second list of priority locations" for improved sanitation systems.
According to environmental protection agencies, blackwater contains "disease-causing bacteria and viruses that can result in human illness from direct contact, or by consumption of affected fish and shellfish."
Meanwhile, the World Health Organization, says greywater — untreated wastewater from bathtubs, showers and sinks — also poses a risk to human health, both through direct human contact and by introducing chemicals into marine food chains. The WHO recommends careful design to "avoid greywater leaching into groundwater or surface bodies of water."
But in Santa Teresa, the regulatory oversight is lacking. The Health Ministry, which oversees compliance with Costa Rica's wastewater regulations, has a representative who only comes to Cóbano once a week on Thursdays. The morning I visited Cóbano's Municipal Government offices, I was told that representative wouldn't be in that day.
According to Ronny Montero, who works as the Tax and Financial Administrator for the Municipal Council of Cóbano, the Health Ministry typically doesn't conduct investigations in Santa Teresa unless there has been a formal claim submitted against a person or business.
So last January, the Nicoya Peninsula Waterkeeper filed a claim before the Health Ministry in regards to the wastewater management of Selina, a hostel that had recently opened in Santa Teresa. It's not so much that Selina's setup was uniquely bad — they were properly treated, but allegedly improperly disposing of black and greywater — but Chavarría's organization sought out the business as the largest hostel in the area.
After 15 months of legal back-and-forth, Selina was ordered to enact a corrective plan to resolve the situation. Selina did not return multiple requests for comment.
"If you don't have money to follow environmental regulations, don't open your business," Chavarría said. "If you can't afford chairs, if you can't afford plates, you wouldn't open a restaurant. It's the same thing. Social responsibility starts with adhering to the laws. You have to start with that.
"Nature has a capacity to clean itself, but not at the level we're contaminating it."
But to Chavarría, fixing one business's water-management issues in a rapidly changing town is akin to trying to cover the sun using only your finger. It just doesn't fix the problem.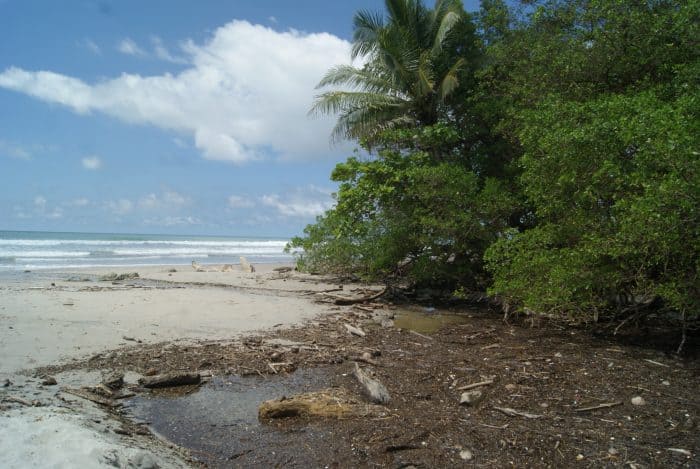 * * *
None of these issues, or the uneasy relationship between growth and oversight, are a surprise to the Municipal Government in Cóbano. Montero said he and the Municipal Council are fighting for the ability to do more.
Even though Cóbano is relatively large — with a land area of more than 300 km2 — Montero explained any budget requests that would benefit the district have to go through the Municipality of Puntarenas, which consolidates what it submits to the Comptroller General's Office. That means there are additional steps added to already-slow bureaucratic processes, delaying infrastructure improvements further.
"This causes us to lose four months, five months, half a year," Montero told The Tico Times. "And by the time a budget passes, sometimes it's too late and contracts have expired — for example, for the machinery to fix the roads."
Vásquez, the district's Environmental Manager, acknowledged that finding viable solutions to wastewater management is a slow process.
"We must move forward strategically and look for solutions in the short, medium and long-term, in regard to sustainable development of Santa Teresa, while safeguarding our natural resources and favoring the economic development," Vásquez said.
A proposed law presented in April 2018 aims to elevate the status of Cóbano from a district to a canton, which, in addition to increasing accessibility to public services, would give representatives of Cóbano a bigger say in the province's budgeting and planning.
"It would give us better representation," Montero said. "It gives us better access to resources, both local and international. It would give us more autonomy, and help remove limitations to our growth.
"… It's not a secret to anyone. We know the coastal towns are the ones that are responsible for a lot of tourism and growth, and they are changing quickly. But as a district, we cannot ignore the rest of the district. We need to pay attention to people throughout the district who are also living in vulnerable areas."
Vásquez said Cóbano has conducted feasibility studies with the Costa Rican Water and Sewer Institute but found the cost of a centralized wastewater treatment center prohibitively high. The municipality is also seeking partnerships with Costa Rican university students for more innovative, more cost-efficient solutions.   
Meanwhile, groups like Nicoya Peninsula Waterkeeper have filled the void. In addition to their vigilance of potential wastewater violations and monthly beach cleanups, the non-government organization plans to open a recycling collection center for Cóbano by the end of the year. With the support of the community, they hope the center will reduce trash by 65 percent. They are also pushing for the Health Ministry to open an office in Cóbano.
And ultimately, Chavarría, Montero and Vásquez agree everyone — from residents, to business owners, to tourists — needs to remain educated and vigilant while government resources try to catch up. They welcome outsiders to enjoy the white-sand beaches, untouched islands and jungle-covered hills. But if you're visiting, they say, make sure your actions preserve that natural beauty for those who will follow.
"We are all responsible," Montero said. "It's my responsibility as a hotel owner to run things well. It's my responsibility as a hotel guest to denounce them if they are not running things well. A lot of people are afraid to speak up, so they stay quiet. You can't stay quiet."
For more information about the Nicoya Peninsula Waterkeeper, visit their website here. Read more about Costa Rica's sewage systems here.
Read all of our Santa Teresa features here. 
---
This story was made possible thanks to the donations from Tico Times 5% Club. The TT5% club is a small group of readers who donate at least $2 a month to keep our newsroom operational. That's how we're able to bring you stories like these. Become a member of The Tico Times 5% club and helps us spread more light on issues like these.
Support the Tico Times