On Oct. 24, guests started to fill a ballroom at the Costa Rica Country Club for ¡HOLA!'s fifth-anniversary runway. The women's magazine covers style, fashion and celebrities and that night it was bringing its brand to life. 
There was a band playing and waiters rushed around to hand out drinks. The dark room was dimly lit by red lights and decorated in ¡HOLA!'s signature colors: white, black and red. People were chatting amongst themselves, having drinks and snapping pictures while they waited for the show to start.  
Backstage, models hurried to get their makeup done and the designers fretted over their outfits. They had to be picture-perfect. Most designers had years of experience behind them: Carmiña Romero, for example, started her brand almost 18 years ago and has participated in the New York Fashion Week, Málaga Fashion Week, and many prestigious runways and magazines in Costa Rica, the United States, Spain, Chile, Peru and Guatemala.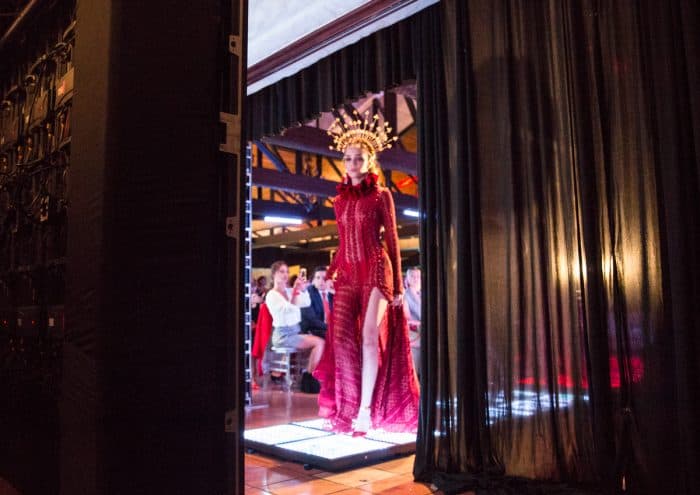 But alongside veterans like Romero were Floriana Peralta and Lara Guardia, who started their brand, Chica Perica, about a year ago. The name comes from Costa Rican slang and represents femininity and youth. It was their first runway. They were antsy and excited while they waited their turn. At 8:52 p.m., their models strutted out wearing simple outfits, so the accessories wouldn't be outshone.
When the three models of Chica Perica finished their appearance, the designers walked out, showing the crowd that they were no older than teenagers. Peralta is 18 and in her last year of high school. Guardia is only 15.
"We felt really excited and professional," Peralta said. "It taught us how to work on this type of activities for the future. We are excited to see that our work is being portrayed around such well-known designers and big audiences."
The idea to design accessories was born as a Mother's Day project for their sewing classes with Adriana Orozco. Orozco has more than 30 years of experience in the world of haute couture and has helped form many other designers. Peralta and Guardia, travel every Thursday from Curridabat to Los Yoses to learn more about the textile art from Orozco and create their own products.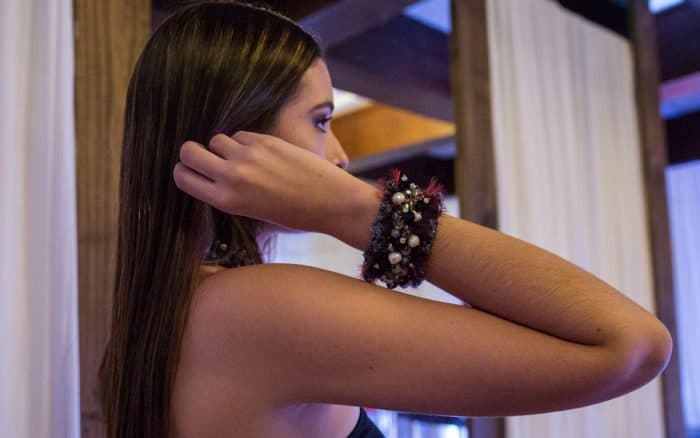 The teen designers were eager to sell their products and start a brand, so they took the technique Orozco taught them and applied it to their own accessories. They're also conscious of the impact fashion has on the environment. After oil, it's the second-most polluting industry on the planet. It produces 10 percent of carbon dioxide emissions and 20 percent of sewage water.
In order to reduce their environmental impact, Peralta and Guardia make their bracelets and chokers from recycled materials. Initially, they started out cutting up their old jeans, but as the brand gained traction, other people brought them old jeans to work with.
They describe their style as very youthful and say their accessories are made primarily out of textile and embroidery. Most importantly, they hand-make all their products. Right now, they are launching a new line of purses.
Chica Perica is now a growing brand in a market dominated by foreign investment. According to Costa Rica's Chamber of Commerce, fashion and retail represents 39 percent of the total number of foreign franchises in the country.
So how did two Costa Rican teenagers end up at ¡HOLA!'s fifth-anniversary runway? Chini Salazar, the brand manager for ¡HOLA! Central America, said that they started following Peralta and Guardia's work about a year ago, and when they were planning the runway, someone mentioned them.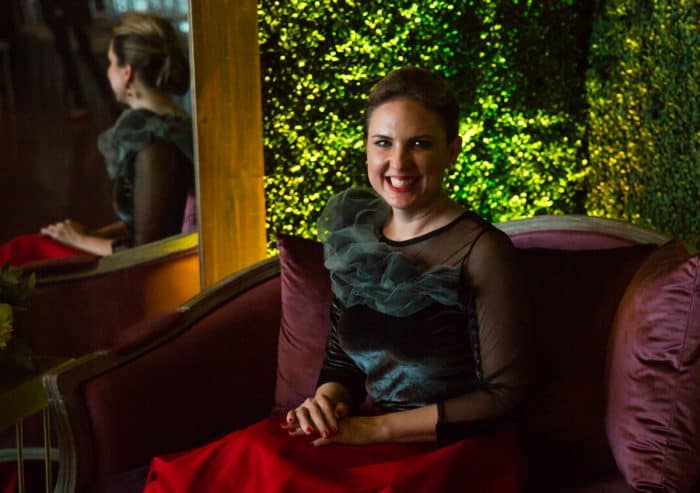 "I liked the idea that such a new and fresh talent — not even out of high school — is able to participate," Salazar said. "So I told her, give me their contact because I would love for them to be on our runway."
After the event, Peralta and Guardia headed home. They had class first thing in the morning. English for Lara, and philosophy for Peralta.
They are undecided on what majors they will pursue in college, but they are sure they want to become designers. The two designers are determined and excited to see what awaits them, and fashion, in the future.
---
Natasha Carmona and Maria Fernanda Salas are students mass communication with an emphasis in journalism at the University of Costa Rica. This story was produced as part of a joint project between the UCR and The Tico Times where journalism students had 36 hours to report and produce a story.
Carmona and Salas have also started a virtual magazine called La Ferminata, where they talk about culture from a feminist perspective. You can follow them on Instagram at @fer_salas1 and @natatiana09.