Roma and Luda Gimelfarb have repeated the story so many times even their translator thinks she could recite it verbatim.
How David Gimelfarb visited Costa Rica in August 2009 for a six-day vacation. How the then-28-year-old disappeared sometime after arriving at Rincón de la Vieja National Park on the 11th. How a three-week manhunt with the Costa Rican Red Cross, private investigators, and American helicopters left the parents with no answers.
How every year it seems fewer people are searching for David, even though Roma and Luda believe he's still alive.
"People look at this as a cold case," Luda told The Tico Times. "They really don't pay very much attention."
It has been nine years since David went missing. His parents came to Costa Rica this week, as they do nearly every August, with a focused mission: to remind the public of David's disappearance and to convince officials to continue their investigation.
But their trips have so far been unfruitful.
"If we're not going to help him, who's going to?" Roma said. "And we both think he's alive."
That belief stems from a lack of contradictory evidence. If David had gotten lost or hurt while hiking through Rincón de la Vieja National Park, the Gimelfarbs say, surely the search party would have found something.
Roma pulls out a stack of drawings and sets them on the table. Found in an abandoned house in Quepos several years ago, the Gimelfarbs believe the crayon sketches share stylistic similarities to David's artwork. They wonder if the person who left those drawings at the house crossed paths with David and has more information about his whereabouts.
US parents still looking for answers in son's 2009 disappearance in Costa Rica
"We follow all possibilities," Luda said.
The latest possibility is a tip received earlier this week when a woman contacted Luda and said she thought David might have received treatment at the National Psychiatric Hospital in Pavas. But an OIJ representative who visited the medical facility Wednesday told the family they found no one matching David's description.
Luda moderates a Facebook group, Help Find David Gimelfarb, which contains more than 2,200 members. She and her husband also maintain a network of connections in Costa Rica who help them pursue potential sightings year-round.
And in August, the Gimelfarbs come here to follow-up on those leads themselves. They meet with Costa Rica's Judicial Investigation Police (OIJ) and the U.S. Embassy, contact news outlets to keep David's disappearance part of the national conversation and travel to Guanacaste to seek any new information that might lead to answers.
Tuesday, they met with OIJ in Liberia, only to learn the case had been transferred to the agency's Department of Criminal Investigations at their San José office.
"If you are not pushing people, they are not doing anything," Luda said. "They are not."
The Gimelfarbs pledge to repeat their annual trip to Costa Rica until they are too old to travel. They continue to offer a $100,000 reward for information that leads to David's discovery.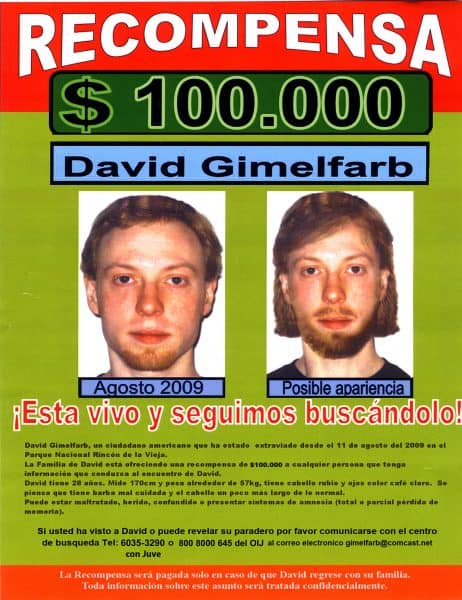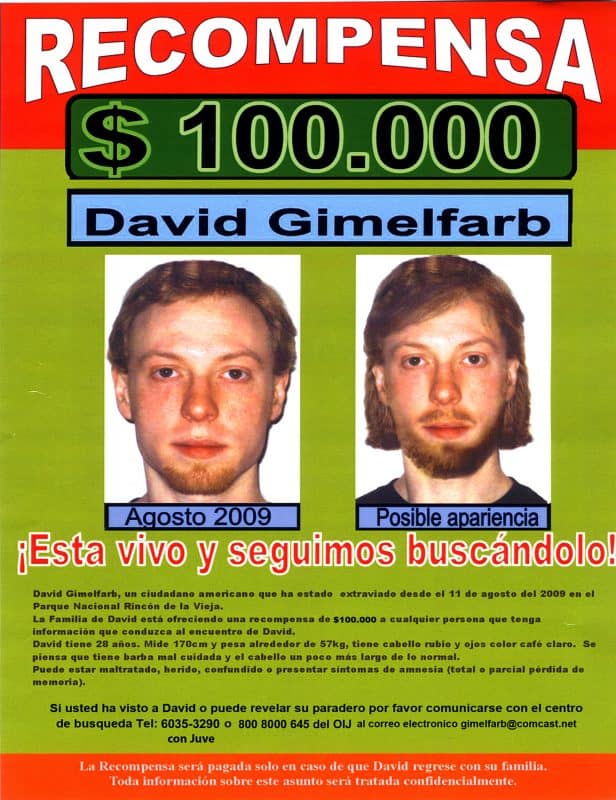 ---
Please report any tips to the family by emailing gimelfarb@comcast.net or calling the Judicial Investigation Police (OIJ) at 800-8000-645.