In 2012, The Tico Times closed its doors after 56 years of publication. The global financial crisis combined with paper's struggle to adapt to the online landscape created a perfect storm of troubles that our tiny publication wasn't able to bear.
But irreverent and feisty, The Tico Times returned as an online-only publication thanks to donations from readers and a volunteer staff. We're back to publishing special print editions, although we're not out of the weeds yet. Like every publication, we're navigating a constantly changing landscape and always hanging on by a thread.
Luckily, the internet doesn't just give us a different place to publish stories – it also opens us up to new ways to tell them. Text, photo, video, audio, 360, and any combination of the former: now it's not just our job to find what stories to tell, but to figure out the best way to tell them.
Audio is a great way to bring readers closer to the story and to the people in them. It lets us dive a bit deeper into certain topics and keep you informed while you drive, go for a run, or enjoy your morning Pinto.
We're trying to stay ahead of the storm this time, not just weather it. We launched our first 360 project earlier this year, the first of its kind in Costa Rica, and today we're releasing the first episode of our new podcast, The Tico Times Dispatch.
You can also subscribe to our podcast on iTunes.
Stitcher: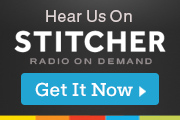 And Google Play:
In our first episode of The Tico Times Dispatch, we talk to Tim Rogers. Rogers was a former Tico Times reporter who also ran our Nicaraguan newspaper, The Nica Times. Rogers has reported on Nicaragua for 18 years and lived there for nine. Now he's Fusion's Latin America editor.
We talk to Rogers about his experience covering the protests, dealing with fake news, and Daniel Ortega's government.