I don't know how I would feel if I weren't a father. However, I am, and there are very few times that I've felt as sad as I did when I read the news about how Central American children are being caged by the United States Border Patrol. I guess it's more than sadness; in fact, it feels like defeat.
In life there's always a moment that makes you sink mentally, but it is almost always personal in nature, and there's always the comfort of feeling that somehow, someone will help us to escape. In this case, it feels worse: any possibility of providing dignity to those children who were seized from their parents depends on the government managed by a dangerous showman.
Pressure from the countries of origin of these nearly 2,000 children (if the governments of those countries have the moral authority to intervene on behalf of their people) will be insignificant before the Trump Administration's white power. International Organizations fear that if they irritate the United States too much, the United States will leave; they have already announced that they will leave the United Nations Human Rights Council, and this demonstrates how much the government cares about the most basic human rights.
Anyone who thinks that other powerful countries can reason with the Trump Administration has not read the news about what happened at the G7 meeting this June. Besides, it would be surprising if a world power wanted to take aim directly at an immigration policy apparently designed to discourage new would-be undocumented migrants: "If you come, I'll put your child in a cage and process you on criminal charges."
Now we also know the position of Costa Rica, always at the edge of the Central American migrants' countries, but recognized for our stance and defense of human rights. The Costa Rican government has called for an immediate halt to the policy of separating migrant families in United States. We hear it loud and clear, but realistically, that statement will mean more domestically. The most we can expect from the United States is their acknowledgement of receipt.
The dismemberment of Central American families will stop only when Trump grows tired of his misbehavior, or if something unexpected happens to the power balance in the United States. I will admit that  I have little faith in the power of the "system" of the United States. We thought that this system was going to contain the crazy tenant of the White House, but we have seen how few obstacles it has put in his path during his first 500 days.
There is nothing good that can be said to a five-year-old girl who let her shoelaces be taken away before saying goodbye to her mother, without knowing that this is a requirement to avoid suicide in jail. Nor to the boy who sobbed listlessly, as if he knew that nothing would answer his heartfelt cries. Saying "someday things will be better for you" might mean something if that little boy weren't faced with the likely prospect of becoming a gang member within a decade.
When that happens, how will we we say to him that this isn't the right way to go about doing anything? How will we we ask him to channel that anger in another way that doesn't dismember families, or people? With what moral authority can we say in 2028 to that child that a cage is where he deserves to live for the rest of his life?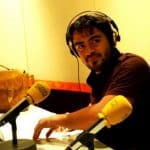 Álvaro Murillo is a journalist who specializes in political coverage and has written for La Nación, Semanario Universidad and El País. In "No Sugar, Please," his twice-monthly Tico Times column, he explores politics in its broadest terms, from the halls of government to community life. Connect with him on Twitter.